Fluffy Mexican Rice — Restaurant-Style!
Holy bejeezus, I've figured out the holy grail of RICE, dudes. I don't know where you come from, but where I come from, Mexican (and Tex-Mex) restaurants have the BEST rice in the world. I can only call it "Fluffy Mexican Rice". It's almost like Minute Rice with as fluffy and crumbly and soft as it is, but the grains still remain separate and it's thick with garlic and onion and chickeny goodness. And lots of chicken fat or lard, probably – I can taste it in there.
So, yes, this rice is way more calorically dense than plain rice, but it's also way way way more delicious.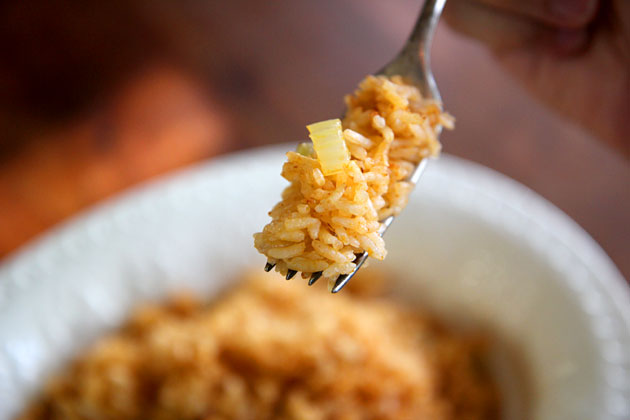 And I know this is not what any self-respecting Mexican would call rice, but I've already covered that base. Round these parts (Texas) the true Mexican rice (sauteed dry, then cooked in stock) is often called Spanish rice. The restaurants serve this kind of rice, for whatever reason.
Print
Fluffy Mexican-Restaurant-Style Rice
1 cup

dry long grain white rice

1 tablespoon

butter or oil

1/2 cup

diced onion

1/2 cup

diced celery

2

cloves garlic, minced

1

bay leaf

2 tablespoons

tomato paste

1 1/2 cups

rich chicken broth

1/2 teaspoon

salt and pepper
Instructions
Put the rice in a sieve, and put the sieve in a bowl of enough water to completely cover the rice. Let soak for 15 minutes then drain.
Saute over medium heat the onion, celery, garlic and bay.
Add the rice and stir.
Add the tomato paste and stir until the rice is coated with tomato paste and begins to look toasted – about a minute.
Add the chicken broth and salt and pepper.
Cover.
Bring to boil, then reduce heat to simmer.
Simmer 10 minutes and remove from heat but leave the lid on for another 5-15 minutes before serving.
Fluff with a fork and serve.