Here's a simple marinated hearts of palm salad to satisfy all of your tangy salad desires. Hearts of palm are sold in cans, jars, and even these bag things at Trader Joe's. They are literally the boiled insides of a type of palm tree and they taste a little like bamboo shoots.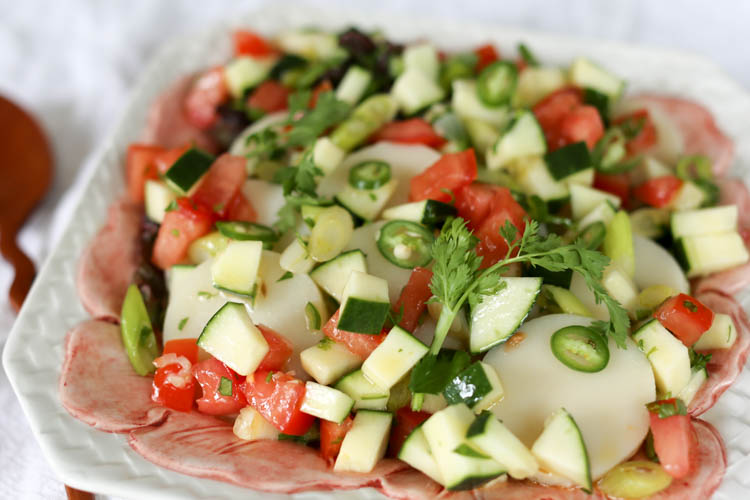 So if you like bamboo shoots, you'll probably like hearts of palm (if you don't like bamboo shoots, you might still like hearts of palm, though, because they are milder and way less fibrous than bamboo shoots).
So, this salad is a nice, bright, citrusy little number that I was going to serve along with some buttered rice and spicy shrimp . . . BUT HOLY COW. Stop, shrimp!
I just had a bowl of it along with a perfect boiled egg and it's SO GOOD. I'm telling you right now you need to add a couple quartered, boiled eggs to this salad and eat it for breakfast or brunch or lunch. Cheese Louise. That's all you need, I'm telling you.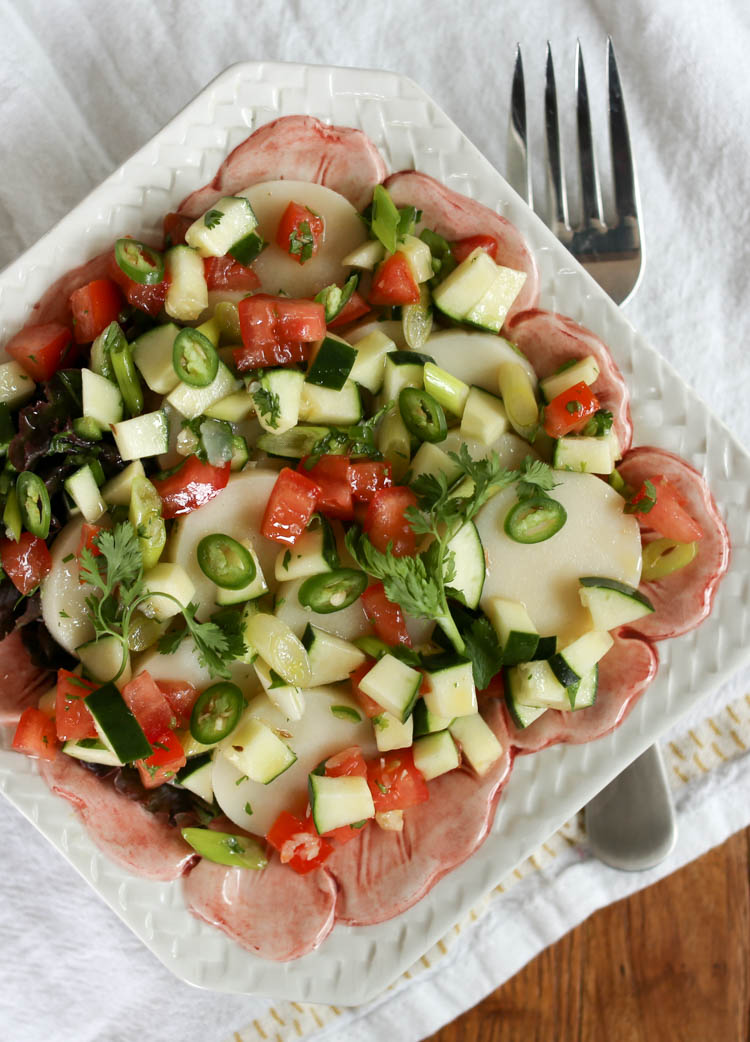 Print
Hearts of Palm Salad
1 can or jar hearts of palm (12–15 ounces)
1 tablespoon lime juice
1 tablespoons lemon juice
1 tablespoon olive oil
1 small clove garlic
3/4 teaspoon salt
pinch ground cumin
1 Roma tomato
1 serrano chile
2 green onions
1/2 cucumber
2 tablespoons chopped cilantro
Optional (sort of): 2 boiled eggs, quartered
Instructions
Drain hearts of palm and cut into slices or chunks.
In a large bowl combine juices and olive oil.
Mince the garlic and then sprinkle it with the salt. Use the side of your knife blade to mash this into a paste. Add the paste and the cumin to the bowl and mix. Gently stir in the drained hearts of palm.
Finely dice the tomato (de-seeded) green onion and cucumber. Mince the serrano.
Arrange hearts of palm on a serving platter, leaving dressing in the bowl.
Add remaining vegetables and cilantro to the dressing and mix gently. Taste and add more salt if it seems lacking. Spoon this over the hearts of palm.
Chill for at least an hour before serving.
Nutrition
Serving Size:

1 1/2 cups

Calories:

191

Fat:

14

Carbohydrates:

14

Protein:

4