HHH024 Interview with Julie Nolke | Feeling Peckish
I got to sit down with Julie Nolke and her partner Sam Larson from the YouTube channel Feeling Peckish while we were all at VidCon last week. Julie and Sam are one of those couples where, when you meet them, you say to yourself, "Oh yeah, that all makes perfect sense". They are creative and ambitious and funny and I really enjoyed our interview. Listen to find out: how they met; what are "shitty rigs"; about their short film; and about their new YouTube projects!
Show Notes: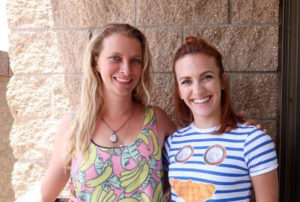 Julie's shirt 😉 —>
Actors and directors (and YouTube)
College potlucks
York University
"Shitty Rigs"
Bird Man
The Old Dark House (PLEASE TELL ME IF YOU FIND THIS MOVIE TO BUY OR RENT!!)
The right way to pronounce Toronto
Transitioning
YouTube Next Up
Spinal Tap parody
Sony A7S & Canon T5i
Oil Men (I got to watch the screener and it's SO GOOD)
Benzene exposure
The contradictions within making YouTube videos
Working together vs working separately
Follow Feeling Peckish on YouTube | Twitter | Facebook | Instagram | Website
You can listen to the episode and subscribe on iTunes or on Soundcloud here.  Please leave a review/rating to help others find the show, and if you have any suggestions about future guests feel free to let me know by leaving a comment on this page or tweet me @hilahcooking!