How To Make Chili (Texas-Style!)
I want to share my dad's Texas chili recipe with you, and first tell you this story about him.
My dad was an offshore oil rig worker for the first part of my life.
He worked in the Gulf and would be gone for weeks at a time. We'd drive down to the coast to pick him up: my mom and little brother and me. It's funny – I don't remember missing him while he was gone, but I do remember being so excited when he was back.
Every time when we got down there, he would have a bag of M&Ms in the pocket of his green windbreaker with the oil rig patch on the arm. That was before M&Ms started using space age plastic-paper to make their packaging; they were just made of good old paper-paper. My dad would tear the package in half and then Travis and I would each have a little paper cup of candy! Just like magic! I was always amazed that no M&Ms were ever spilt. Well, never spilled during the division; I'm sure we spilled plenty in the back seat of the car.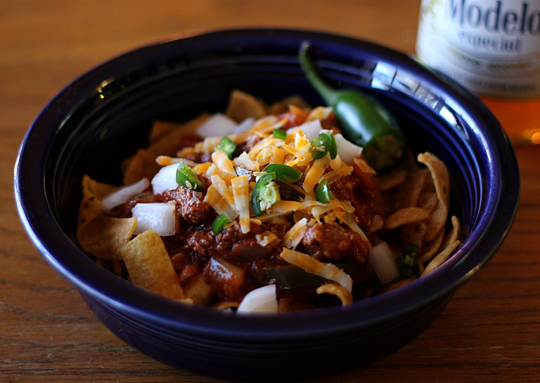 Once he was home, it was really fun. There was fort building and swing-pushing and there was lots of chili on the table. I think I've mentioned before that chili (and its delicious brother: chili-mac) was my dad's specialty, next to chicken-fried steak. I remember him telling me how to make it when I was pretty little. We would pick chile petins from the yard. Sometimes, he'd use venison. I heard all about how Texans don't put beans in chili. He measured all the spices in "palmfuls". I thought that was just incredible. I still do think his chili is incredible.
How to Make Chili Texas Style – scroll down for recipe
Subscribe to my YouTube channel to get notified of new videos.
Texas-Style Chili Recipe
Print
Author:
Prep Time:

10 mins

Cook Time:

1 -2 hours

Total Time:

0 hours

Yield:

4

1

x
1

pound ground beef (or

1

pound stew meat chunks)

28 ounce

can whole tomatoes or 1½ pounds (

4 cups

chopped) fresh tomatoes

16 ounce

can tomato sauce or

2

more cups fresh diced tomatoes

1

big old onion (softball-sized)

6

cloves garlic, minced (

2 tablespoons

)

2

–

5

jalapenos, chopped (depending on your taste)

1 tablespoon

ground cumin

3 tablespoons

chili powder

1 teaspoon

salt
Optional (for thickening if desired): 1 corn tortilla, torn up
Optional: 15 ounce can kidney or pinto beans; for more heat, add a couple of chili petins (similar to bird-eye peppers)
Instructions
Chop the onion into about 1 inch chunks, mince the garlic, and dice the jalapenos.
Break the ground meat up into a large pot and brown over medium-high heat. If using stew meat, sear the chunks on all sides.
Add everything else (except the beans if you decide to use them) and bring to a boil over medium heat. Reduce heat, cover and simmer 1 hour if using ground meat, 2 hours if using stew meat.
Add the beans (drained and rinsed) if you want. Taste and add more salt if it needs it. If you'd like it thicker, stir in the corn tortilla pieces.
Simmer another 30 minutes.
And While You're At It…
Make a batch of cornbread to go with it, even another pot of vegan chili, too, and satisfy the meaters and non-meaters alike!