How To Make Tacos Al Pastor
How to Make Tacos al Pastor Video – scroll down for recipe
Meaning "shepherd-style" in Spanish, al pastor is a spit-roasted pork dish from Northern Mexico. It was inspired by shawarma cooking which was brought to Mexico by Lebanese immigrants in the 1960's. You know shawarma, like gyros, where they pack a bunch of marinated lamb meat on a huge sharp rod and roast it all day, slicing off paper-thin slices as needed? Right. It's wicked delicious.
But in Mexico, lamb became pork, and chiles and pineapple sneaked in to the marinade. I can say with certainty I have never had a BAD taco al pastor; only good and amazing. Clearly, if they are that pleasing, we all need to know how to replicate tacos al pastor at home. Seriously lacking a huge rotisserie and a fire-place big enough to roast 50 pounds of meat at a time, I adapted the recipe for regular people in regular kitchens. Son of a gun, give me some with onion and cilantro and I could eat this every day.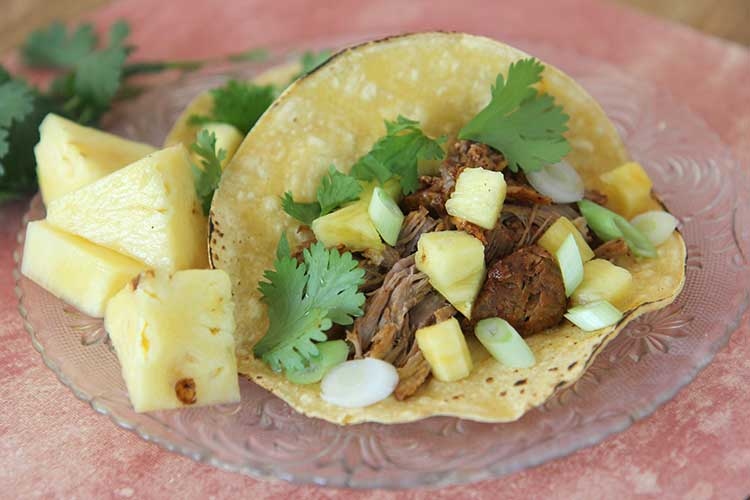 Tacos al Pastor Recipe
Print
Tacos Al Pastor
Author:
Prep Time:

2 hours

Cook Time:

20 mins

Total Time:

2 hours 20 minutes

Yield:

4

-

1

0

1

x
Category:

Main

Cuisine:

Mexican
1.5

–

3

pound pork roast

3

guajillo chiles

1

ancho chile

1 cup

pineapple juice

1 tablespoon

apple cider or red wine vinegar

1 teaspoon

each: cinnamon, oregano, black pepper, salt

1/2 cup

chopped onion

5

cloves garlic

1/2 teaspoon

achiote (annatto) powder
For Serving:
Corn tortillas
Fresh cilantro, diced onion
Pineapple spears or chunks
Instructions
Rehydrate the peppers by soaking in very hot water for 20 minutes. Discard stems and seeds. Put the peppers in a blender with everything but the pork. Whizz it until it's smooth.
Pour over your pork roast and cook it one of three ways:
Grill: slice the meat thinly, marinate up to 4 hours and grill it with fresh pineapple spears over a hot fire.
Crock pot: put the whole roast and marinade in there and cook on low for 8 hours until it's falling apart. Add some pineapple chunks in the last hour.
Bake: marinate whole roast up to 24 hours and roast at 350 degrees F, covered, until tender (2-4 hours depending on size). Shred it, add pineapple chunks and stick it under the broiler for a few minutes to crispy it up.
Notes
Remember that pineapple is a natural meat tenderizer. Fresh juice has much more of the active enzymes and can over-tenderize meat if left too long. A whole big roast will be fine marinating overnight, but small pieces of meat will disintegrate in that time. Four hours is enough. Using canned or jarred (pasteurized) juice, you needn't worry about over- marinating.
These are wonderful served with refried beans and salsa verde!