HHH014 Interview with Chef John | Food Wishes
Interview with Chef John Mitzewich, creator of Food Wishes! Chef John is a YouTube legend. He started his channel and recipe website in 2007 then partnered with the AllRecipes site in 2011. His videos are known for funny voiceover and commentary combined with delicious recipes you can make at home. In this podcast interview with Chef John, we talk about how he produces his videos, the best pick-up line, recipe theft, and what the hell is microseasoning?
Show Notes: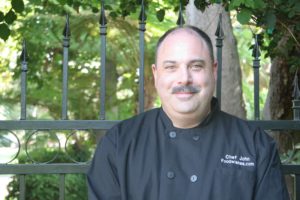 Paul Smith's College
Glacier National Park
Garde mange
Ryan's Cafe (get their Chicken Marsala recipe)
Chef John's best pickup line
Pan sauces
Pattern interrupt!
YouTube copycats?
Clotted cream (Video)
Satay tri-tip (Video)
Micro-seasoning
Seasoning to taste
A $50 date in San Francisco???
Dosa – South Indian lentil crepes
Instant potatoes (video)
How to submit your food wish!
Follow Chef John on YouTube | Website | Twitter
You can listen to the episode and subscribe on iTunes or on Soundcloud here.  Please leave a review/rating to help others find the show, and if you have any suggestions about future guests feel free to let me know by leaving a comment on this page.