I had the idea to marinate chicken in straight-up pickled jalapeños (see this copycat Chick-Fil-Gay for a pickle brine recipe!) and once that got started, it wasn't a far leap to a Tex-Mex style fried chicken … and that means corn. To me, anyway. I took my standard super-crispy fried chicken recipe and changed it up a little to include some masa harina in the flour dredge that adds a super crisp texture and even more than that, it adds the nice nutty sweetness of corn. (You can't buy masa harina in quanities less than 5 pounds so if you don't have some already, just use more flour and it'll be fine. I don't think cornmeal would work great, unless it was extra fine maybe?)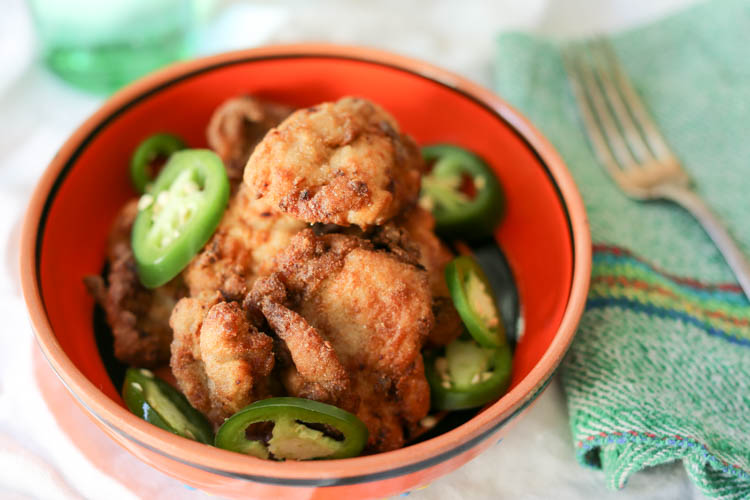 Cornstarch helps crisp up the joint, too, but if you're out of that like I am sometimes, you can use tapioca starch like I do sometimes. (Maybe it's a stretch that most people would have tapioca flour on-hand but once you try making this Brazilian cheese bread, you will always keep tapioca flour on hand, swearsies.) Anyhooz, use either one of those. Potato starch or mashed potato flakes would work, too.
A few years ago I proudly overcame an aversion to eating chicken off the bone. I don't know. I suppose as a kid growing up in the 90s eating chicken planks and fish sticks I wasn't exposed to a lot of boney meats. I got over it and can now gnaw on a bone with the best of em. But still, for weeknight fried chicken I use boneless cuts because they're faster to cook and easier to work with. Peep this ginger fried chicken for another example.
The spiciness of jalapeño fried chicken depends (obvs) on the spiciness of your pickled jalapeños. If you've looked closely, you've seen that some brands have a "mild" and a "hot" version. Why in the hell anyone would want mild jalapeños is beyond me and I strongly suggest using hot ones for this. That way chicken is a little spicy, but really not too far into the fire. If you use mild ones, you might as well just use pickle juice, imo.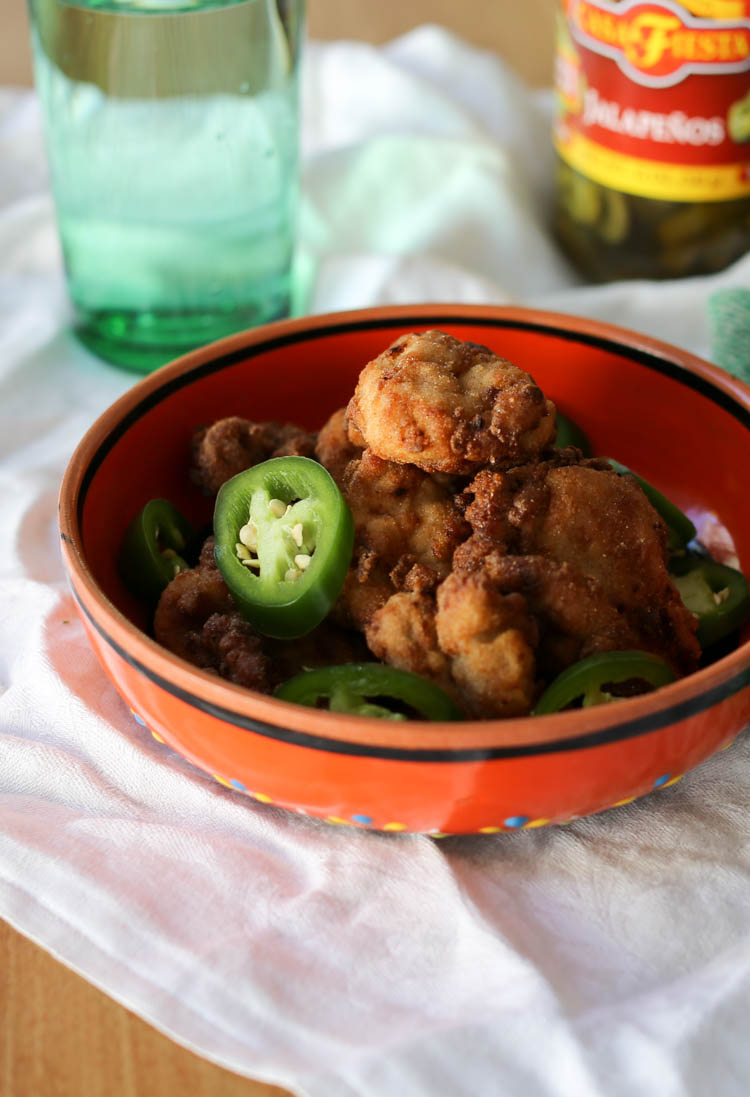 Print
Jalapeño Fried Chicken
Scale
Ingredients
1/3 cup

pickled jalapeños with juice

2

cloves garlic

1

pound boneless/skinless chicken thigh or breast meat

1/4 cup

plain yogurt or sour cream

1/2 cup

flour

1/2 cup

masa harina

2 tablespoon

s corn or tapioca starch

1/2 teaspoon

salt

1/4 teaspoon

black pepper

2 cup

s oil for frying (Canola, vegetable, peanut, corn)
Instructions
Blend the jalapeños and garlic together to make a puree. Cut the chicken into "nugget" sizes (about 1″ by 2″) Pour the puree over the chicken in a glass container. Cover and refrigerate 4-10 hours.
30 minutes to an hour before you want to eat, pull the chicken out of the fridge and add in the yogurt. Mix well to coat.
Combine dry ingredients in a large bowl.
Remove chicken pieces from marinade and roll in flour mixture a few pieces at a time. Set on a rack to "dry". Allow chicken to sit at room temperature for 20-30 minutes.
Heat oil to 350 degrees F. Use a deep pot to avoid bubbling over. Oil needs to be at least an inch deep.
Fry the chicken, 3-4 pieces at a time for about 4 minutes total, turning once. Keep the oil temperature between 340-360ºF. Chicken will be cooked once the exterior is a deep crisp brown.
You will need to fry in several batches to avoid crowding the pan.
Drain on another rack rather than paper towels.
Allow cooked chicken to cool 5 minutes before eating