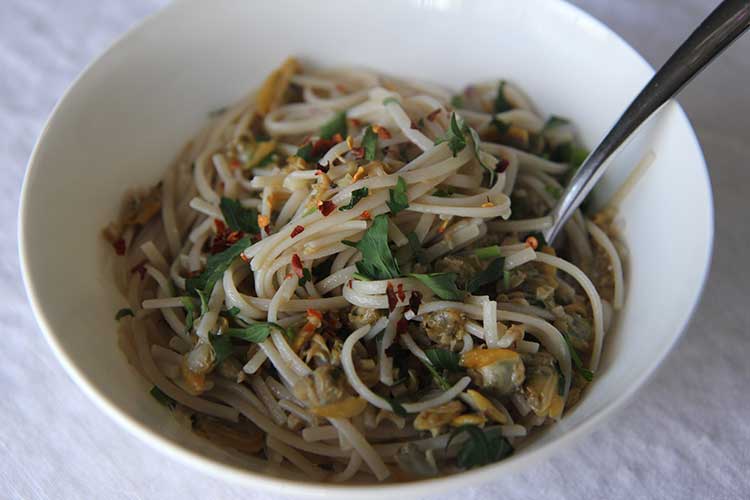 Linguine with calm sauce is a classic Italian Christmas recipe. This one I got from my friend Mel. Mel is fantastic and feisty and beautiful and has written two best-selling cookbooks (WellFed and WellFed 2) and writes on her extremely popular blog, TheClothesMakeTheGirl, and she is half Italian and half Lebanese and therefore grew up eating some of the most divine foods on Earth. She's basically one of the coolest people you'll ever meet.
This linguine with clam sauce recipe came from her Italian mama, and was one of the staples at their Christmas Eve dinners. An antipasto salad and tiny fried fish were also regulars, along with the Sicilian Fried Dough Balls that Mel taught me — and you! — how to make.
Print
Noni\'s Linguine with Clam Sauce
Author:
Cook Time:

20 mins

Total Time:

20 minutes

Yield:

8

1

x
1/2 cup

extra-virgin olive oil

4

cloves garlic, minced

2

(14.5 ounce) cans whole baby clams

1/4 cup

dry white wine

1/2 cup

fresh parsley leaves, minced

1

pound linguine
garnish: crushed red pepper flakes, grated parmesan cheese, black pepper
Instructions
Pour olive oil into a large skillet and heat over medium heat. Add the garlic and allow it to cook in the warm oil until fragrant and soft, about 7 minutes.
Add the clams, along with their juice, and the white wine to the pan. Increase heat to medium-high so it bubbles a little, but doesn't come to a rolling boil.
Meanwhile, bring a large pot of salted water to boil and add the linguine. Cook until just tender, about 10 minutes.
Add the parsley to the clams and stir to combine.
Drain the pasta and place in a large bowl. Add the clams and toss with two wooden spoons to combine.
Serve in pasta bowls and sprinkle with crushed red pepper flakes, parmesan cheese, and ground black pepper.
Mel was also kind enough to share this recipe for fried sardines. They used to have fried smelt for Christmas at her house, but since smelt are hard to find and who even knows what to do with them if you did find them, you can use canned sardines to much the same effect! This recipe comes straight outta her most recent book, WellFed 2, which is one of my favorite cookbooks, by the way. It's all paleo and most of the recipes work for the Whole30 plan, too, so if you're familiar with that and have been thinking about giving it a try, either of Mel's books are a great place to start.
Print
Pan-Fried Sardines
1

(3.75 ounce) can sardines, packed in olive oil

1 tablespoon

lemon juice

1

clove garlic, minced (about

1 teaspoon

)

1/4 cup

fresh parsley leaves, minced (about

1 tablespoon

)

1 tablespoon

arrowroot powder
pinch paprika
a few shakes of salt and ground black pepper

1 tablespoon

coconut oil
Instructions
Dump the sardines and about half their oil into a small bowl. Add the lemon juice, garlic, and parsley, then cover and refrigerate 30-60 minutes.
In a medium bowl, mix the arrowroot powder with paprika. Add a few shakes of salt and pepper and mix with a fork. Remove the sardines from the marinade and add the fish to the bowl with the spices. Gently roll the sardines in the spices until they're coated.
Heat a non-stick skillet over medium-high heat, about 3 minutes. Add coconut oil and allow it to melt. Fry the sardines about 2 minutes per side, until they're crisp and heated through.
And don't forget your vegetables! An antipasto salad with peppers, olives, tomatoes, cucumber, lettuce, onions, really whatever the hell you want as long as you drizzle it with olive oil, red wine vinegar, salt, pepper and crumbled oregano is a great way to get them.