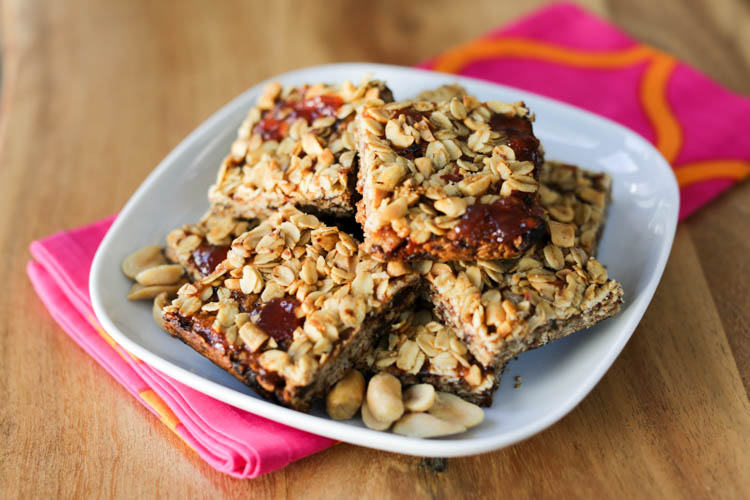 These peanut butter and jelly bars are a great kids' snack to keep around! Sweet enough to interest them, but not full of refined sugar. Whole grain oatmeal, dried fruit, peanut butter — these are wholesome as hell, y'all! Chef Baby likes these for breakfast sometimes, or for a snack to take to the park. Of course you can use any nut butter in place of peanut butter in case of allergies.
For the sweetest PBJ bars, use raisins and/or apricots or prunes. Less sweet bars, use all or part dried cherries or figs. I use a "spreadable fruit" type of jam that's made with just fruit but any kind you have would work.
Store these in a container at room temperature for a week. They get a little dry in the fridge.
Peanut Butter Jelly Bars recipe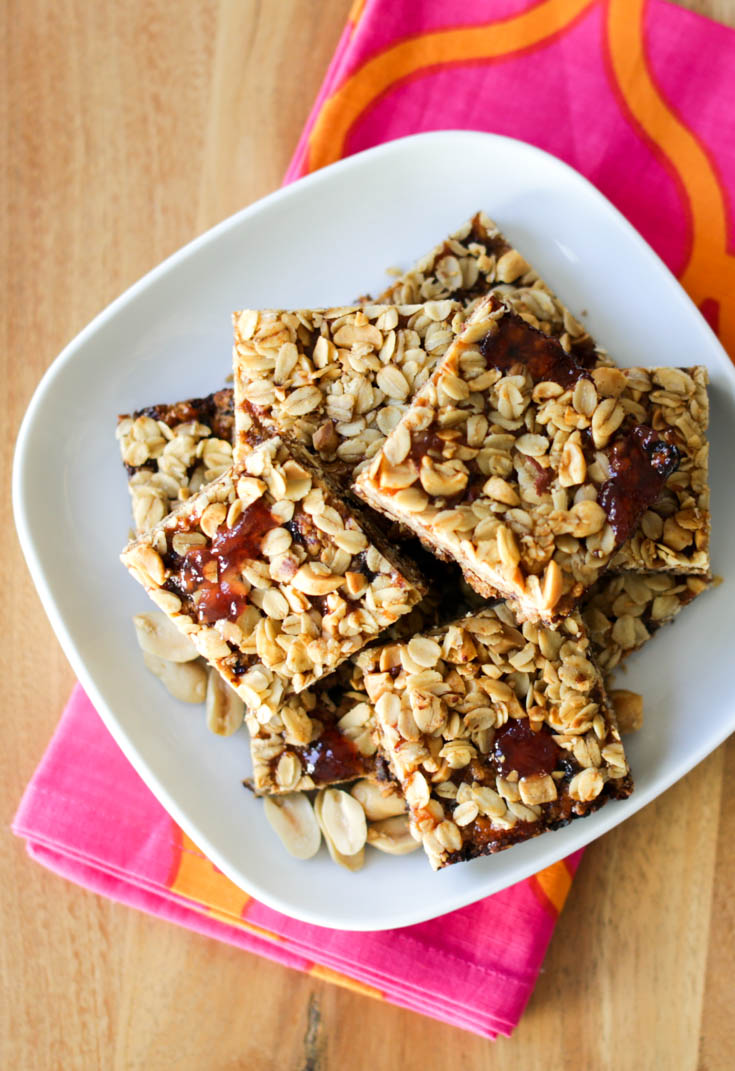 Print
Oatmeal Fruit Bars
Author:
Prep Time:

10 mins

Cook Time:

20 mins

Total Time:

30 minutes

Yield:

1

6

1

x
2 1/4 cups

old fashioned rolled oats, divided

1 cup

dried fruit (raisins, figs, dates, etc)

4 tablespoons

melted butter or coconut oil, divided

3 tablespoons

peanut butter

1 teaspoon

vanilla extract

2 tablespoons

all-fruit jam

2 tablespoons

chopped roasted peanuts
Instructions
Set oven to 350 and line an 8×8″ pan with parchment paper, leaving edges hanging over.
Cover dried fruit with boiling water and let sit 5 minutes.
Put 1 3/4 cup oats in a food processor and pulse a couple of times to chop. Transfer to a bowl.
Add drained soaked fruit, 2 tablespoons butter, peanut butter and vanilla to the processor and pulse until combined well. Add to oats and mix. Add 2-4 tablespoons of the soaking liquid as needed to make a stiff dough.
Press the mixture firmly into the bottom of the baking dish.
Spread jam casually over that.
Mix remaining butter with 1/2 cup remaining oats and the peanuts. Sprinkle over the jam and press in.
Bake 15-20 minutes until lightly browned at the edges.
Cool in pan, lift out and cut into 2″ squares.
Other Toddler-Friendly Recipes
PBJ Bars Video