Whether you're just starting out or it's old (chef) hat to you, these are the items I trust and use in my kitchen daily. These items might also make great gifts for the cooks in your life.
Get one as large as you can handle, in wood or plastic. Glass and other materials are destructive to knife edges. Personally, I like wood because it looks nicer longer, but plastic is dishwasher safe if that's a priority for you.
A decent knife doesn't have to cost more than $50 but it should cost more than $10 if you want one that will keep its edge and isn't so flimsy that it's dangerous.
Everyone should have one of these and use it weekly.
Easier to learn to use than a cast iron skillet, and much more durable than a non-stick skillet.
A 2-quart size works for most things.
A most excellent primer on learning to cook, learning to grocery shop, meal planning, and more. Includes over 150 recipes.

Nice to have when you have a friend over to cook together. Maybe you want to upgrade now, too.
Blenders aren't just for smoothies. Use the blender to scramble a dozen eggs for a crowd, to mix up pancake batter, to turn bread into crumbs, and to crush ice for cocktails.
(or two) - these silicon baking tray liners are a dream. They keep baked goods from sticking, they are reusable and easy to clean.

I find these more versatile than a spiralizer because you can use it to make thin slices or julienne "noodles". These can cut you; use the hand guard, and sprinkle some water on the plate before you begin to lubricate it and keep food from sticking. (See the video on making "coconut zoodles" for a demo on this.)
Dutch ovens are wonderful tools for stews and braises. You can use them on the stove or in the oven with great results.
Great for making cakes, kneading bread dough, whipping cream or egg whites, and any number of more advanced techniques without breaking a sweat
Probably the most-used "cook book" in my house, this book is full of interesting flavor and ingredient combinations to experiment with.

These are things you may find extremely useful, depending on your lifestyle.
I use my flow-cooker often, especially on busy days when I won't have time to cook dinner. I even wrote a Slow Cooker Recipes book with 40 new recipes!
Use this for chopping large amounts of onions or other vegetables; grating cheese; even making pie crust
This is an electric pressure cooker/slow cooker/rice cooker. I have one and use it often to cook dried beans and meats on the pressure cooker setting. It's safe, easy to use, and easy to clean.


"Learn to Cook" by Hilah Johnson is a great resource and not just for novice cooks as the title might indicate. There is plenty of good information here about kitchen basics, shopping, pantry essentials, and meal planning, as well as great recipes and sample menus. I've been cooking for years, but I learned some things from this book that I didn't know and found some recipes I can't wait to try. This book should be a part of every cook's library!
Diane on Amazon.com
It's easy to fly through this book. The author includes humorous ancedotes which makes this an easy read. She helps organize the minds of those who spend hours at the grocery store buying the staples but never seem to make anything with them. I've never taken culinary classes but I've I watched my share of foodnetwork shows. I liked this book because it went over some of the fundamental concepts of cooking that's often not explained by professionals chefs on tv. I found a few very good tips from that book and recommend it to my friends.
C. Patel on Amazon.com
This book is badass. My house has never smelled better at dinnertime! And my dude and I get to eat awesome meals at night instead of spaghetti. It is really accessible for the sort-of-know-how-to cook that wants to learn to cook for other people. You will find really practical things in here like how to plan for trips to the grocery store and breakfast taco recipes. These are recipes that you will want to cook when you get home from work because they aren't insanely complicated or daunting.
Jessica on GoodReads.com
I've been using this book for a few weeks now and I have cooked like never before!! Great book for beginners. It breaks down everything you need to know about cooking..
Ted F. on Amazon.com
This book gets down to the basics. Hilah assumes nothing -- which is actually super helpful. I've tried several recipes from here that are delicious. The scrambled eggs, "Perfectly Good Fish" and others are simple and taste so good! In the beginning of the book, there is a ton of practical cooking informatin that you probably never stopped to think about. I would get this book for anyone. .
Hilren on Amazon.com
Whatever the age, there's still time to learn to cook by reading Learn to Cook by Hilah Johnson. My culinary abilities don't stray far from heating something frozen in the microwave or oven, but having read this book, I feel more comfortable trying out new recipes. Johnson's writing has a delightful witty and humorous way of teaching a person cooking terms and food preparation. Her recipes are clear and easy to read, and there are quite a few I can't wait to try out and eat. If you want to learn to cook and have fun reading, I highly recommend Hilah Johnson's Learn to Cook.
Cherie on GoodReads.com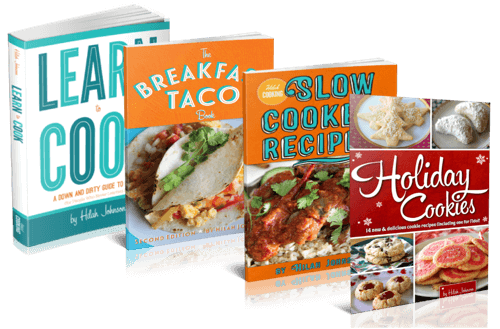 IF YOU LIKE THE VIDEOS, YOU'LL LOVE THE BOOKS!
Did y'all know I wrote some cookbooks? They're not only useful, they're funny as hell, too.
Subscribe to my TOP-SECRET weekly newsletter to keep you up-to-date on all the things happening in the world of Hilah Cooking.
Subscribe to my TOP-SECRET weekly newsletter to keep you up-to-date on all the things happening in the world of Hilah Cooking.