Socca Pizza – Gluten-free Pizza-like Delicious!
I discovered the wondrous foodstuff that is socca very recently after googling what the hayell to do with this bag of chickpea flour I'd had in the pantry since the dinosaurs roamed the earth. "Socca" is one of the first things to pop up. I made it once, plain-style, and then was immediately struck with the idea to throw a buncha shizz on toppa it and call it a pizza! And it's remarkably close, I think, to a pizza.
It's round. It's got cheese on it. It's baked in the oven. It's still great even after sitting out at room temperature for several hours. And it goes good with beer. Convinced? You should be.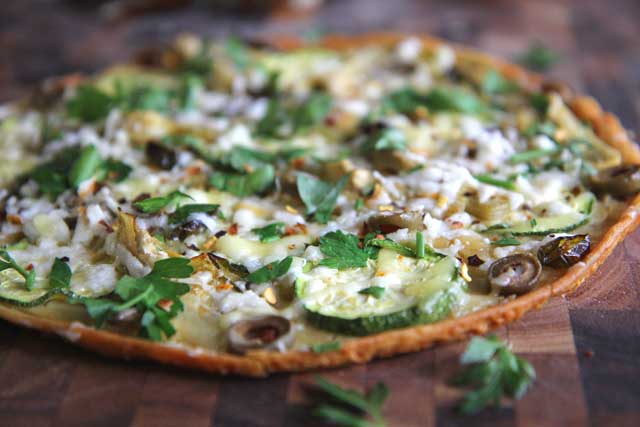 ED NOTE: OOOPSIES!!! Someone pointed out on YouTube that "socca" is the French name for this chickpea bread thing; "farinata" is what it's called in Italy. My bad!
Print
Socca – Gluten-free \"Pizza\" Recipe
Author:
Cook Time:

15 mins

Total Time:

15 minutes

Yield:

2

-4

1

x
Socca:

3/4 cup

chickpea flour

3/4 cup

hot water (hot tap water, around 120ºF)

1/2 teaspoon

salt

1/2 teaspoon

black pepper

1/2 teaspoon

dried oregano, rosemary, or basil

1 teaspoon

minced garlic

3 tablespoons

olive oil, divided
Toppings:
Artichoke hearts, olives, mushrooms, peppers, zucchini

1/4 cup

grated cheese

1 tablespoon

minced parsley
Instructions
Set oven to heat to 450ºF (232ºC) and place an empty, well-seasoned 9″ cast iron skillet inside.
While that heats, make you batter by whisking together chickpea flour, hot water, salt, pepper, oregano and garlic. Whisk in 1 tablespoon of the oil. Set aside while you prep your toppings.
When the oven is hot, use a hot mitt to remove the skillet and set it on a heat-proof surface.
Pour 2 tablespoons of the oil into the skillet and swirl to coat.
Stir the batter once more and pour into the hot skillet. It will sizzle. Tilt the pan (use a hot mitt!) to coat the bottom with the batter.
Lay on all topping except cheese and parsley.
Bake 12-15 minutes until the edges are crisp and brown and the vegetables are cooked.
Remove from oven, sprinkle with cheese and broil for just a minute to melt.
Sprinkle with parsley, cut into wedges and serve.
Notes
While this is best fresh out of the oven, you can serve it at room temperature and it's pretty damn good, too. Once you've cut it, lay the slices on a rack to cool. The cooled socca will still be crisp around the edges and taste great. Refrigerating it makes it soggy.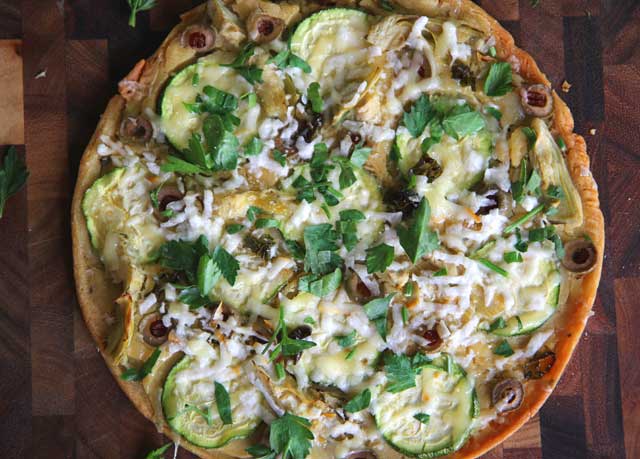 Love gluten? Check out this awesome gluten-filled pizza dough recipe!