strawberry ice cream video recipe – scroll down for printable recipe
We had one of those salt-cooled, hand-cranked ice cream makers when I was a kid. My brother and I would take turns sitting outside on the porch, adding ice and salt and of course, cranking it with our puny kid muscles. Most often, we'd make peach or strawberry ice cream (or sometimes grape ice cream!).
When it was peach, the peaches were from the peach trees in our yard. When I say "yard" I mean, the large expanse of dirt and rocks and dirty rocks punctuated by scrubby juniper trees and sporadic white peach trees. My great-grandmother planted a few peach trees long before I was born and they had spread, if not like wildfire, at least like fruiting trees do when animals and humans eat their fruit and throw the pits all around. The family lore was that one of the original peach trees was struck by lightning and ever since had born white peaches. Who knows if that legend is truth, but to this day those white peaches in my memory are the best peaches I've ever had.
When it was strawberry ice cream, the strawberries might have come from Poteet, Texas, a town known for their strawberries. They have a strawberry festival every year: The Poteet Strawberry Festival, sure enough. We went as a family one year; I was in sixth grade. It was fun. There were all kinds of strawberry things to eat — strawberry ice cream, strawberry jam, strawberry shortcake — as well as strawberry-themed accessories and t-shirts. When we got home, I called my best friend and told her I'd brought her back some strawberry earrings and matching t-shirt.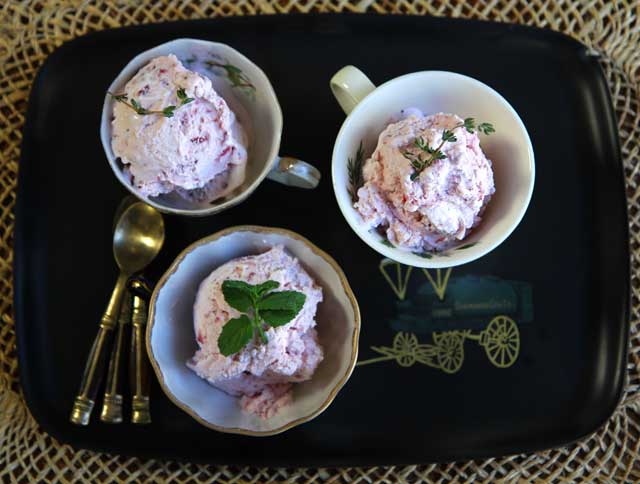 I'm not sure why I lied. I guess I really wanted to have brought her something, but those things were all too expensive. Instead, I asked my mom if we could make some earrings and t-shirts like I saw at the festival. I used one of my t-shirts and puff-painted strawberries all over it. I can't quite picture it in my head now, but I'm fairly positive it was the fugliest t-shirt ever created. I also made some tiny Fimo clay strawberries and baked them in the oven. Drew dots on them with a Sharpie for seeds. Hot-glued them onto cheap French hooks. Also extremely hideous, I am sure. My friend … liked them? I guess? I don't remember her reaction. At the time I thought I was pretty clever, that she would never know that I made them myself! That she would feel special because I'd spent money on her. Isn't that so funny, how kids are. Now a hand-made gift means so much. Growing up poor, making our own things instead of buying them, it was embarrassing to give a friend a hand-made present. Now I give people hand-made presents all the time, in food form.
Which brings me back around to strawberry ice cream after our brief detour down Memory Lane!
Strawberry Ice Cream Recipe
For something healthier, try this maple syrup-sweetened frozen yogurt recipe!
And for something even healthier still, try strawberry kale salad!
Print
Strawberry Ice Cream
Author:
Prep Time:

1 hour

Total Time:

1 hour

Yield:

8

1

x
1 pint

(

1/2 quart

) strawberries, hulled

1/2 cup

sugar

1 teaspoon

vanilla extract

1 1/2 cups

heavy whipping cream

1/2 cup

milk
Instructions
Combine strawberries, sugar and vanilla in a food processor and pulse a few times until coarsely pureed.
Stir that in with the cream and milk. Stir briskly a few times to dissolve the sugar.
Cover. Refrigerate at least 1 hour and up to a day.
Freeze in your ice cream maker according to manufacturer's instructions.
Serve immediately, soft-serve style, or pack into a container and cover tightly. Place in your freezer for an hour to firm up.
Store tightly covered in the freezer for up to a week. Beyond that, the texture may become icy.
Notes
Fresh or frozen strawberries can be used. Thaw frozen berries first and keep any liquid that drains from them.