Sun-dried Tomato and Cheddar Scones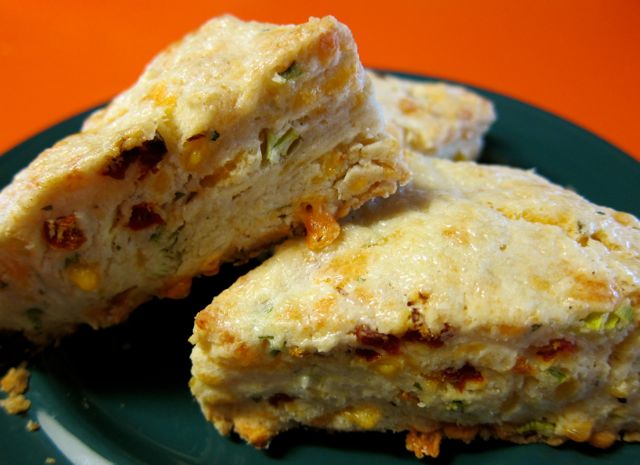 As promised, here's the recipe for the exquisite savory scones I made for Austin Bakes last weekend. People were RAVING about them (mostly me and Chris, but whatev).
Scones hail from Scotland and are pretty much like biscuits in that they have the same 3 basic ingredients: flour, butter (or some kind of solid fat), and milk or cream. Scones are typically thought of as being sweet, often flavored with dried fruits, and served at tea-time with jam and clotted cream.
But savory scones are a damn tasty snack with a cold beer in the afternoon.
I adapted a recipe from Emeril Lagasse. His called for finely chopped, cooked bacon. I substituted the sun-dried tomatoes. I also had to add more cream than was called for in his recipe. That may have had something to do with how dry it's been here for the last several months. Gawd, it feels like an eternity since it's even been humid! Weird.
Here is the recipe as I made it.
| | |
| --- | --- |
| Sun-dried Tomato and Cheddar Scones | |
Ingredients
3 cups all-purpose flour
1 tablespoon baking powder
1 teaspoon sugar
1 1/2 teaspoons salt
1/2 teaspoon black pepper
1 stick butter, frozen
1 1/2 cups grated sharp cheddar cheese
4 green onions, thinly sliced
1/4 cup minced sun-dried tomatoes packed in oil
1 1/4 cups heavy cream plus 2 tablespoons for brushing over the tops
Instructions
Preheat the oven to 400 degrees F.
Sift the dry ingredients together in a large bowl.
Working quickly with the large-hole side of a cheese grater, grate the butter into the dry ingredients. This is my short-cut way of cutting in the butter with the flour. (I use the same technique when making biscuits.)
Toss the butter shavings around the flour with a large fork.
Add the cheese, onions, tomatoes and stir to combine.
Add the 1 1/4 cups cream and stir together with a large spoon or spatula until it comes together into a soft ball.
Turn the dough out onto a floured surface and divide in half.
Shape each half into a circle about 7″ diameter.
Cut each circle into 6 triangular pieces.
Use a spatula to move them to a baking sheet, leaving 1/2″ between them.
Brush the tops with the reserved 2 tablespoons of cream.
Bake about 25 minutes until golden.
Serve warm with a soup or stew, or serve at room temperature with a beer.
Click here to see How to Make Biscuits.