Tourtière Video (scroll down for printable recipe)
Part nine in my Christmas Around the World series! Christmas in Canada, focus on: TOURTIERE! Thank you to Sharron for sharing your recipe!
Originally a tourtiére was a HUGE meat pie baked in the deep dish for which it is named. The tourtières I saw on the innernet were like Dutch ovens, 6 inches deep and 8 inches wide probably, holding a good two pounds of meat on their own. Some recipes called for the pies to bake 2-3 hours! I know of no one in this day and age that have either the time, or the appetite for that much meat pie. So, sacre bleu! I made mini-tourtiére. Is that a sin?
This recipe is adapted from one sent to me by Sharron in Canada. After reading some recipes online, too, I decided to add a little allspice (many recipes also use cloves, but that is too much for me) and use thyme in places of savory simply because I don't keep savory in the house and I really like thyme (I hope that's okay, Sharron!). I also nearly halved her recipe, since there are only two of us in the house and while we certainly would have eaten two pounds-worth of tourtiere, I don't think we should. And having said that, we could have frozen them. Sharron also sent directions on how she freezes these, if you'd like to do the same.
Lacking adorable mini-pie pans, make this same recipe (below) in a standard or deep dish 9″ pie pan. Personally, I think there is more to mini-pies than people give them credit for, especially if you are a person who has a special affinity for pie crust. Like me.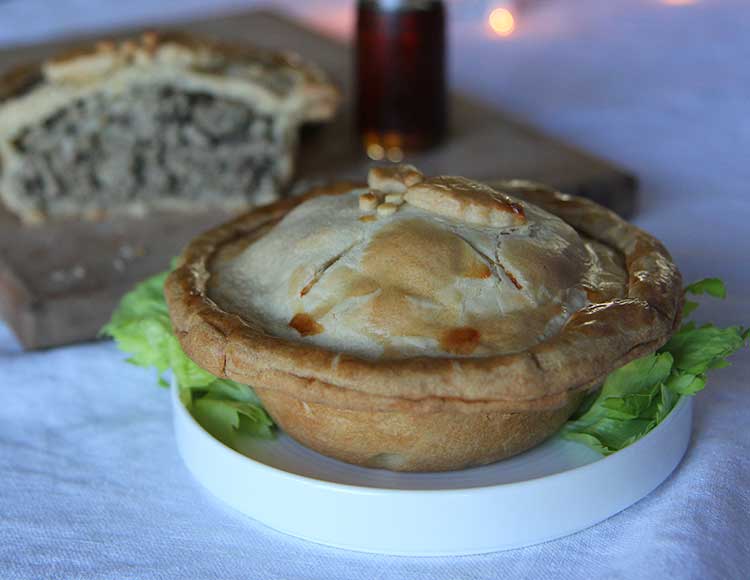 Tourtiére Recipe
Print
Tourtiere
1

pound ground pork

1 cup

cold water

1/2 cup

finely chopped onion

1/4 cup

finely chopped celery

1/2 teaspoon

ground black pepper

1

bay leaves

1 teaspoon

dried thyme

1/4 teaspoon

dried rosemary

1/2 teaspoon

grated nutmeg

1/2 teaspoon

cinnamon

1/4 teaspoon

allspice

1/2 teaspoon

salt

1/2 cup

old-fashioned rolled oats or grated boiled potato
Pastry for

one

double-crust, 9-inch pie

1

egg, beaten, for glaze
Instructions
In a large, heavy frying pan, combine pork with cold water and heat to
boiling point. It should be slightly soupy. Add onion, celery, pepper, bay leaf, savory, rosemary, nutmeg, cinnamon, allspice. Cook, covered, over medium-low heat for 1 1/4 hours; stir often. Add more water if mixture dries out.
Halfway through cooking time, season with salt.
Stir in rolled oats and cook, stirring, for 1 to 2 minutes. Remove bay leaf
and allow to cool. Setting the entire pot in the snow bank speeds up this
process!
Meanwhile, line a standard 9-inch pie plate with pastry (or 2 mini-pie tins). When meat mixture is lukewarm, spread it into tins.
Brush around outer edge of pastry with the beaten egg. Place top crust
on the tart and press gently around the edge to seal. Trim pastry, crimp edges
and cut steam vents in top crust. Decorate as desired.
Bake in preheated 425°F oven for 15 minutes, then reduce heat to 375°F
and bake another 20-25 minutes or until crust is golden.
Notes
To freeze unbaked pies:
Pies can be frozen directly after assembly, with the dough still raw. Wrap them well in plastic wrap and freeze.
To cook:
Remove pie from the freezer and unwrap.
Brush the top with a little beaten egg and place frozen meat pie in a preheated
375°F oven.
Bake until golden and heated through, about 50 minutes.
Pies can also be baked and cooled, then wrapped and frozen. This is convenient when you really need an instant supper fix.
To reheat cooked, frozen pies:
Remove meat pie from the freezer a few hours before serving, if possible.
Wrap in foil to keep it moist and warm in a low (300°F) oven until heated through.
Nutrition
Serving Size:

1 mini-pie

Calories:

491

Fat:

20

Carbohydrates:

43

Protein:

34
And finally, I'll leave you with this adorable quote from Sharron:
Whether you speak French or English in the home, celebrate Christmas or not, tourtière is an essential December dish around here.