Not that ripe summer watermelon needs to be made into salad, but hey, maybe you're bored with plain ol' melon and want to try this watermelon salad.
I started a post literally almost ONE YEAR ago that I never got around to finishing. Well, I finally did. Like, just a minute ago. Jeez. What a lazy ass. It's all my fave-o-rave watermelon drink recipes. Interestingly, they all could easily involve alcohol.
Not this one, though. This watermelon salad don't even need no alcohol in it! It's so tasty and refreshing. Boy! Talk about a palate-cleanser after all those barbecued beans and ribs bones you been gnawing on at the Fourth of July barbecue! It's just delicious! (Between you and me, though, you totally could sneak booze into this. Maybe not a lot, but some. And sometimes, some is enough.)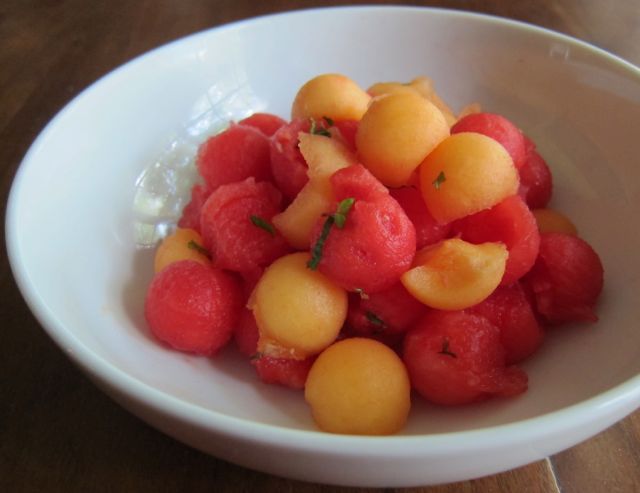 Print
Watermelon Salad
About

6 cups

watermelon balls
About

6 cups

cantaloupe balls

1 teaspoon

honey (more if the melons aren't very ripe)

2 tablespoons

lime juice

1 tablespoon

fresh chopped mint
Instructions
Mix together honey, lime juice, and mint.
Pour over melon balls and toss all gently.
Refrigerate at least one hour to get very cold.
Will keep refrigerated up to 3 days.
Notes
Fresh basil or thyme would probably be nice in place of mint