Banana Pancakes (Egg-free pancake recipe)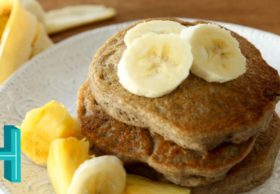 Scale
Ingredients
1

ripe banana, mashed (about

1/1 cup

)

1

egg OR

1 tablespoon

oil

1 1/4 cups

milk or non-dairy milk

1/2 teaspoon

vanilla extract, optional
dash cinnamon, optional

3/4 cup

whole wheat flour

1/2 cup

buckwheat flour

1 teaspoon

baking powder

1/4 teaspoon

salt
Oil for cooking (I like coconut oil)
Mash banana in a large bowl with a fork until it's mostly smooth. Mix in egg if using. Add milk, oil and vanilla and stir well.
Add dry ingredients and mix quickly. There may be some lumps.
Lightly oil a griddle and heat over medium until it sizzles when a drop of water is flung upon it.
Portion batter by large tablespoonfuls spreading the batter out if necessary to make a circle about 2 inches diameter. Cook until the edges begin to look dry and bubbles form around the outside. Use a spatula to flip each pancake and cook another 1-2 minutes until brown and crispy.
Serve pancakes hot with butter and syrup or cool and refrigerate. Pancakes can be reheated in a toaster or toaster oven.