This aioli recipe is super simple, quick and fun. Especially simple and quick if you have a blender! It won't keep as long (like, not forever) as store-bought mayonnaise and it has a more pronounced egg-y flavor than store-bought mayo, but it also has only 5 ingredients and you can alter it somewhat to suit your taste.
The garlic measure is variable: one clove yields a nice hint, four cloves and you have a garlic sauce ; you can leave it out entirely if you'd rather have mayonnaise. The lemon juice can be fresh or bottled, or it can be white wine or champagne vinegar if you like. I imagine even red wine vinegar would work, thought it would make the color muddy. Fresh herbs can be added at the end, or just to individual servings for variety. Fresh tarragon, parsley, chervil, dill — any of these soft, mild herbs work well.
Two rules on making aioli or mayonnaise: Room temperature ingredients (if your eggs were refrigerated, leave them on the counter for an hour before attempting aioli), SLOW addition of oil. The two biggest reasons aioli fails are using cold eggs and adding the oil too fast. If using a blender, it should take you a minute to trickle in the first half-cup of oil. Use a measuring cup with a spout on it to facilitate pouring and set a timer. Check yourself at 30 seconds to make sure you're on target and not pouring too fast. After the first minute, look at the aioli to make sure it's emulsified. It will look smooth and thick. If it's "broken", meaning the emulsification didin't form and instead of looking smooth, your aioli looks curdled with blobs of oil floating around in a yellow liquid, scrape that stuff out of the blender and set it aside. Add a new, room temperature yolk to the blender and whizz it around. Slowly add the broken aioli back into the yolk, by spoonfuls, on low speed until it comes back together. You can use this trick to fix broken Hollandaise sauces, too.
Other than that, and I know it seems like a lot, but other than those two things, it's easy to make aioli and I encourage you to try it at least once. It'll make you feel real grown-up.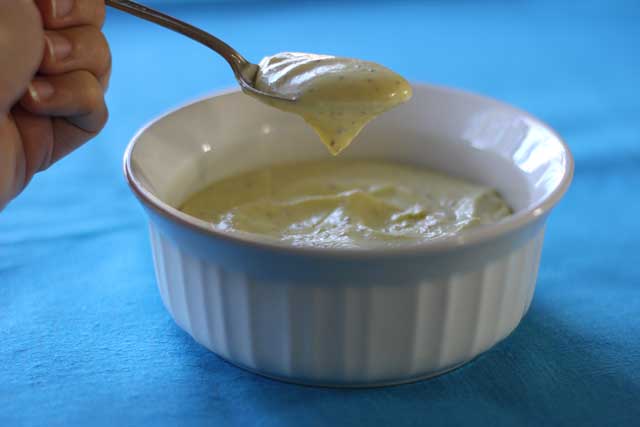 Print
How to Make Aioli
Author:
Prep Time:

3 mins

Total Time:

3 minutes

Yield:

1.

5

1

x
2

egg yolks, room temperature

1

–

4

cloves fresh garlic

1 tablespoon

lemon juice, white wine vinegar or champagne vinegar

1 tablespoon

dijon mustard

1/2 teaspoon

salt

1 cup

olive oil (or a combination of olive and another vegetable oil)
Instructions
Combine in a blender jar: egg yolks, garlic, lemon juice, mustard, and salt. Blend on low speed for about a minute until lightened in color and creamy-looking.
Remove the center plug on your blender lid and with the blender on low speed, trickle in half a cup of the oil over the course of about a minute.
After a minute, the mixture should be smooth and about as thick as condensed milk.
Turn the blender on low again and trickle in the rest of the oil over another minute. You will hear the pitch of the blender motor change as the aioli starts to get really thick. You might not be able to get all the oil in before it gets too thick to blend.
Store the aioli in the refrigerator up to two weeks.