I've said it before and I'll say it again and again and I'll never stop saying it, probably, but there is nothing better in the hot, hot summertime than a salad waiting for you in the refrigerator. This make-ahead lentil salad is a prime example. Make it when you have an off moment and it just gets better and better for the next three days, and by then it will probably be all gone.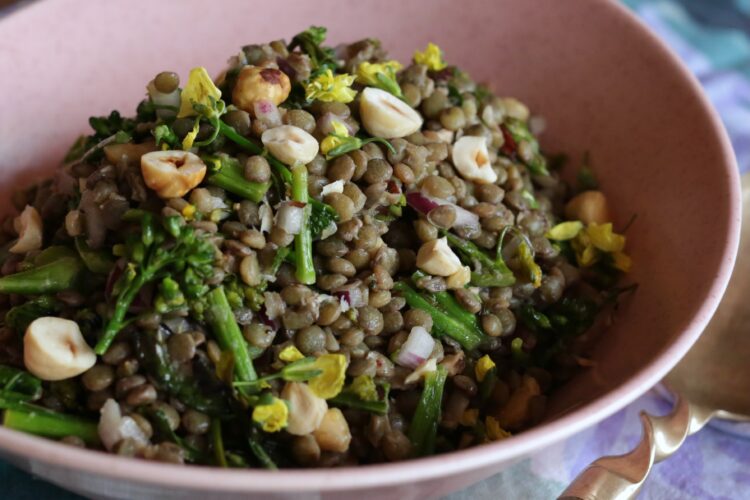 I boiled a half-pound of Rancho Gordo French green lentils, which hold up well for salads without going super mushy. A half a pound of dried beans boils up to about three cups of cooked beans after draining, which is equivalent to two 15-ounce cans of beans or lentils, also drained. Phew, that was some impressive ciphering I just did super-duper fast.
For the green part, I used about a half of a big bunch of broccolini because it was on sale two for one and I'm nothing if I pass up a bargain like that. I chopped it and quickly seared it in a little oil in a hot cast iron skillet.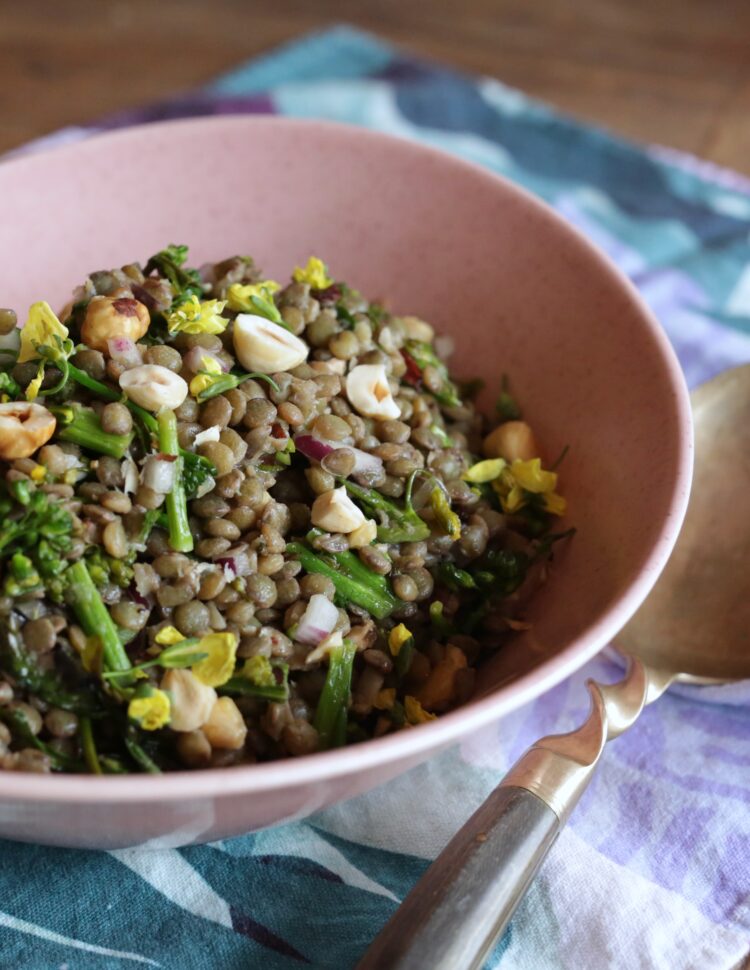 The dressing is deceptively simple: lemon juice, olive oil, salt. Some diced red onion and toasted nuts for crunch. I like hazelnuts (aka filberts) but almonds would be just as good. To toast your nuts (much yummier that way) just spread them in a single layer on a baking sheet and stick in a 350-degree oven for 6-10 minutes. I just use my toaster oven and keep an eye on them. Pro Tip: If you're using hazelnuts, take them out once the skins have started to peel off and rub them around in a clean dishtowel while they're hot. Most of the skins will be gone and you'll have fancy peeled nuts to impress yourself with.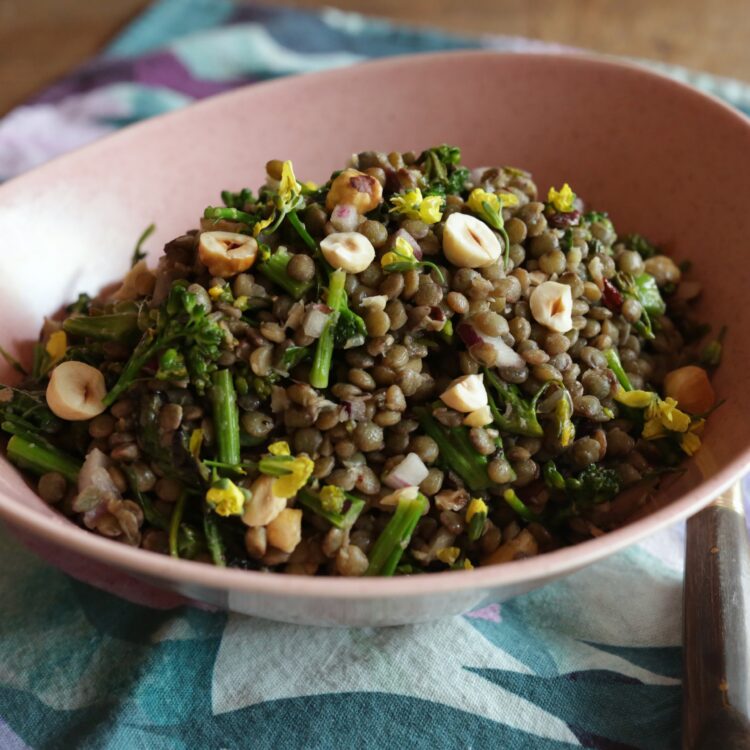 Print
Make-Ahead Lentil Salad
An easy make-ahead lentil salad
Author:
Prep Time:

10

Cook Time:

20

Total Time:

30 minutes

Yield:

5 cups

1

x
1/2 pound dry French lentils (or 2–15 ounce cans lentils)
1/2 bunch broccolini or broccoli (about 1 pound)
1/2 cup small-dice red onion
1/2 cup toasted hazelnuts or almonds
3 tablespoons olive oil
3 tablespoons lemon juice
1 teaspoon salt
Instructions
For dried lentils, give them a quick rinse then cover with 1″ water. Bring to boil over high heat, then simmer about 20 minutes or until tender. Drain in a colander and rinse gently with cool water. Set aside.
Char the broccolini: Chop into 1/2″ pieces. Heat a heavy skillet over high heat with a drizzle of oil. Cook the veg quickly over high heat, allowing it to nearly burn in spots. Sprinkle with a bit of salt. Turn off heat once veg is bright green all over and a little charred.
Combine lentils with remaining ingredients in a large bowl and mix gently to coat lentils. Taste for salt and lemon. You may want more of both.
Mix in the veg once it's cooled a little. Serve now at room temperature, or refrigerate for up to three days.
Nutrition
Serving Size:

1.25 cups

Calories:

287

Fat:

21

Carbohydrates:

20

Fiber:

6

Protein:

11