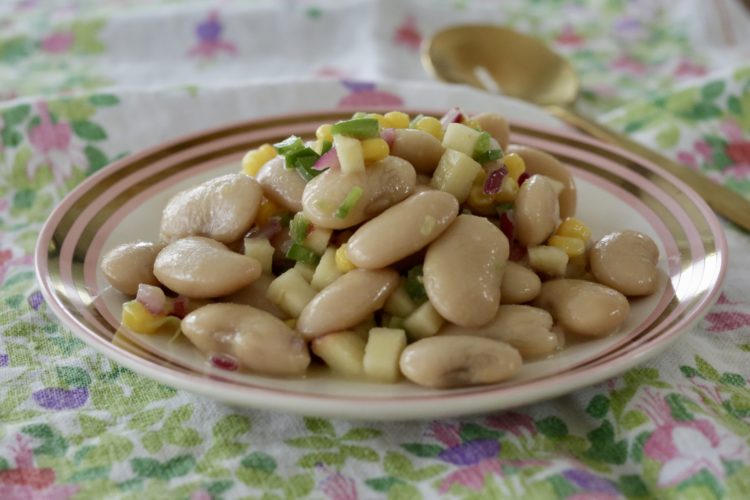 My favorite place to write in LA is this little coffee shop called Kiff Kafe. It's where I first tried gigante beans in the form of this gigante bean salad recipe which is a complete rip-off of their recipe but it's okay because I'm not in LA right now anyway. I'm sure you can guess by the name, if not the photo above, that gigante beans are GIGANTIC. Bigger than a lima bean, bigger than a fava bean, bigger than a human bean … just kidding. They aren't that big. But they are pretty big.
They're also creamy with tender skins that hold together once cooked, which makes them a perfect salad bean. They also happen to be hard to find, especially dried. But Rancho Gordo carries them sometimes under the name Royal Corona bean and when they have them, I buy three pounds! I have found them canned in Greek grocery stores, but I haven't tried a brand yet that I like better than cooking my own gigante beans from scratch.
Truly, that's the most time intensive part of this recipe but it's also very easy if you have a pressure cooker.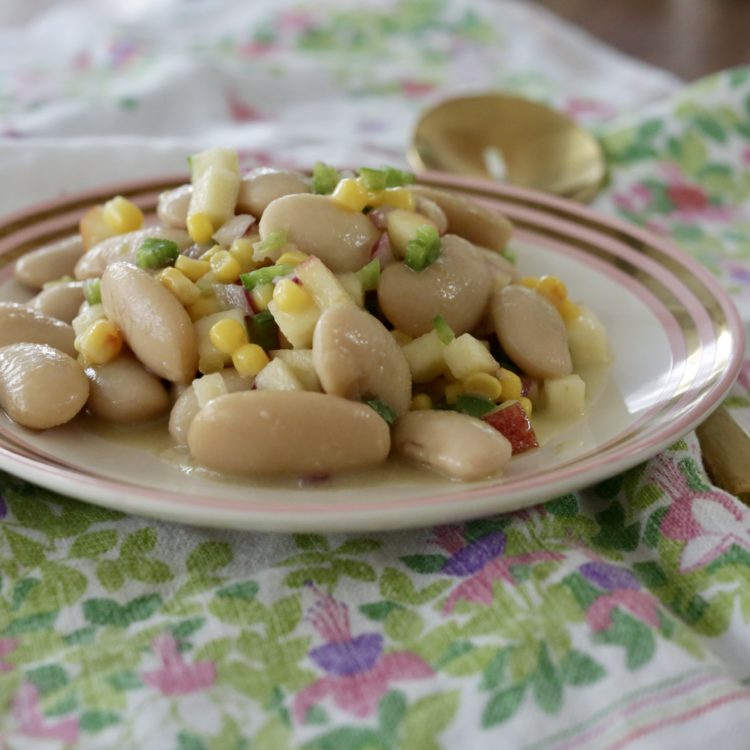 No matter how practiced you are at cooking beans or what tricks you may have, you must not skip soaking dried gigante beans for 12 hours in salted water! It's imperative to get them cooked all the way through. I soak my 1/2 pound of beans in about 6 cups of salted (1 teaspoon) water overnight, then dump the whole lot into my Instant Pot, cook on high for 30 minutes and let natural release. They are perfectly tender but still intact and have saltiness all the way through them. Drain while they're still warm and toss gently with the vinaigrette. Let cool then add in remains salad ingredients and serve.
If I recall, the cafe menu called this a "Vegetable Salad" which I always thought was funny because there's no real vegetable in it except onion and jalapeño. Are beans vegetables? I think of them more as seeds or something. And corn is really a grain, right? Not that it matters much now since I just make my own and call it whatever I want.
Print
Gigante Bean Salad
Author:
Prep Time:

12 hours

Cook Time:

30 min

Total Time:

12 hours 30 minutes

Yield:

6 cups

1

x
1/2 pound dried gigante beans
6 cups water
1 teaspoon salt
2 tablespoons olive oil
2 tablespoons apple cider vinegar
1 teaspoon dijon mustard
additional salt to taste
1 cup small-diced apple with skin
1 cup frozen corn kernels
1/2 cup small-diced red onion or shallot
1/2 cup seeded, minced jalapeño
Instructions
Soak the beans in the water and teaspoon salt overnight, 12 hours. Do not drain! Pour it all into a pressure cooker and go for 30 minutes on high heat. Allow to release pressure naturally.
Drain beans and combine with oil, vinegar and mustard. Mix gently until coated. Taste for salt. Refrigerate until cool but not cold (you don't want the olive oil to solidify) Stir in remaining ingredients and serve.
Will keep a couple days in the fridge but let it warm up a bit before serving.