We recently got an outdoor pizza oven — Ooni Koda 16 — and it's been so fun experimenting with different pizza dough recipes for ourselves and our friends. Friday night pizza night is a much more active tradition now. And our friends love it when we host a pizza party, too!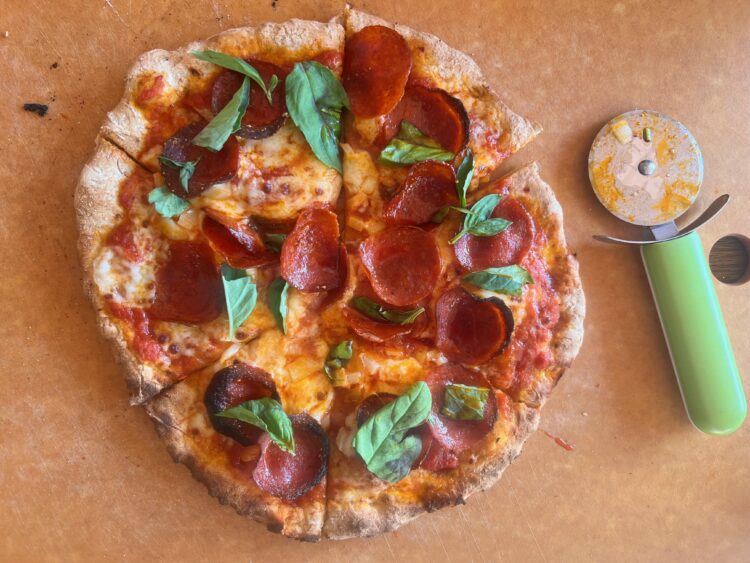 Chris and I started a simple website, kind of an online pizza diary, to keep track of the various recipes we try and who came over and what else we had. It's called Carport Pizza and you can check it out here.
Neither of us had made homemade pizza since we made that video with a professional pizza chef ten years ago. And tbh I was VERY nervous about "launching" the pizza into the oven with the pizza peel. But it was easier than I thought it would be. And the pizza did not disappoint! We all agreed that our homemade pizza is better than any delivery we can get (mostly because pizza is made to be eaten within like two seconds of coming out of the oven and that's never gonna happen with delivery pizza.)
Tips on How to Host a Pizza Party:
Prep your dough 3-4 hours before you want to eat. Let it rise at room temp. Many people suggest freezing dough for future use, and I do have some dough balls in my freezer, but so far it's been easier to just make the batch earlier in the day and not have to worry about the dough thawing in time.
Prep all your toppings, too. And it's more dishes but I do like to have them all in individual bowls. Our favorites so far are pepperoni (duh), onion, mushrooms, Kalamata olives, pickled jalapeños, and fresh basil. I still want to try a pesto and asparagus pizza.
Use full-fat mozzarella cheese and grate it yourself. It's actually hard to find this (most is part-skim) but it's so much yummier and we use much less than you'd think. Like, I only cover about 60% of the pizza surface with grated cheese. I've used fresh mozzarella and scamorza (which is I guess the Italian name for aged mozzarella) and both are great.
Put on some 1970s Italian pop music. I'm a big fan of Adriano Celentano.
Eat the damn pizza as soon as it comes out of the oven! I slide it right onto a cutting board and Chris cuts it and everyone eats it until it's gone. Then I put another pizza in.
Have your salads, or sides, or any other things you are serving with the pizza on the table before you put the first pizza in to cook. They cook super fast! Like 2-8 minutes depending on the recipe and temp.
That's all of my pizza party tips! It's been so much easier and more fun that I even thought it would be. I highly recommend it! And if you want the pizza recipes, check out our pizza diary.