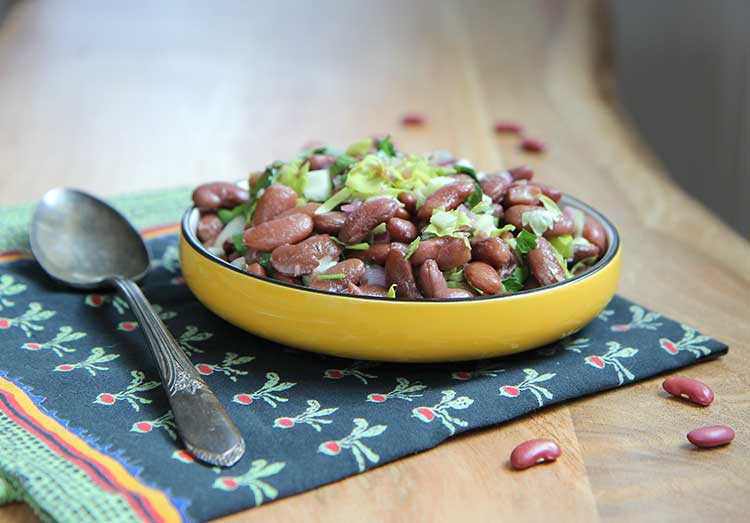 This kidney bean salad is going to become a refrigerator staple, I can tell you already. Lately I've been SUPER lazy when it comes to making delicious and healthy and original foods for us to eat. Fortunately, neither I nor Chris is terribly picky when it comes to lunch, as long as it's quick and easy. This is a typical noon-time conversation around our house lately, conducted usually with myself in the dining room, working on my laptop, half-yelling to Chris in the office/nursery working on his desktop.
Me: Hey, are you getting hungry?
Chris: Yeah, what do you want to eat?
Me: I don't know. But I'm hungry.
Five minutes later, I am scarfing down an entire can's worth of beans in the form of this salad, straight from the fridge. Then suddenly, I'm not hungry anymore! And poor Chris ends up having a smoothie for lunch. I don't think he really minds.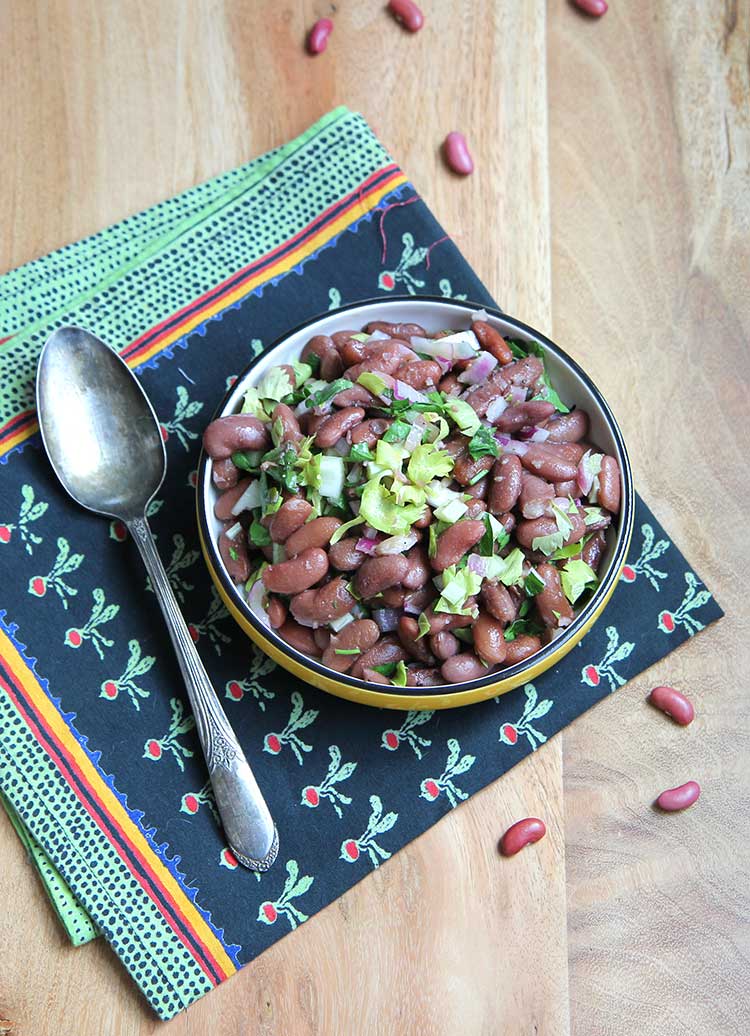 Anyway, this is a delicious kidney bean salad recipe, similar to the canned three-bean salad that used to be very popular on Sunday luncheon tables, but with way less sugar. If you want to make it into a 3-bean salad, by all means swap out some kidney beans for steamed green beans or wax beans, or some garbanzo or black beans. The salad dressing is really what makes it, along with the celery, onion and parsley. The rest is just detail.
Kidney Bean Salad Recipe
Print
Kidney Bean Salad
3 cups

cooked kidney beans (about

2

–

15

ounce cans, drained)

1/3 cup

diced red or green onion

1

inner stalk celery with leaves, diced

2 tablespoons

minced parsley
Dressing:

1/4 cup

white wine vinegar

2 tablespoons

oil

2 tablespoons

honey

1 tablespoon

ketchup

1 teaspoon

mustard powder

1/2 teaspoon

salt

1/2 teaspoon

pepper

1

clove garlic, minced
Instructions
Drain and rinse and drain again the kidney beans.
Whisk dressing ingredients together in a large bowl, than add all remaining ingredients and stir to coat.
Best if you can let it marinate for an hour at least.
Notes
You can use a combo of kidney beans and garbanzo beans if you like
Nutrition
Serving Size:

1 cup

Calories:

300

Fat:

7

Carbohydrates:

47

Protein:

17