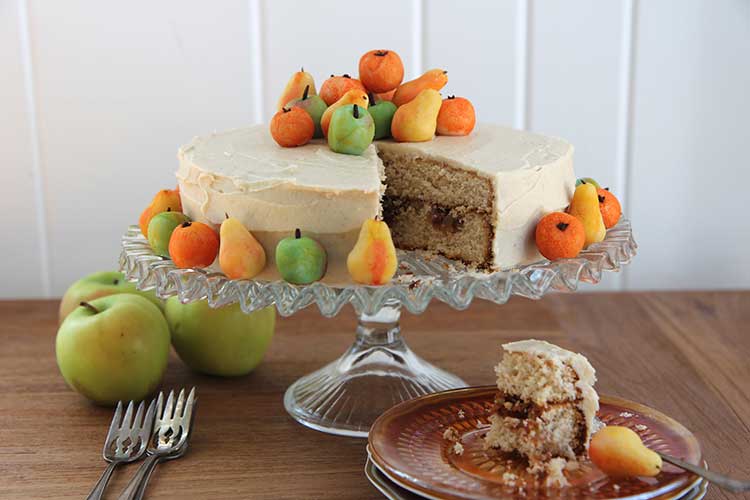 Before we get to the business of this totally amazing apple cake with marzipan fruits, let me tell you a story. Or you can skip the story and just scroll along down to the video and recipe. I will never know the difference and you will get apple cake a little bit sooner.
Everyone has had at least one terrible, no-good, awful boyfriend or girlfriend in their lives. I feel slightly fortunate that my shittiest boyfriend was also my first because it means that I got it out of the way early and figured out some things to avoid in the future when deciding whom to date (not that I always did).
Anyway, we dated from the time I was 15 (he was significantly, inappropriately older) until I turned 18 and broke up with him by moving all of my stuff out and back in with my parents while he was at work. The whole relationship was very fucked up when I think back about it. At any rate, before we lived together, when I was still in high school and living with my parents, probably 16 years old, I made an elaborate cake for his birthday. I don't remember what kind of cake it was, but I do remember spending hours making marzipan fruits to decorate the damn thing with. Like, HOURS. I think I made every fruit known to the average American produce section: pears, grapes, oranges, lemons, apples, bananas, peaches, plums. It would have impressed the shit out of anyone with a brain.
He was nonplussed.
Not only that, but he made fun of me when I wanted to take a picture of the cake to remember my handiwork! Can you imagine? And this was WAY before the age of everyone taking pictures of everything they eat. This was like, 1995. I was taking the picture with an actual camera. A film camera. And he made fun of me and I never got the picture. What a dick.
N-E-WAYZ … Now I am married to a fantastic, supportive, interesting, handsome, kind and smart man now who loves cake and food and me and that's what matters.
Oh. And the apple cake. The apple cake matters. The lightning-fast amazing apple cake with the apple cinnamon filling baked right into it so you don't have to do any more cooking than is absolutely necessary. How much do you love me now?
Amazing Apple Cake Video
Apple Cake Recipe – Printable
Print
Apple Cake
Author:
Prep Time:

1 hour

Cook Time:

20 mins

Total Time:

1 hour 20 minutes

Yield:

1

2

1

x
1 1/2 cups

all purpose flour

1 cup

sugar

1 1/2 teaspoons

baking powder

1 teaspoon

ground ginger

1/2 teaspoon

cinnamon

1/2 teaspoon

nutmeg

1/4 teaspoon

allspice

1/2 teaspoon

salt

2

eggs

1/2 cup

milk

1 teaspoon

vanilla extract

1/2 cup

(

1/4

pound) butter, softened
Filling:

1/4 cup

powdered sugar

1

Granny Smith apple, grated (about a cup)

1/4 cup

sliced almonds

1 tablespoon

cinnamon
Cream cheese frosting:

4 ounces

cool cream cheese, cut into chunks

3 tablespoons

soft butter

1/2 teaspoon

cinnamon

2 teaspoons

vanilla extract

2 cups

sifted powdered sugar
Instructions
Set oven to 350º and grease and flour 2 8 or 9-inch round cake pans. If you have parchment paper, line the bottoms with parchment rounds to make it even easier to get them out.
Combine the filling ingredients in a small bowl and set aside.
In a large mixing bowl, combine all dry ingredients with a whisk.
Add eggs, milk and vanilla and mix on medium speed for about 2 minutes, until smooth and creamy looking.
Cut the butter into tablespoons and add it to the batter. Beat together on low speed for one minute, scrape the sides, then beat on medium high for 1 1/2 minutes. Scrape the bowl and finish mixing for 30 seconds on low speed.
Divide dough evenly between the two pans. Spread apple mixture evenly over ONE of the cakes.
Bake cakes for 15-20 minutes or until a toothpick inserted in the center comes out clean.
Allow to cook in pans 10 minutes, then turn onto racks (right sides up) to finish cooling.
Make cinnamon cream cheese frosting: Beat cheese, butter, cinnamon and vanilla together on medium speed until well blended. Sift in powdered sugar by the half-cup until the texture is as you like it.
Stack the plain cake on top of the apple cake so that the apple filling is in the center. Frost with cinnamon cream cheese frosting.
Nutrition
Calories:

377

Sugar:

41

Fat:

16

Carbohydrates:

56
How to Make Marzipan Fruits – Video
Printable how to make Marzipan Fruit Instructions