April Fools Day Recipe: Weenie Surprise Muffins!
Here's a fun little recipe that will fit perfectly into your April Fool's Day party — you know the party where you're supposed to bring a "wacky" food or a "surprise" food, but you still want that food to be good? Well, here you go. Innocent-looking, cheese topped corn muffins with varying ingredients hidden inside (all deliciously edible, of course). I like to use small broccoli florets and miniature hotdogs, for the sole reason that I can make secret dirty jokes in my mind whenever people ask me what they're called.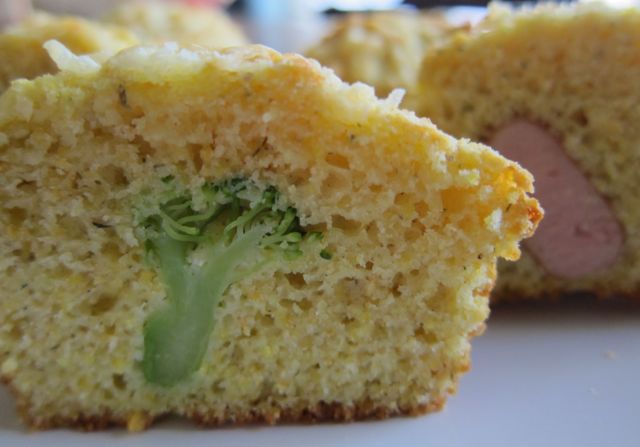 You could call these little corn muffins by many different names:
Surprise Muffins?
Weenie Sneak Attack!
Bush or Wiener?
…Aaand, maybe my secret dirty jokes aren't so secret after all.
Weenie surprise muffins: April Fool's Day recipe
Print
Surprise Corn Muffins
1 cup

flour

1 cup

corn meal

1 tablespoon

sugar

2 teaspoons

baking powder

1/2 teaspoon

baking soda

1/4 teaspoon

salt

1/2 teaspoon

dill

1/4 teaspoon

cayenne pepper

1 cup

buttermilk (or

1/2 cup

sour cream +

1/2 cup

water)

2

eggs

2 tablespoons

oil

2 teaspoons

yellow mustard

6

mini weenies

6

small broccoli florets

1/4 cup

grated parmesan or cheddar
Instructions
Preheat oven to 400 F
Grease 12 muffin cups well.
Whisk dry ingredients together in a large bowl.
Combine buttermilk, eggs, oil and mustard in a separate bowl.
Add the wet to the dry and combine well. Mixture will be thick.
Place 1 tablespoon batter in the bottom of each muffin cup. Press a mini-weenie or a broccoli floret upright into the batter.
Cover with another 2 tablespoons of batter, making sure the "surprise" is completely covered.
Sprinkle each muffin with about a teaspoon of cheese.
Bake 18 minutes or until puffed and golden and a toothpick inserted comes out clean.
Serve hot.
Notes
For the weenies, I used a jarred miniature weenie imported from Germany called Mini Wini, which look like tiny hot dogs, but taste more like Vienna sausages. If Mini Wini are difficult to find, you could probably use a Li'l Smokie
For the broccoli, cut florets that are about an inch long.
Here's a few more ideas for April Fools Recipes I found for you.
Fried Rice Cupcakes
My mom will be making a version of this Meatloaf Cake
This Dog Food Dip actually looks pretty delish
And check out this video from AverageBetty for some more prank ideas!