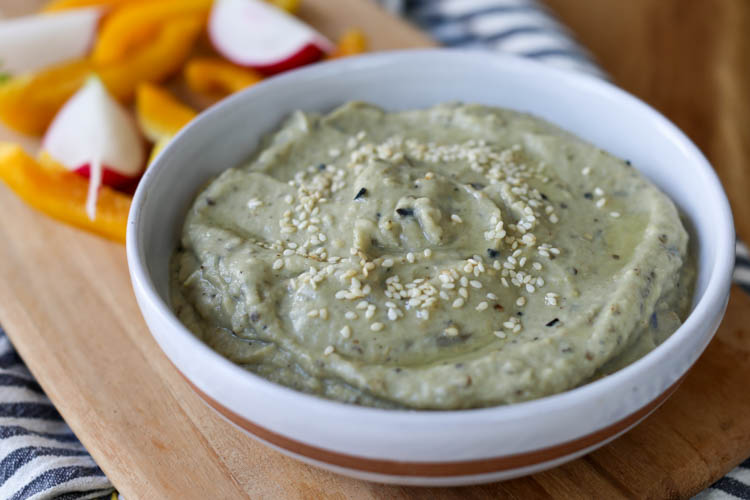 Chris and I are doing a Whole30 this month. Really, Chris is doing it and I am helping but I also have two trips planned in May and I'm making no promises that I'll stay Whole30 while I'm away from home.
If you're unfamiliar, Whole30 is like the paleo diet, but possibly even more strict, but you only do it for 30 days so if you're into challenges and shit like that, you might like it. No grains, no dairy, no alcohol, no sugar (not even maple syrup or honey) no beans! (%!@*?!) and no preservatives, which means you gotta cook at home every meal.
Honestly, if everyone in the US did only that, we'd probably lose a collective 80 thousand pounds but whatever. I'm kind of into it so far (haha, it's been, like, three days) because I feel like I'm eating super healthy but I will tell you that it is 4pm right now and I'm about to fall face first into my keyboard I'm so tired. That may or may not be related but I gotta blame something!
Anyhoozle, this easy baba ganoush (err, roasted eggplant dip?) is a thing I've been making because it's got none of the stuff that's disallowed and it's a good snack (I've been eating a lot of snacks on this diet). OBVIOUSLY, it would be way more fun to eat with a big feckin pile of toasted pita bread but crunchy vegetables are almost just as good. (Insert cry-face emoji here because no, they are not.)
I'll be sharing more healthy Whole30 recipes all month, so check back if you're into that!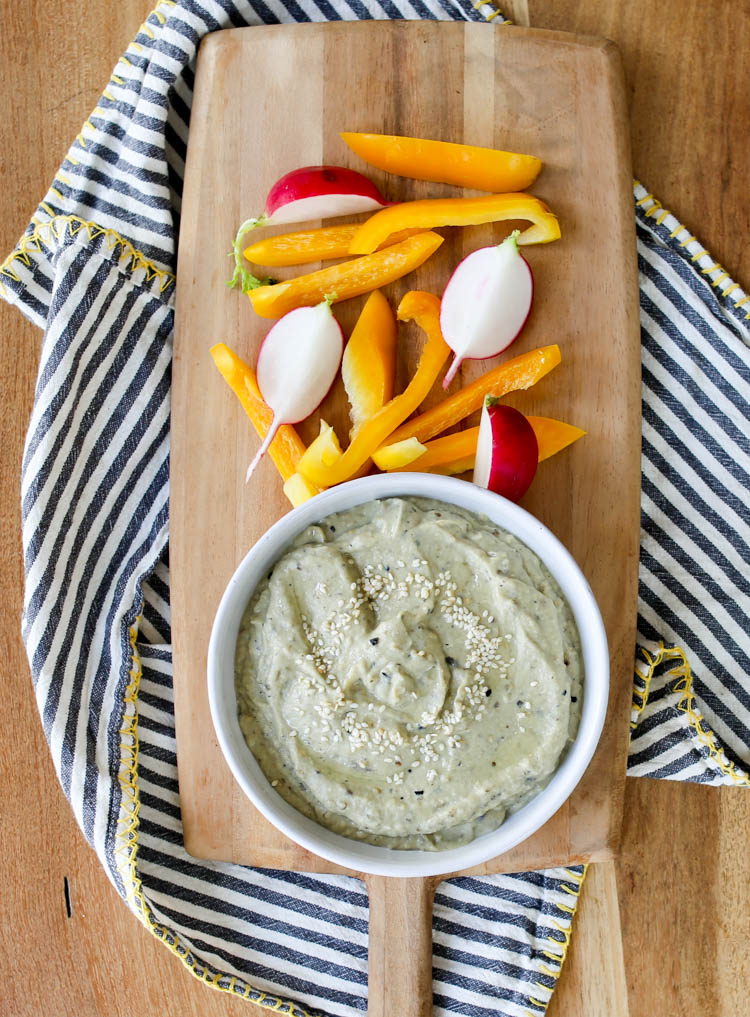 Print
Baba Ganoush
1.5 pounds eggplant (I prefer the thin Japanese eggplant)
2 tablespoons tahini (sesame paste)
2 cloves garlic
1 tablespoon lemon juice
3/4 teaspoon salt
Instructions
Set your broiler on high and put the whole entire eggplant(s) on a baking sheet. Broil those puppies for a few minutes on all sides (rotate with tongs) until the skin is all blackened and even crispy in spots. Remove and let cool. (If you happen to have a charcoal grill going this weekend, roast them there for even more smokiness.)
Now. Once they're cooled off, tear open the skin. Use a soft rubber spatula to scrap all the meaty flesh and seedy bits into a food processor. Add any crispy bits of skin, too. I usually end up using about 1/4 of the total amount of eggplant skins. Add all the other stuff and whiz it around until it's smooth-ish.
Serve! It's good slightly warm like this, or refrigerate and serve cold. Keeps in the fridge several days.
Nutrition
Serving Size:

1/2 cup

Calories:

90

Fat:

4

Carbohydrates:

12

Protein:

3