Beef and Broccoli Recipe Video – scroll down for recipe card
I love "Chinese" food. I mean the probably-very-far-from-the-real-thing American-style Chinese food, to be clear, dishes like beef and broccoli and the closely related broccoli in garlic sauce. When I was in high school, there was this Chinese place, Cafe Pacific, that me and my bestie would go to about every other weekend. It's a dark, semi-swanky place with faux leather booths in red, black laquered tables, and artificial ivory carvings. I'm sure the staff loved our weekly visits. Hey, big spenders! … they probably thought to themselves as they hid in the kitchen, drawing straws over who had to take our order. We'd smoke a lot of weed in the parking lot, split an order of pork fried rice, and camp out at our tiny table in the corner for an hour. "A good meal at a fair price", he'd say. And it was. Only like $3 a piece. I'm sure the servers hated us, but if that was the most inconsiderate thing I ever did, then I don't think it's so bad. Except it got worse…
In college, me and same friend would hit up Suzi's Chinese Kitchen fairly regularly. We were typical students, super broke all the time as it should be. Our ordering MO this time was to each get a side of plain steamed rice and a water. We'd dress up our rice with the soy sauce and chili paste that were on every table. I'd call it an okay meal at a remarkably low price. I think they charged a dollar for an order of rice. I realize now how obnoxious it probably was, but I honestly don't remember ever getting the stink-eye from anyone so maybe they didn't really mind. And of course we'd tip the waiter, so really it ended up to $2 each. Not a bad deal, still, to go out and feel "fancy".
We'd kind of do the same thing at Taco Cabana, where you could get 10 awesome flour tortillas for a dollar and then abuse the salsa bar to make "salsa tacos" filled with pico de gallo and nothing else. Maybe they all knew exactly what was going on and just viewed it as a way to support the community.
But whatever. Beef and broccoli! It's delicious! It's a thing I order often now that I am not trying to get away with spending less than $3 on lunch all the time. The good news is, though, that if you make it at home, yourself, it really does cost less than $3 per person and it's probably a smidge healthier, too. I'd venture to say you can make beef and broccoli at home with less fat, sodium, and sugar than any restaurant could. It's fast, too. I don't know what more you could ask for.
Beef and Broccoli Recipe – Printable!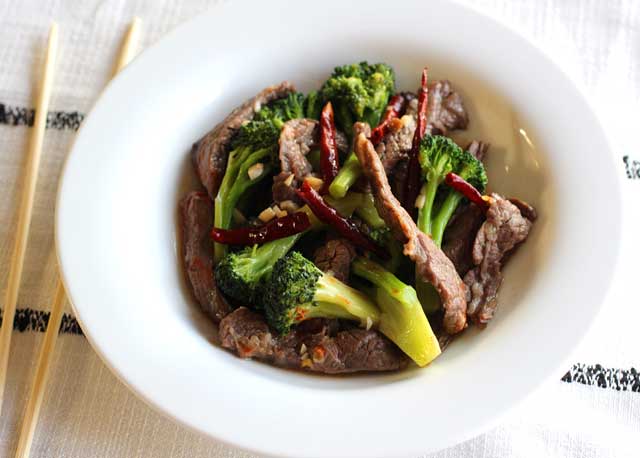 Print
Beef and Broccoli
Author:
Prep Time:

10 mins

Cook Time:

10 mins

Total Time:

20 minutes

Yield:

4

1

x
1

pound beef flank or skirt steak

1 tablespoon

soy sauce

1

bunch broccoli (about a pound)

1

–

2

tablespoons cooking oil

2

–

4

dried red chilies or 1/2 teaspoon red chili flakes (optional but delicious!)

1/4 cup

oyster sauce*

1/4

chicken broth, beef broth, or water

2 teaspoons

minced garlic
For serving: rice or noodles as desired
Instructions
Trim the excess fat from the steak and place it in the freezer for 10 minutes.
Cut the broccoli into florets and set aside.
When meat is partially frozen, slice very thinly against the grain and then cut the strips into 3-4″ lengths. Toss with the soy sauce.
Put 1/2 cup water in a large skillet or wok (use something you can cover with a lid) and bring to a boil.
Add the broccoli and cover. Cook for one minute. Remove steamed broccoli and set aside. Pour out the water and dry the pan.
Heat the oil over high for about a minute until near-smoking. Add the steak strips in a single layer and the chilies and stirfty just until the meat is browned. You may need to do this in two batches.
Once all the meat is cooked, add the oyster sauce, broth, and garlic and stir to combine.
Add the brocoli and toss until coated.
Serve right away over rice, noodles, in a tortilla, or on its own.
Notes
*You can easily transform this into my favorite vegetarian Chinese menu item, Broccoli in Garlic Sauce, by leaving out the beef (duh) doubling the broccoli and the garlic. It's not technically vegetarian with the oyster sauce, but it's the way they do it in restaurants.
*Oyster sauce is made from oysters (or "oyster extract"). It's not fishy-tasting at all, but rich and salty and briny. I encourage you to try cooking with it if you've never done so. However, if you're opposed to shellfish for any reason, substitute the sauce in this recipe with:
1 teaspoon (additional) soy sauce
1/2 cup (total) chicken stock
1 teaspoon cornstarch
Pinch of sugar
Whisk those together and add at the same time you would add the oyster sauce.
You can use the same method with very thinly sliced chicken breast or chicken thighs, and add other vegetables (carrots, celery, cauliflower, zucchini, onion) as you like.
Watch the beef and broccoli recipe video on YouTube!