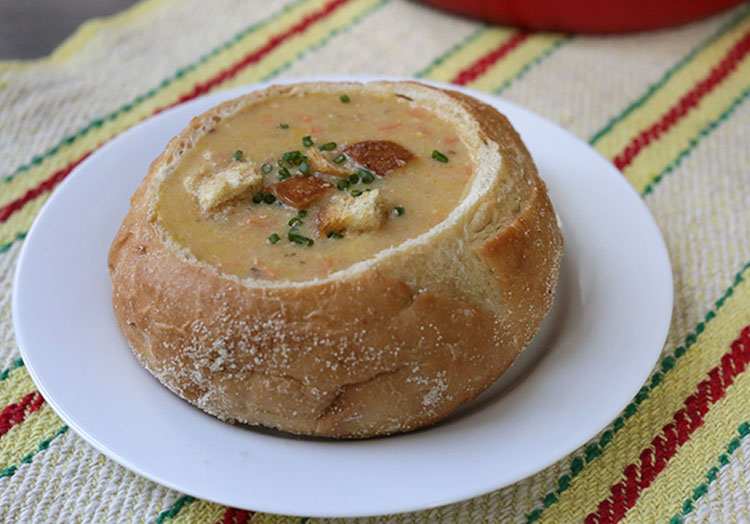 It's history and comedy and beer cheese soup! In this episode of HilahCooking, I make a warming beer cheese soup while my friend Dawn Brodey tells the tale of George Washington's Christmas morning battle of 1776. That's the one where he crossed the Delaware river, but I swear I had never heard that it happened on dang ol' Christmas morn!
Beer soup dates back to Medieval Europe. Served for breakfast, old recipes are as simple as beer that's been boiled and thickened with stale bread and egg yolks. It sounds pretty gross. Over time, spices, onion, cheese were added et voila, beer cheese soup was invented. Probably in Germany.
But, beer cheese soup is apparently really made itself at home in Wisconsin. That's no surprise, I guess, since Wisconsin is the dairy state and they also drink beer. Dawn says that most bars in Wisconsin have a Crock-Pot full of the stuff on hand all the time for drunk and hungry patrons. That, along with popcorn, and the popcorn is often sprinkled on top of the soup!
Instead of croutons!
How fun and crazy!
We used croutons, though, because I didn't know about the popcorn thing.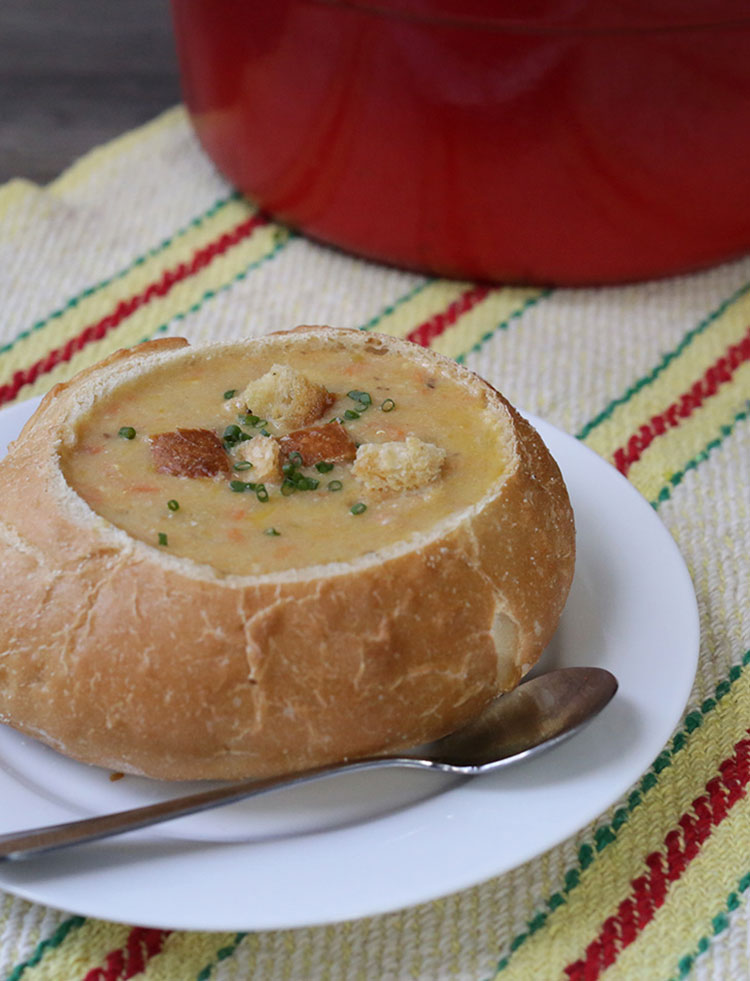 Beer cheese soup is best made with a light lager or a brown ale, nothing too strong-tasting. Stay away from IPAs. Dawn says her people often use a Bud Light or something similar. Basically, you want a beer that tastes like almost nothing, or one that tastes like bread. Either of those will compliment the soup nicely.
If you want to make this ahead of time, leave out the beer and add it after reheating (gently!!). Better yet, leave out the cheese, too. Stop after the broth and spices are added, refrigerate. Reheat, sprinkle in the cheese and add the beer. Serve with popcorn or croutons or a bread bowl if you're fancy.
Beer Cheese Soup Video
Print
4 tablespoons butter
1 1/2 cups diced onion
1 cup diced carrot
1 clove garlic, minced
4 tablespoons flour
4 cups chicken or vegetable stock
1 teaspoon salt or more
1/2 teaspoon white pepper
1/2 teaspoon dry mustard powder
dash cayenne
2 cups grated sharp Cheddar*
12 ounces lager or brown ale
Instructions
Melt butter in a large heavy pot and add onion and carrot. Saute over medium-high heat until softened, about 10 minutes. Add garlic and cook 30 seconds. Add flour and cook another minute or two until the flour smells toasty.
Add half the stock and stir to combine. Add remaining stock and spices and bring to simmer. Allow to thicken. For a smooth soup, blend with an immersion blender at this point.
Reduce heat to low. If you have it too hot the cheese won't melt smoothly. Stir in cheese slowly to melt. Add beer last and heat through. Serve immediately.
Notes
*Dawn says Velveeta is good, too, but I haven't tried it.
For more Historical Perspectives with Dawn Brodey, here's her YouTube channel!