The Best Canned Sardines: An Inexhaustive Study
Part Two in the Great Sardine Experiment!
The results are in. If you missed last week's post, I did a taste-test of 5 different brands of sardines to find the BEST SARDINES IN ALL THE LAND.
Surprisingly to myself, I found out I am down with the sardine and its ilk. This is a marvelous discovery for me and hopefully for you because it means I have a whole new thing to eat that is both healthy and cheap! A couple of general notes: I am still a little easily-skeeved by sardine bones; it is true that sardine cans are kind of a pain in the ass to open; it is also true that dogs LOVE sardines.
Here's the run-down on the brands, in order from least yummy to MOST YUMMY.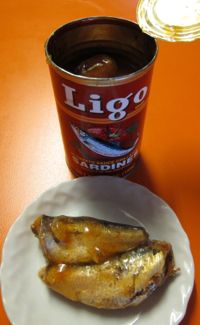 5. Ligo – These sardines were BIG. They were, like, big and fat. There were only four in the can if that gives you an idea. Interesting to me how different they were from the whole, Wild Planet brand in regards to shape, size, and color. As noted in the previous post, these were in a "tomato-chile" sauce. Which was kind of good, in a way, except there was no actual chiles in it. But in another way, it was like it was from space and reminded me of Spaghetti-Os sauce. The sardines themselves were not bad, I don't think, but really the flavor was heavily masked by the sauce. They seemed like the "junk-food" version of sardines. I'd like to try a different variety next time. BUT, it did give me hope for future sardine/tomato combinations.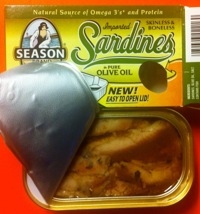 4. Season brand – Decent-sized fish, but very delicately-textured compared to other brands. Good flavor, but the olive oil they were packed in distracted from the texture. Found a couple tiny bones but that turned out to not be so bad. The new "easy to open can" turned out to be just that and I was very appreciative after opening some of the more "difficult to open" cans. Overall, I'd buy these again in the water-pack version, but they were not my total fave.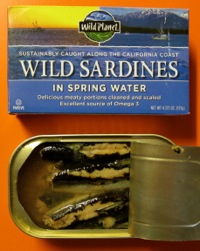 3. Wild Planet – These were the first bone-in sardines I tried and I admit I cheated a little and breaded them in panko and then baked them to distract myself from the bones. But I really don't think it was necessary. One thing that was nice about these whole sardines was the way they held together and didn't break up when I forked them out of the tiny can. It was actually kind of neat that they still looked like the little dead fishes that they are, like you really know what you are eating. And honestly, I don't think I would have noticed the bones even without the crunchy coating I applied. I'll definitely get these again, if only to bread and bake them for a nice appetizer. I'll post that recipe next week along with some others.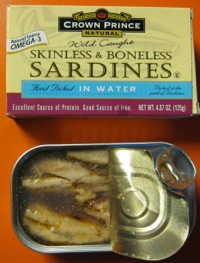 2. Crown Prince – These were the palest pink of them all. And the mildest. Nice, fairly firm texture, almost like canned tuna. Of the five, I think these would be the easiest sardines for a beginner to handle. I don't consider myself a beginner anymore, but I still liked this brand a lot.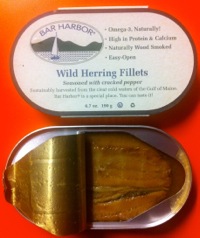 1. Bar Harbor – Granted, these weren't actually sardines. But they were durn good. Very lightly smoked, and very light on the black pepper. But the fillets were a good 4″ long and held together well when forking them out. There were some left over (it turns out that it's impossible to eat more than one and a half cans of sardines in a day) and they were good cold from the fridgerator, too. The can was more than a bitch to open, but worth it. Definitely would buy these again.
Post-Mortem Notes:
I'd like to try some bone-in sardines packed in oil. I'd like to try Season brand, packed in water. I'd like to try Crown Prince brand, whole.
It's still best to not look too closely at them, especially their insides.
My favorite crackers to eat with sardines are Saltines (of course) and Wasa crisp breads.
2015 Update. More Canned Sardines!
I got a care package from Drew at Mouth Full of Sardines with a whole big bunch of new sardines to taste. Here's what I think so far (though there are a few more to try!).
Roland Boneless Skinless in Oil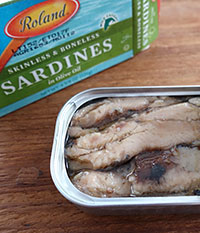 These were good! Of course, I am partial to B/S sardines, so I figured I would like these but still, these were meaty and mild and while I ate them on crackers, they'd be great in place of tuna for tuna salad.
Bela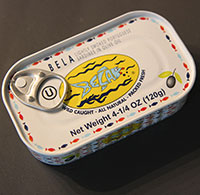 The package design on these Portuguese sardines is gorgeous. Really, one of the prettiest sardine cans I've ever seen. Actually one of the prettiest cans I've ever seen. The sardines inside the can were big … but not cleaned very well unfortunately. Maybe I got a bad can, but they had lots of tough scales that I had to pick off. They tasted good, but the scaliness would keep me from giving them another try.
Master "Spanish Style"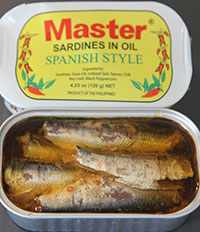 Don't let the name fool you. These spicy sardines are actually from the Philippines. They are real good, though. Packed in oil, they have their skins and bones, but guess what no tails! I appreciate that. They were seasoned with bay, pepper, spices and in the bottom of the can there were actually all of those things including a slice of cucumber and carrot. I did not eat those parts. The sardines themselves were very good. Spicier than I expected, but good. Would buy these again and at only $1.49 they are a bargain!
King Oscar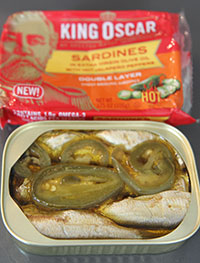 KO is a well-respected brand and these spicy jalapeños Brisling sardines were a good example of why. These were a little larger than some Brislings I've seen, but still tasty. Packed with lots of pepper slices these have a strong jalapeño flavor; that is to say, not just spicy, but also with the identifiable flavor of jalapeño. I enjoyed this but that's coming from a person who puts pickled jalapeños on everything.
I'll continue to update this page as I try more canned sardines. If you've got a favorite that I haven't tried yet, leave it in a comment below!
337 Comments