Breakfast enchiladas video (scroll down for recipe)
Last year, my pal Larry requested more Texas-style breakfast recipes. While I don't claim to have ever had any type of "breakfast enchiladas" before I made them myself, that was the first idea that popped into my head when I read that request. It took several trials (not so many tribulations, because all the versions were pretty damn good) to get this version that everyone luuuvvveddd. Of course, potatoes belong in a breakfast enchilada, and of course they must be topped with fried or poached eggs, and of course you need a badass chili sauce to soak the tortillas in. That's the minimum. I know, because I invented these.
(Check out this post for how to poach an egg! )
BUT. You can also use cooked, crumbled bacon in place of chorizo. I tried this, too, and it wasn't my favorite, but you might like it. OR you could leave the chorizo out entirely and saute your onions in a little oil instead to make a vegetarian breakfast enchilada. This is quite delicious, as well.
I added some greenery to the potatoes in the form of spinach, but kale or diced peppers would probably be good, too. Cotija cheese is always a favorite, but if it's hard to find where you live, add shredded Monterey Jack or Cheddar instead. Basically, the world is your breakfast enchilada and you can put whatever you want in it. Except oysters. But maybe oysters are okay, too.
AND DID I MENTION. If you're lazy and/or "time frugal" you can use frozen hash brown potatoes for the boiled potatoes. No need to thaw (in fact, don't) just mix right in with the other stuff and bake for an extra 10 minutes.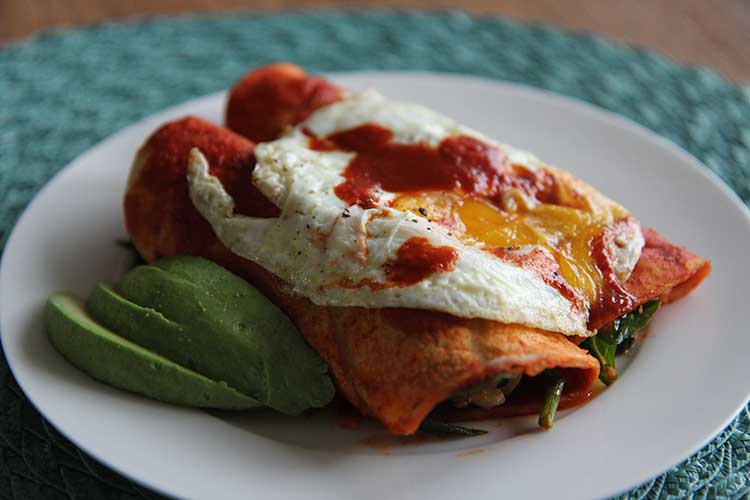 Breakfast Enchilada Recipe – Printable!
Print
Breakfast Enchiladas
Author:
Prep Time:

5 mins

Cook Time:

20 mins

Total Time:

25 minutes

Yield:

3

1

x
Salsa

2

chile guajillos

1

clove garlic, smashed and peeled

2 cups

water

1/4 teaspoon

salt
Enchiladas

3 ounces

Mexican chorizo

2

boiled red potatoes (or

2 cups

frozen hash brown potatoes)

1

packed cup kale or spinach leaves

1/4 cup

diced onion

1/4 cup

crumbled cotija cheese

6

corn tortillas
Spray oil

3

–

6

eggs
Instructions
For the salsa, break the stems from the peppers and rinse them. Place in a pot with the water and bring to boil. Turn off the heat and drop in the peeled garlic clove. Allow to sit 10 minutes, covered, while you make the filling.
If using chorizo, crumble it into a skillet and cook over medium-high heat until the fat has renderd and the sausage is cooked (if omitting, just put some oil into a skillet and continue…)
Saute the onion for 2-3 minutes in the same skillet until just barely becoming translucent.
Turn off the heat and stir in potatoes and spinach. Mash the potatoes to get a filling that will stick together somewhat. Stir in the cheese.
Back to the salsa: Lift the peppers out of the hot water by the tips, letting the seeds fall back into the water. Add the peppers, garlic and about 1/2 cup of the cooking water to a blender and blend until smooth. Be sure to allow the blender lid to vent to prevent pressure build-up from blending hot liquids. Season with salt. Set aside.
Set oven to 350F
Spray each tortilla with a little oil and stack on a plate. Microwave 30-45 seconds or until pliable.
Spread about half the sauce into a 7×11 inch casserole. Run each tortilla through the sauce on both sides, then fill with a handful of potato mix and roll up. Lay filled enchiladas in a 7×11″ pan. Spread enough sauce over top to keep tortillas moist while baking.
Bake for about 10 minutes until heated through, or microwave about 5 minutes.
In the meantime, fry or poach your eggs.
Serve enchiladas topped with eggs and a bit more sauce.
For single serve: Place two rolled enchiladas on each plate and keep plates warm in the oven while you fry the eggs in some butter. Top each enchilada plate with one or two fried eggs and a spoonful more salsa. Serve.
Notes
FOR FROZEN POTATOES: No need to thaw frozen hash brown potatoes. Just assemble as directed using frozen potatoes, arrange in casserole dish, top with more sauce and bake at 350F for 20 minutes or until hot throughout.
Nutrition
Serving Size:

2 enchiladas

Calories:

275

Fat:

6

Carbohydrates:

45

Protein:

11