Breakfast Tacos: A Beginner's Guide to Austin Breakfast Tacos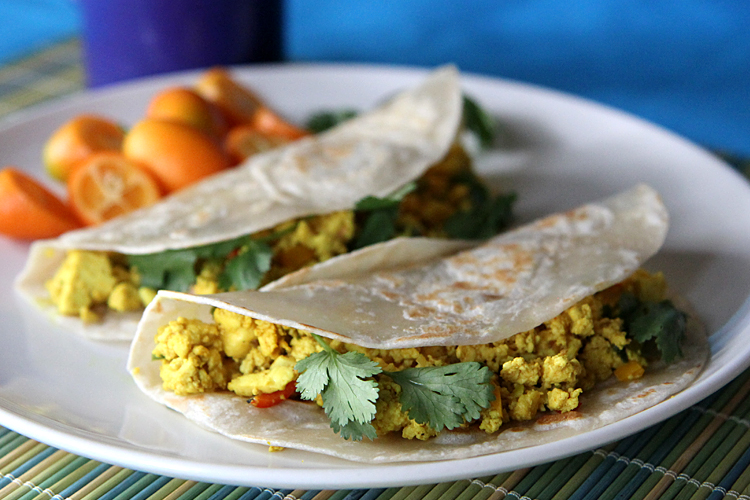 What is a breakfast taco?
Despite the ever-growing popularity of breakfast tacos around the nation, I realize there are a few (or many) sad pockets of the US where breakfast tacos have yet to make a stand. In fact, the residents of these areas might not even know what I mean when I say "breakfast taco!" You might be imagining a crispy taco shell filled with oatmeal, or heaven forbid, you might even be picturing the breakfast taco's dreaded impostor: the breakfast burrito (more on that later).
But breathe easy, fellow lovers of breakfast and spice and everything nice. A breakfast taco is merely a delectable soft tortilla (flour most often, but corn will do nicely) filled with any combination of savory breakfast items (scrambled eggs, cheese, bacon, sausage, or hash browns to name a few) then sprinkled with the hot sauce of your choosing. Think of it like a spicy omelet wrapped in a tortilla for convenient eating on the go.
Invented in Texas, breakfast tacos are eaten all over the state, but the best ones are found in Austin, San Antonio, and The Valley (as in the Rio Grande Valley, land of citrus groves and delicious hand made tortillas). North of Austin, in the Texas Panhandle and Dallas area, you might find breakfast tacos but breakfast burritos are still more common.
The difference between a breakfast taco and a breakfast burrito is like day and night, or love and like, or good and evil if you want to take it to the limit. The only real difference is the size of the tortilla used: regular versus gigantico. Might seem minor, but I swear to you now, once you go taco you'll never go back-o (to burrito).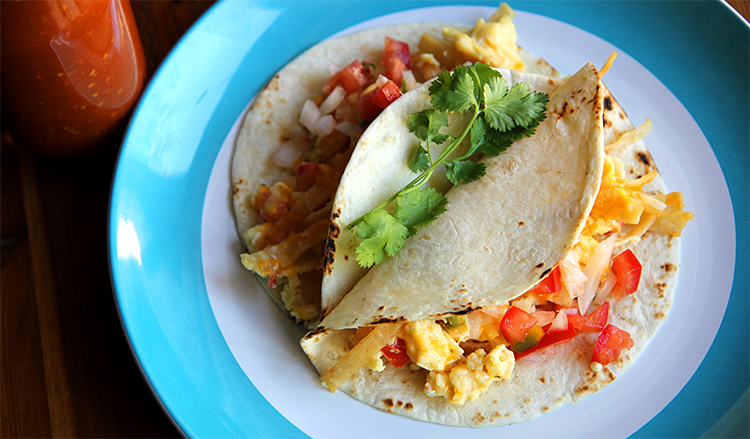 Breakfast tacos are small and sleek and one or two make a perfect-sized meal that is convenient to eat in a car, on a bus, or while riding a horse. Breakfast burritos are monstrosities: over-stuffed tortillas are weakened by too many fillings and it takes just one bite in the wrong place for the whole thing to burst like a piñata, scattering eggs and sausage and potatoes and rice and beans and God knows what else all over your fine knit tank top. Some people may enjoy the perceived value of a breakfast burrito. Often they weigh half a pound or more and cost anywhere from five to seven dollars. But take into account that half a pound of Tex-Mex is more than most people will eat in a sitting, combined with the aforementioned "Piñata Effect" and I think you'll agree that two breakfast tacos at a measly buck or two apiece makes much more fiscal sense.
Plus — pay attention, this is important — when you buy two breakfast tacos you can get more variety and isn't variety the spice of life? Yes. And breakfast.
Breakfast Tacos: The Ultimate Hangover Cure?
VIDEO Recipe: Hangover Tacos
Learn how to make the ultimate
Hangover Cure
: Chorizo & Egg Tacos. Also: this is the second recipe video we made.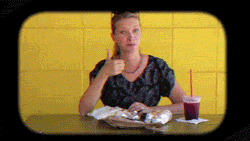 My own pet theory about why breakfast tacos are so incredibly beloved by Austin residents goes hand-in-hand with the well-known and widely accepted understanding of Austin's drinking problem. Not to imply that everyone in Austin drinks too much and too often, but half of them probably do. And I suspect it's that half which supports the breakfast taco industry here.
For the rare reader who's never had the experience of a grand old hangover, let me describe it, for I am legend.
First, you wake up far earlier than you'd planned or even need to, the morning sun piercing your eyeballs, making your brain throb and with every tilt of the head, daggers stab into your forehead. Your mouth is dry and pasty and you probably forgot to brush your teeth before bed, so you also have the dragon breath of metabolizing whiskey.
Water is the only thing on your mind as you gingerly step through the house, cursing your past self for lacking the forethought to place a cup of water and an Alka Seltzer next to the bed for your future self, which is now your present sorry self.
After chugging what seemed like water, but which you realized too late was leftover tequila, you guzzle a pint of tap water and fall back against the sink. Disappointed in the lame effect the water had on your headache, you realize once again that tacos are the only cure.
Maybe at this point you try to manipulate some poor sap on social media to bring you breakfast tacos with an only-half-joking post to the effect of "Who wants to bring me tacos?" or "Anybody want to bring me some tacos?" or the slightly less embarrassing "I wish I had breakfast tacos right now." These ploys never work, unless you have a particular poor sap on the line who wants to date you or your mother is on social media and you can convince her that your sad physical state is due to a flu, rather than your own idiocy.
Unable to persuade anyone to deliver breakfast tacos, you sigh, slip shoes on over the socks you probably slept in, clothe yourself in the nearest shirt and pants you can find, gather your keys and wallet, and hobble out the door to find your own damn breakfast tacos, cursing your no-good-for-nothing social sphere.
But lo! Because you live in Austin, there are breakfast tacos within six minutes any direction. Take your pick! Do you choose the closest breakfast tacos, the cheapest breakfast tacos, your favorite breakfast tacos, or the breakfast taco place that also serves sangria and micheladas? If you truly call yourself an Austinite, you will invariably choose the latter.
Less than one hour later, belly full of cheesy eggs, bacon, tortillas and a bit of salsa, your headache has cleared, your eyes have de-fogged, and your brain is able to formulate short sentences. The fabled healing properties of breakfast tacos have once again proven their worth! That michelada didn't hurt, either.
Best Austin Breakfast Tacos!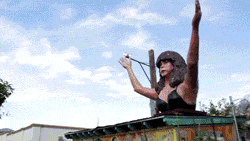 These are my favorite places to get breakfast tacos in Austin, whether I'm hungover or not. Many of these are covered more in-depth in my Breakfast Taco Book. Each of these meets my most basic criteria of good tortillas (if not house-made, then at least heated up properly on a smokin' hot comal) and good salsa (I get real excited when there's a red and a green option. And I about flip out when there's a good pico or another chunky salsa) and each has something else special that sets it above the fray.
SOUTH AUSTIN
Maria's Taco Xpress: Opened almost 20 years ago by South Austin's Taco Queen Maria Corbalan, Taco XPress is known for their chimichurri sauce which is a delightfully bracing combination of cilantro, vinegar, onion, and loads of red pepper flakes. This sauce will wake you up in a good way. Try it on a migas taco or migas plate or a taco of your own devising. Unlike most breakfast taco joints, here they dice the cooked bacon and mix it in with the eggs for their bacon and egg tacos, making it a little easier to eat than some. Chorizo is also good and greasy. Live music, a great covered patio and whimsical decor make this one of Austin's favorite spots for breakfast all day. Open for breakfast, lunch, and dinner 7 days a week and they have a full bar!
Habanero: Breakfast tacos at Habanero are not to be missed. Cheap, good and not skimpy, these are tacos for hungry people. It's an old house that's been converted to a restaurant so it can get a little crowded and cramped, but the tables turn over quickly and it's got a small porch you can wait on and watch the cars go by. Homemade flour tortillas set this little place apart from most in Austin. Add a generous scoop of their excellent guacamole to any taco for only 50 cents. I mean, do it; it's a great idea. Open for breakfast and lunch Sunday through Thursday; breakfast, lunch and dinner Friday and Saturday. Beer and wine only.
CENTRAL AUSTIN: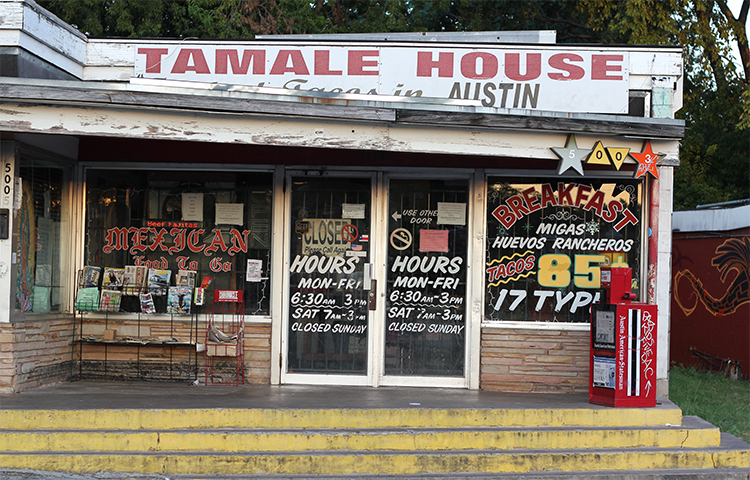 Tamale House: One of the oldest extant restaurants in Austin, Tamale House is famous for their 95 cent breakfast tacos. Seriously. Ninety. Five. Cents. That's less than a dollar! Which is good because it's also cash only so you might find yourself digging for change in your car seats one morning. I'm not suggesting they are the most delicious tacos in town, but they are decent and super fast. The yummy salsa makes up a bit for the store-bought tortillas. This is primarily a take-out restaurant as there are only 2 tables inside. Open Monday through Saturday, breakfast and lunch. P.S. They do not have tamales. Or booze.
Torchy's Tacos: Torchy's is known not only for their tacos, but also their Green Chile Queso which has won several awards. For the uninformed, queso refers to the warm cheese dip ubiquitous in Tex-Mex and Mexican restaurants in Texas. Probably made with a base of Easy Melt to keep it fluid, Torchy's adds queso fresco, green chiles, and guacamole to their queso. And let me tell you, honey, when a body is seriously hurting with hangovers, a bowl of hot queso and a basket of chips will do you as well as any breakfast taco. Not to say their breakfast tacos aren't great, too. In addition to the standard Build-Your-Own tacos, Torchy's offers more hearty breakfast taco fare like The Wrangler (brisket and egg) or Ranch Hand (fajita and egg). Several locations, in Austin, Round Rock and Houston. Open breakfast lunch and dinner, beer and wine only.
EAST AUSTIN:
Tamale House East: Owned by the same family as the original Tamale House, this newer location is bright and airy, with seating indoors or outside on their shaded patio. This location does make tamales (and my, what tamales they are!) but let's talk tacos. Their migas tacos are a favorite and the build-your-own tacos start at just $1.25 for a well-filled breakfast taco with plenty of fluffy eggs, crispy bacon, or any other filling your tummy desires. Store-bought tortillas are heated up on an oiled grill before filling so they get soft and a little crispy in spots. Three different freshly made salsas will cure what ails you. Weekend brunch features mimosas and beer. Open for breakfast and lunch, Tuesday through Sunday.
Joe's Bakery and Coffee: This little place is known not just for their awesome assortment of pastries, but also for their house-made tortillas and thick, crispy bacon. The chorizo and egg breakfast tacos are magnificent, as are the migas con todos (which also come with chorizo). Get the green salsa. It's really good and spicier than the red. Portions are large and prices are cheap. If you're headed here on the weekend for breakfast or brunch, expect a wait; this place is always hoppin'! Open for breakfast and lunch, Tuesday through Sunday. No booze.
Mi Madre's: This has been on my list since I was in college. Some of the best salsa in town and warm, fresh tortilla chips. They have vegan beans (made with vegetable oil, not lard) that are tasty as hell with some cheese in a thin, chewy flour tortilla. I recommend a potato, egg and cheese combo or even a potato, bean and cheese combo. The potatoes are tender and salty-good. They also have a machacado and egg taco available, which is not too common and worth a try. Open Sunday through Tuesday for breakfast and late lunch; Wednesday through Saturday breakfast, lunch and dinner. Full bar.
El Chilito: The little brother restaurant of El Chile, this tiny taco shack has got it going on. Vibrant colors, plenty of outdoor shaded seating, rich roasted tomato salsa, and marvelous beans. I don't usually brag on beans, but I must recommend the bean and cheese tacos. While there is some debate over whether an egg-free taco can really be considered a breakfast taco, I myself can vouch for the satisfaction of a bean and cheese taco in the morning. If that's not what you're looking for, their migas taco is remarkable, filled with extra-crispy strips of fried corn tortilla and topped with a generous amount of Cheddar cheese. They get tortillas fresh every day from a nearby bakery so while they're not house-made, they are the next best thing. They offer beer and wine and be sure to try the frozen sangria some time. Open breakfast, lunch and dinner, 7 days a week.
Field Trip: El Chilito
Check out El Chilito in this video. Stick around past the interview and you can also learn how to make Migas Breakfast Tacos!
La Fruta Feliz: A tiny shop front in a run-down eastside strip mall, La Fruta Feliz is much larger inside than it appears. It's also much tastier. Fresh made corn tortillas means that corn tortillas are my number one pick at this restaurant. You can literally watch them pat out and cook your tortilla right before your eyes. This also means they aren't as quick as many places, but after you take a bite of a migas taco or a nopales and egg taco (my favorites) you won't care one flying flip how long you waited. The potatoes are fried to a puffy, crunchy perfection. The green salsa is one of my favorite salsas in town. And, as if the proprietors know that half their clientele is hungover as shit any given day, they also have a smoothie and juice bar with tons of fresh squeezed options to rehydrate your insane membranes. Open breakfast, lunch and dinner, 7 days a week. No booze.
NORTH AUSTIN:
Taqueria Arandinas: This is a newly discovered favorite spot of mine for their migas plate and one of my favorite micheladas ever. The decor isn't anything to write home about, but the staff is always friendly and smiling. The salsa fresca that comes standard is delicious — raw tomato, onions and jalapeños coarsely chopped with cilantro and garlic — and be sure to ask for the green salsa, too, which is creamy and hot. The flour tortillas are chewy and fresh (though I'm not sure if they are made in-house or not) and the refried beans are lardy-delicious. Get a side of nopales for some vegetables. They are so good, griddled until browned and served with lime, diced tomato, onion and cilantro to make your own warm nopale salad. Yum. Five locations in Austin (the Reinli Street location is the one I'm familiar with). Open breakfast, lunch and dinner, 7 days a week. Bottled beer only (get a michelada!).
Tex-Mex Joe's: I avoided this place for a year based solely on the hideous, pubescent, vibrating jalapeño man on the sign. It's really bad, y'all. But not too long ago, as I was browsing Yelp for a taco place near where my errands were taking me, I noticed the excellent reviews on Tex-Mex Joe's/ Reading further, I gathered that the place had been taken over recently by a new owner, Marco. I thought it wouldn't be very fair of me to continue avoiding this place based on a bad sign that Marco had nothing to do with. I'm so so happy I did. Not only is Marco very friendly, his kitchen turns out some great tacos, and fast! Migas are about equal parts egg and thick, crispy tortilla chips. Seriously, even after a 15 minute ride in the car, the chips are still crispy inside the taco. How do they do that??? There's also a good portion of melty American cheese, which I love with no shame. The beans are good and salty. The potatoes are soft and floury, boiled in big chunks then lightly sauteed on the flat top. Open breakfast and lunch, 7 days a week. No alcohol.
The Breakfast Taco Book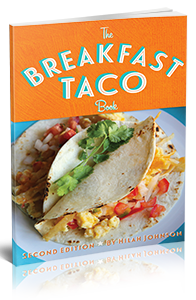 Want to know even more about Breakfast Tacos? Get a copy of
The Breakfast Taco Book (Second Edition)!
The first version of this book was downloaded more than 70,000 times and due to popular demand I've completely revised and expanded it. The new edition features everything you need to know to start cooking breakfast tacos at home including:
Three Exclusive New recipes
A Brand new chapter on Breakfast Taco History
Tons of New Photos