Broccoli Cheese Casserole: Old Lady Recipe #4
Broccoli Cheese Casserole Recipe Video – scroll down for recipe
I know this is something that these days one can only find at Luby's Cafeteria, but it's still really yummy. Trust me, old ladies know what they're doing when it comes to vegetables, casseroles, and topping things with crackers.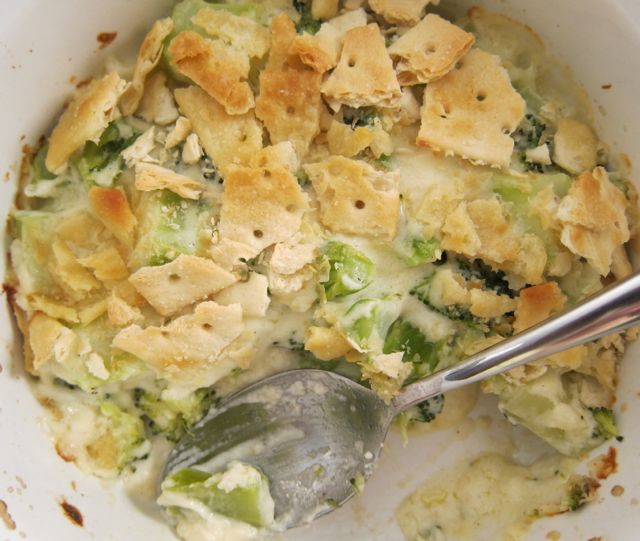 Plus this is like I'm giving you TWO recipes in ONE because we're gonna make a Mornay sauce first. And Mornay is French for Cheezy Sauce and who doesn't love cheezy sauce? Oh right. People with lactose intolerance.

Well, perhaps people were heartier back in the old days when this casserole first hit the strip. After all, it was back in the days when a big glass of cold milk was served with every meal. And every meal was also followed by a big glass of Scotch on the rocks. Maybe with milk in that, too. I don't know how those people's minds worked.
Broccoli Cheese Casserole Recipe
Print
Recipe: Easy Broccoli Cheese Casserole – from scratch
1

pound broccoli

2 tablespoons

butter

2 tablespoons

flour

1 cup

milk

1/8 teaspoon

salt and pepper, each
Grating of fresh nutmeg

1/4 cup

grated cheese

6

–

8

crackers

1 teaspoon

butter
Instructions
Preheat oven to 425 F
Rinse the broccoli and cut into florets, approximately 1″ cubes. Peel the stalks and cut them into pieces as well. Put broccoli in a casserole dish with 1 tablespoon water and cover with a glass lid or a plate. Microwave 3 minutes or until just tender.
Melt the butter in a sauce pan and add the flour. Stir and cook 45 seconds until smooth and beginning to smell toasty.
Add half the milk and stir briskly to combine. Add the rest of the milk and seasonings.
Add the cheese and stir to melt. Congratulations! You just made a Mornay sauce!
Drain the broccoli and mix with the sauce.
Put it all in a casserole.
Top with broken crackers and a few dabs of butter.
Bake at 425 F 15-20 minutes until browned and bubbling.
Notes
Variations:
Any kind of cheese can be used, although American or Cheddar are most often found in cafeterias and family reunion potlucks. Blue cheese would be a nice change, perhaps with some crumbled bacon added on top.
Click here for an updated recipe and video demo of Broccoli Casserole