There's a restaurant we go to often: it's four blocks away, has a good menu and great bartenders. I get a lot of inspiration from their specials menu, actually. (These portobello mushroom tacos, for example.) And a few weeks ago tried something described as "broccoli with mint pesto and pine nut gremolata" which sounds pretty damned delightful. But it fell quite short of that perky description. Here's my improved take on broccoli with mint pesto and I left off the gremolata because one sauce is enough.
I took a little of a Thai-turn on this pesto and made it with roasted peanuts. The pesto doesn't taste peanutty, though, just gives it a nice, rich texture. Try toasted almonds if peanuts are no friend of yours. Or pine nuts would prolly be good, too, if you're into that. After a bout of "pine nut mouth" a few years ago, I'm shy of them. I'm also shy of spending 12 dollars on two spoonfuls of nuts from a dang pinecone.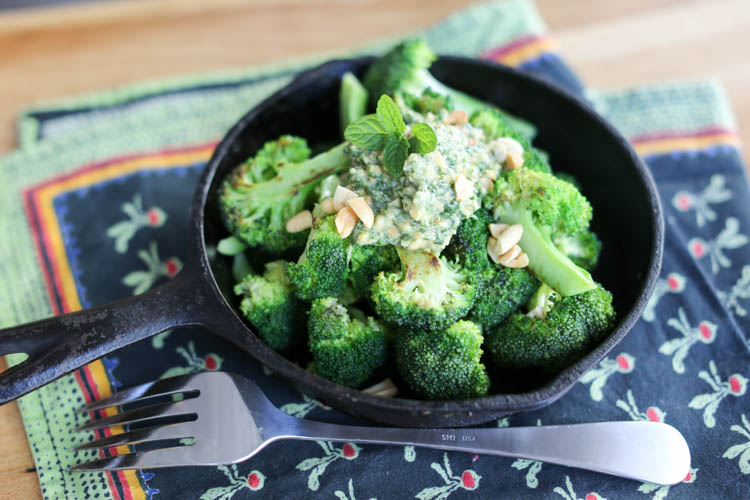 This pesto would also be really nice on a steak or with asparagus, I think. Like I said, it's minty and garlicky and the peanuts just make it kind of creamy/chunky without adding a ton of peanut flavor. So really, anything that would benefit from a bit of minty freshness, by all means: lamb, beef, salmon . . .  shoot, try it on pasta or a baked potato. Use it as toothpaste, it's fresh as hell!
Mint pesto keeps in the fridge for a couple days with no noticeable differences. That, plus the fact that the broccoli with the pesto is good eaten warm and at room temperature, means this would be a great side dish for a potluck or a dinner party where you want to make a few things ahead of time.
And peep these other recipes for basil pesto and a spicy cilantro pesto if you're looking for more pestos (and also a song about pesto).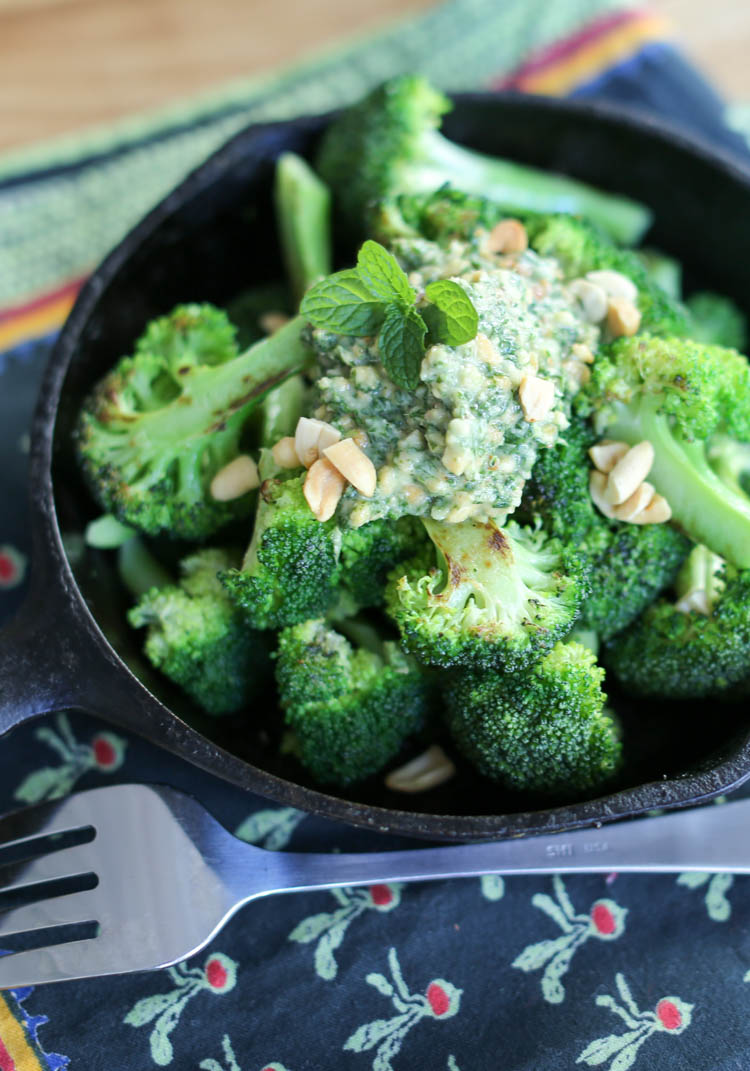 Print
Broccoli with Mint Pesto
1 pound broccoli florets
1 tablespoon olive oil
salt
Pesto:
1 clove garlic, peeled and halved
1/4 cup roasted, salted peanuts
2 tablespoons neutral oil (safflower, grapeseed, etc)
1/2 cup packed mint leaves (1.5 ounce bunch)
1 tablespoon lemon juice
salt to taste (start with 1/8 teaspoon)
Instructions
Cut the broccoli into bite-size florets, rinse and set aside.
In a small food chopper or processor combine garlic and peanuts and pulse to coarsely chop. Add remaining ingredients and pulse a few times, scrape down sides, then puree.
Heat the 1 tablespoon olive oil over medium-high heat in a large skillet. Once shimmering, add broccoli and let cook for 30-60 seconds until browned on the bottom. Sprinkle with a big pinch of salt. Toss and stir a couple more minutes until broccoli is tender but still bright green. Turn off heat.
In a serving bowl, put half the pesto. Top with the hot broccoli and toss quickly. Top with remaining pesto. Serve warm or at room temperature.