A very simple vegetarian holiday side dish or main dish, butternut risotto is creamy and pretty and how many things can say that about themselves?!
I started with my basic risotto recipe BUT I DIDN'T STOP THERE.
Obviously.
Instead, I added a cubed butternut squash to my simmering broth and let it soften up in there for a bit. As you add the broth and squash chunks to the rice, the butternut breaks down into a velvety sauce. See? (Look down)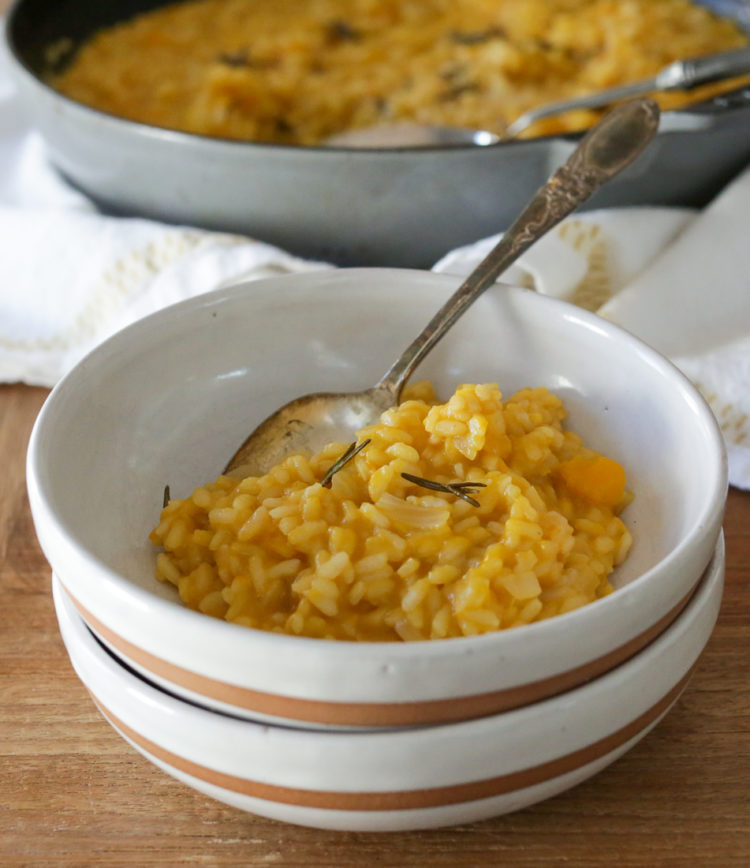 There's hardly any squash chunks left! I finished it with butter and parmesan and then — because it's the holiday season — I got fancy and fried some fresh rosemary leaves as a garnish. The best kind of garnish: yum and cute.
Butternut Squash Risotto Video
Print
Butternut Squash Risotto
1 small onion
1 clove garlic
1 small butternut squash (about 1.5 pounds)
4–5 cups vegetable or chicken broth
2 tablespoons olive oil
salt
1 bay leaf
1/2 cup white wine
1 cup Arborio rice
3 tablespoons butter
2 ounces grated Parmesan
1 tablespoon fresh rosemary or sage leaves
olive oil
Instructions
Finely dice the onion and mince the garlic. Peel and cube the squash (reserve seeds for roasting!).
Combine the broth and cubed squash in a medium pot, cover and bring to boil.
Heat olive oil in a large, deep pan over medium-high heat and add onion and garlic, salt and bay leaf. Cook, stirring, about 10 minutes until the onion is very soft. Add the rice and cook another 5 minutes until the rice is shiny and becoming translucent around the edges.
Add the wine and cook until evaporated.
Add one cup of the simmering broth and squash, stir until absorbed. Slowly add additional simmering broth, stirring each time until absorbed, before adding more.
It will take about 30 minutes from the time you add the first cup of broth for the rice to be cooked through. Taste for texture. If necessary, add more broth or water until the rice is tender but not mushy. The risotto should be wet without being soupy.
Once finished, stir in butter and cheese, cover and set aside.
Heat a couple tablespoons olive oil in a small skillet and fry the rosemary leaves until crisp. Drain and garnish the risotto with fried herbs.