Butternut Squash Soup with Coconut Relish
Butternut Squash Soup Recipe Video – scroll down for recipe card
A while back I made an everything-wilted-goes-in-it soup for dinner and pureed that mother up. You can probably imagine it looked a little on the unappetizing side of things. But then I minced up some radishes, jalapeño, and cilantro and put that on top and all of a sudden, we had some gourmet cream of vegetable soup with radish relish.
I thought about that near-miss of a dinner when coming up with this new butternut squash soup recipe.
I think, to me anyway, butternut squash soup is one of those recipes that always sounds like it's going to be really delicious and healthy, but it's always kind of a disappointment and I blame it on the texture. I mean, yeah, silky smooth is totally ritzy and stuff — I get that — but it's also kind of boring and reminiscent of recipes in the "Cooking for Invalids" chapters of 1940's cookbooks.
I like crunch! I like zing! I like pizzaz! I like pizza! (But that doesn't really fit into "Healthy Food Resolutions Month" so forget I said anything.) And this fresh, sweet, sour, spicy coconut relish fills my bill. And I mean that. Like, if I were a pelican I would fill my whole bird beak-pouch with this stuff. It's amazing. It should be in a museum.
Butternut Squash Soup Recipe – Printable!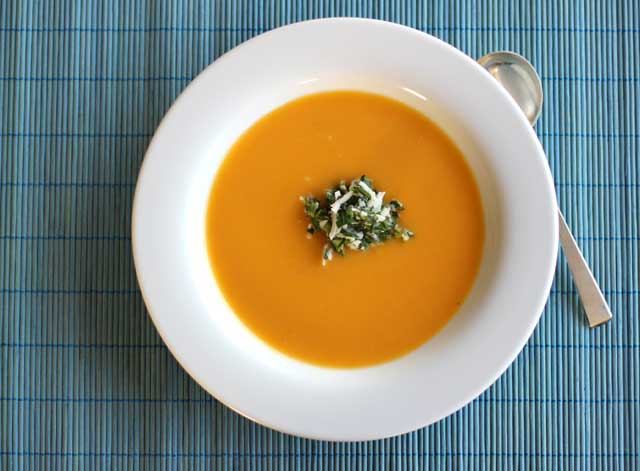 Print
Butternut Squash Soup with Coconut Relish
Author:
Prep Time:

5 mins

Cook Time:

30 mins

Total Time:

35 minutes

Yield:

6

1

x
1 1/2

pound butternut squash

2 tablespoons

butter

1 cup

diced onion

1/4 teaspoon

salt

1/2 teaspoon

curry powder

2 teaspoons

minced garlic

1

apple, peeled and cubed

4 cups

chicken or vegetable stock

1 tablespoon

lemon juice
Coconut Relish:

1/4 cup

shredded sweetened coconut

1/4 cup

minced parsley

2 tablespoons

minced jalapeño

2 tablespoons

lemon juice
Instructions
Peel the squash, remove the seeds, and cut into 1-inch chunks. Set aside.
Melt the butter in a large pot over medium-high heat and add the onion. Saute about 5 minutes until beginning to brown.
Add garlic , salt, curry, and squash and 1/2 cup water.
Cover tightly and reduce heat to medium. Cook 15 minutes until squash is tender.
Add apples and cook, covered, another 5 minutes.
Add half the stock and puree the soup. Add remaining stock and reheat until steaming.
While the soup heats, combine all relish ingredients in a small bowl.
Serve soup with a spoonful of relish on top.
Notes
Soup can be made a few days ahead of time and reheated when ready to serve. Relish can be made up to one day ahead of time.