What makes this chicken salad a California chicken salad??? Let's talk about it.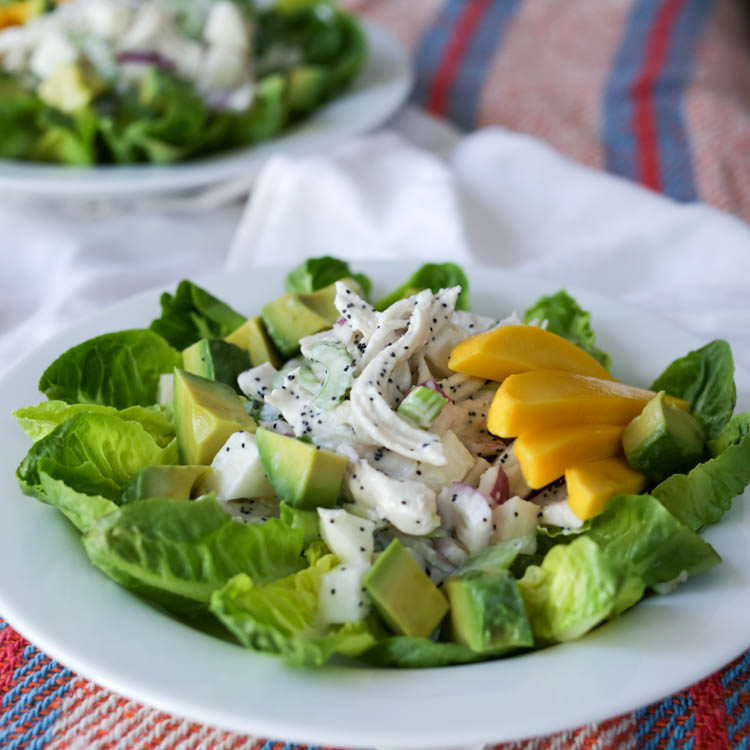 I'm leaning hard on avocado for the answer. Avocado is in, or on, everything here. But also … poppy seed dressing! Because the poppy is California's state flower! See?!?
Pretty proud of myself for that one.
The poppy seed dressing I used here is made with primarily plain yogurt so it's much lighter than oil-based poppy seed dressings sold in jars. It's less sweet, too, but still sweet enough that you could use it on a fruit salad if that's more your jam.
And as always, mix and match the salad ingredients to suit yourself. If mangoes are too expensive where you are, use halved grapes or apple chunks. If you don't like the crunch of celery, use cucumber cubes. If you don't want to screw with finding poppy seeds, just leave them out. It'll break my heart but won't make much difference to the final product.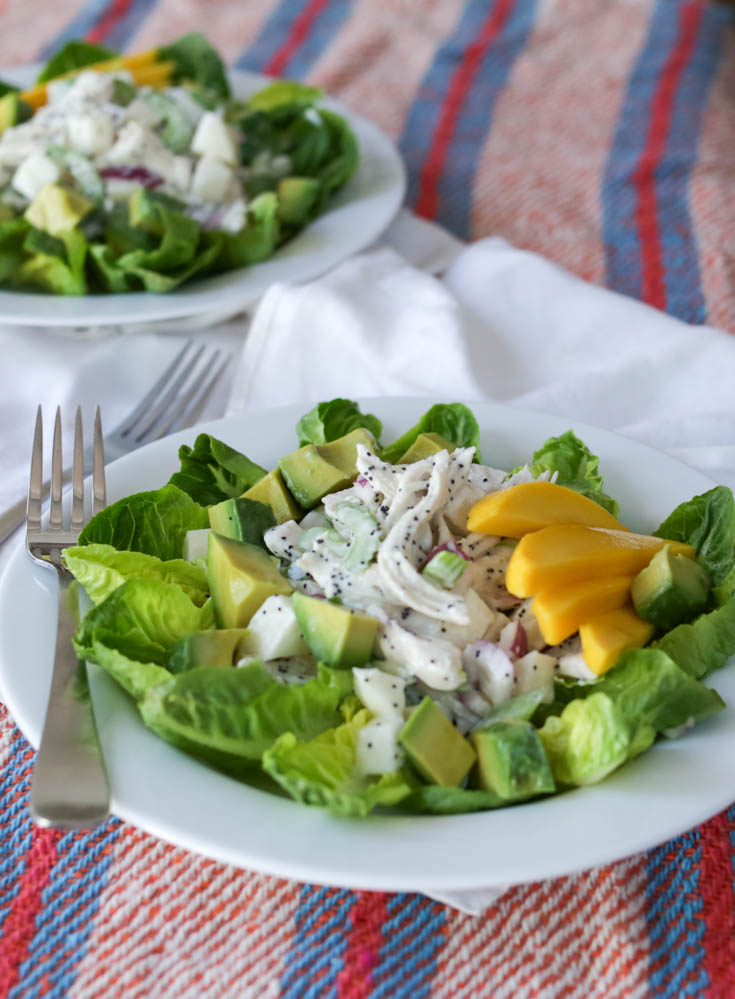 Print
California Chicken Salad
1

pound boneless, skinless chicken breast (See note)

1 cup

peeled and sliced jicama

1/2 cup

thinly sliced celery

1/4 cup

diced red onion

1

avocado

1 tablespoon

lemon juice

1

mango

4

soft lettuce, torn into bits

2 cups

torn radicchio (or additional lettuce)
Dressing:

1/4 cup

canola or safflower oil

1/4 cup

plain yogurt

2 tablespoons

honey

1 tablespoon

white vinegar

1 tablespoon

poppy seeds

2 teaspoons

grated onion

1/4 teaspoon

salt

1/4 teaspoon

dry mustard
Instructions
Begin by poaching chicken: Place in a pot with enough water to cover. Add 1 teaspoon salt or chicken bouillon. Cover. Bring to boil, then turn OFF heat. Leave chicken in hot water for 15 minutes.
Meanwhile, prep the vegetables. Peel jicama and dice. Place in a large bowl with celery, onion. Cut avocado into cubes and drizzle with lemon juice. Peel and slice mango.
When chicken is cooked, let cool and cut into cubes or tear into small pieces.
Combine dressing ingredients in a jar and shake well, or whisk together in a bowl.
Pour dressing over vegetables and chicken and toss well. Add avocado and mango last.
Serve over mixed greens.
Notes
If you prefer to use a bone-in, skin-on chicken breast, poach the same way as above, except allow chicken to simmer 1 minute before turning off heat and resting in hot water for 20 minutes.