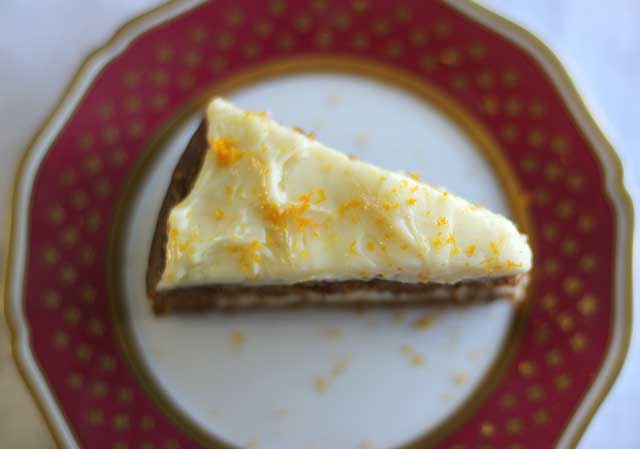 Carrot cake is one of those wholesome desserts that reminds me of farmers' wives and sweaty milkmaids and healthy brown-skinned farmboys. The sight of a big round carrot cake takes my mind's eye to the bright kitchen of a big white house in the middle of a sorghum field with a blue sky out the window and a chubby granny making lunch for all the hungry babies and men. I love that in this place where carrot cake takes me, people get cake at lunch. I love it for that.

I also love it for being sweet and spicy and tender . . . and for being covered in tangy cream cheese frosting. I think cream cheese frosting might be my favorite frosting and this one in particular with orange zest and maple syrup is the favorite favorite. I first made this carrot cake recipe over ten years ago and no longer remember where the cake part of the recipe came from. It's all just written in my 22-year-old-self's handwriting on a leaf from a legal pad. I do recall being happy with my own addition of the orange and maple to the icing. And I remember my sweet NatNat taking one bite and immediately requesting it to be made for her birthday every year, forever and ever.
Carrot Cake Recipe Video
Carrot Cake Recipe – Printable!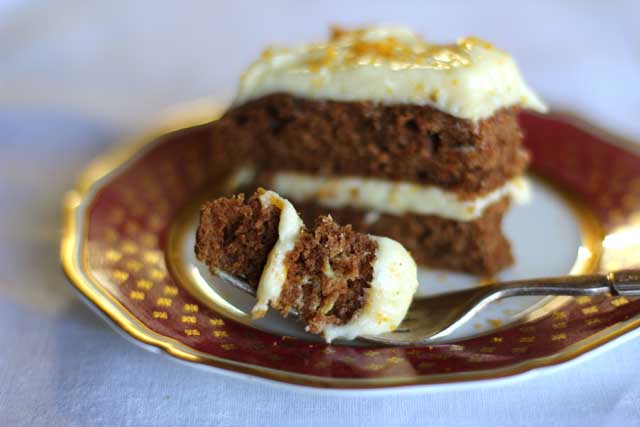 Print
Carrot Cake
Author:
Prep Time:

10 mins

Cook Time:

30 mins

Total Time:

40 minutes

Yield:

1

2

1

x
2 cups

grated carrots (

1/2

pound or so)

1/3 cup

hot water

1 1/4 cup

sugar

1/2 cup

vegetable oil (canola, safflower, sunflower)

3

eggs

1 1/2 teaspoons

vanilla

2 cups

flour

1 1/2 teaspoons

baking soda

1/2 teaspoon

baking powder

1 1/2 teaspoons

cinnamon

1 1/2 teaspoons

cloves

1/2 teaspoon

salt
Cream Cheese Icing:

8 ounces

cream cheese

1/4 cup

soft butter

2 cups

powdered sugar

1 teaspoons

vanilla extract

1 tablespoon

maple syrup

1 tablespoon

orange zest

2 tablespoons

orange juice, if needed
Instructions
For the cake: Preheat the oven to 350ºF. Grease and flour (or line with parchment) two 9″ round cake pans or one 13″ x 9″ pan.
Combine carrots, water, sugar, oil, eggs in a large mixing bowl and combine well.
Whisk dry ingredients together and add to wet mixture.
Pour into pan(s). Bake 25 minutes for 9″ pans and 45 minutes for 13 x 9″ pan, or until a toothpick inserted into the center comes out clean.
Allow to cool in pans on wire racks then invert to remove from pans.
Make icing while cake bakes: Cream cold cream cheese and soft butter together on medium-high speed until smooth and fluffy. Add vanilla, zest, maple syrup and combine. Sift in powdered sugar a little at a time until it's all combined and smooth. Add a teaspoon of orange juice if necessary to make it come together. If the icing seems a little soft, just let it sit for a few minutes and it will thicken up. Refrigerate until ready to ice.
When cake is cooled, ice and serve.
Make this cake for Easter and decorate it with marzipan carrots!