I wrote a new book, dudes! See? I TOLD you I was gonna write more books after I quit my job!
This one is called Cavelady Cooking: 50 Fun Recipes for Paleo, Low-Carb and Gluten Free Diets! Honestly, we had the idea for the title before we had the idea for the book. Isn't it just silly? But we've had a lot of requests for Paleo diet recipes, and you know everyone – including us – knows at least one person with celiac disease or gluten-intolerance, and plus I've gotten many requests over the last two years for low-carb recipes so it seemed like it was about time.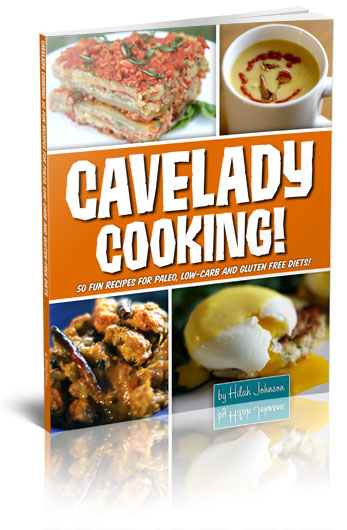 If you're familiar with Hilah Cooking, you know I don't focus my show recipes on any particular diet – I just like to keep things simple, good, and pretty much Texas by default – but my cookbooks can be something else. I know this one won't automatically appeal to everyone who watches the show and uses my recipes, but I think it will appeal to anyone who's adhering to a gluten-free, low-carb, or Paleo diet, as well as anyone who just wants some new ways to cook vegetables and meat!
Cavelady Cooking covers breakfast, lunch, dinner, sides, snacks and desserts.

Some breakfast highlights are: Crabcakes Benedict; Potato-free hash; Counterfeit Lara bars; plus several more recipes, not even including 6 funky smoothies!
For lunch, I got real. Real life. So we're talking lots of make-ahead soups and salads and re-purposing leftovers into deliciousness! Plus some pretty brilliant ideas on making sushi rolls sans rice and tuna salad sans mayonnaise.
The chapter on dinner is ten brand-new recipes including easy homemade Italian sausage (so you can avoid added sugar and preservatives), Cuban chicken, Indian kofta, and pesto-olive roasted chicken. Each main dish recipe offers serving suggestions from the side dishes chapter, which is my personal favorite of all the chapters!
These side dishes are anything but pedestrian. Simple but unusual ways to prepare familiar vegetables like chard, cabbage, spinach, and okra will brighten up your plate and then your face! I even included a recipe for mushroom-stuffed acorn squash that could double as a vegetarian main-dish, should you ever need one.
I also offer a quick chapter on snacks and desserts. From no-cooking-snacks to baba ganoush, I got your snacking needs covered. For dessert, how about some plantain fritters or a peach crumble!
All of the recipes offer shortcuts and substitutions when possible to keep it as easy as possible on you, the cook! I hope you enjoy this collection of recipes as much as I enjoyed putting it together.
Cavelady Cooking is available exclusive via Amazon. Don't own a Kindle? No problem! Kindle books can be read using the Free Kindle Reader App for your Web Browser, PC, Mac, iPhone, iPad, BlackBerry, or Android. In addition to reading the book, the Kindle format lets you make notes, highlight text and bookmark your favorite recipes.