Chiles Rellenos REcipe Video – scroll down for the recipe card!
I was talking to my friend Estrella the other day and remembering the first time we made chiles rellenos together with her mother, Adriana. Estrella and I were in our early twenties, maybe even just twenty years old. It was my dad's birthday dinner and you know, the apple doesn't fall far from the tree, I am my father's daughter, yadda yadda, where do you think I got my love of Mexican food from? What I'm saying is that chiles rellenos is one of my dad's favorite dishes in the universe.
Umm, and mine, too.
Anyway, we made this for him, with Estrella and Adriana showing me the steps. Adriana also made a nopalitos salad from cactus pads she cut fresh from the garden. That meal stands out in my memory for its deliciousness, sure, but also for the friendship and love that filled the house while we cooked and shared it.
Chiles REllenos recipe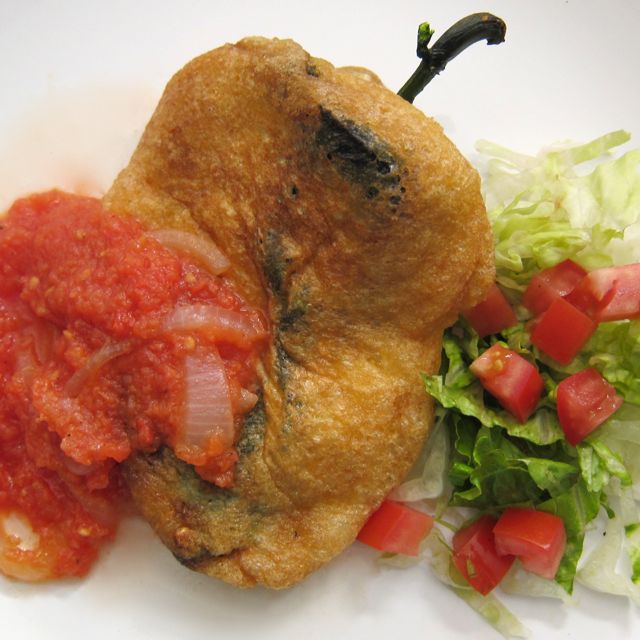 Print
Chiles Rellenos
Roasted poblano chiles filled with cheese, battered in egg and lightly fried
4

poblano chiles

8 ounces

cheese (Asadero, Oaxaca, Monterey jack, Muenster)

2

eggs

1 teaspoon

vegetable oil

1/2

large onion, sliced thinly into half-circles

1

clove garlic, minced

4 cups

tomato sauce (

1

pound fresh tomatoes pureed, or canned sauce)

1

bay leaf
Salt and Pepper
Oil for frying (about a 1/2″ deep, 2-3 cups of oil)
Instructions
Wash the peppers well. Roast the peppers over an open flame or under the broiler for about 2 minutes on each side until thoroughly blackened. As each is roasted, place in a large bowl and cover them with a plate. Let them steam together in their own heat while you begin the sauce.
Heat the teaspoon of oil in a saucepan and saute the onions over medium heat for about 5 minutes or until softened and beginning to brown. Add the garlic, tomato, and bay leaf. Stir. Salt and pepper to taste. Bring to boil, then simmer while you prepare the chiles.
By now the peppers should be well-steamed and soft. Gently rub the blackened skins off with a paper towel, you don't want to tear the pepper.
Cut a slit from the stem end down about 2/3 of the way. Use a paring knife to cut out the little cone of seeds under the stem, or leave it in if you like it spicy!
Cut the cheese into 16 rectangles and put two in each pepper. Set aside.
Separate the eggs: whites in a mixing bowl, yolks in a shallow bowl. Lightly beat the yolks. Beat the whites until stiff. Fold the egg whites into the yolks gently to create a fluffy "batter".
Heat the oil in a large skillet until a pepper seed sizzles when tossed in.
Lay a filled pepper into the egg batter, cut side up, and spoon the egg over the top to cover it. Lay it carefully in the hot oil and repeat with the other peppers.
Fry them for 2-3 minutes on each side until golden brown.
Drain briefly, then serve immediately with the tomato sauce, rice and beans, or lettuce and tomato salad.
Notes
If you are multiplying this recipe and need to hold the peppers after frying, lay them on a rack on a cookie sheet and keep warm in a 200 degree F oven for up to 15 minutes.
Chiles rellenos may also be filled with beef picadillo or shredded chicken.
Click here for my beef picadillo recipe. Or click here for a shredded chicken filling to use inside your chiles rellenos.