Chocolate Guinness Cupcakes with Bailey's Buttercream
Chocolate Guinness Cupcakes – scroll down for printable recipe
Listen up because I'm about to tell you about the secret ingredient for the most moistest and deliciousest chocolate cupcakes in the Whole Ding-Dong Wuuurld!
I first had these, or a version of them, at the Austin Bakes for Bastrop fundraiser we volunteered at last year. A fellow Austinite made hers for the sale and we were lucky enough to try one. Great googly-moogly! Were they ever good.
This is my somewhat simplified version of hers, which included a chocolate ganache filling. If you're more into baking than me – and you probably are because honestly baking is not my "thing" – I've got a ganache recipe at the bottom of this post that you could try. My cupcake also tastes a little more like beer than that first one I had and I like it. If you're not a beer person, though, you probably won't. My mom is a beer-disliker and she said it tasted too much like beer, and I was like "No doy, Mom!" and then I ate the rest of her cupcake and that was that.
Here's the recipe, just in time for your Saint Patrick's day celebration! Which, I guess, is actually a celebration of his death, which is maybe kind of sad, but perhaps no one knows when he was born exactly. What we do know is that he chased all the snakes out of Ireland and turned them into shamrocks and then invented green food coloring and I bet that's what killed him. Don't quote me on that.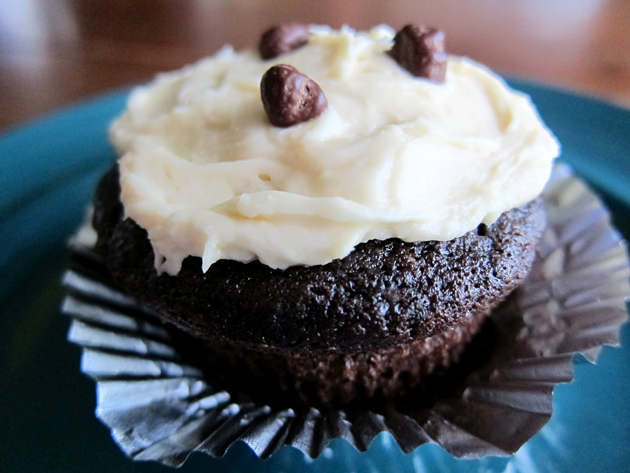 Chocolate Guinness Cupcakes with Bailey's Buttercream – printable recipe
Print
Chocolate Guinness Cupcakes with Bailey\'s Buttercream
6 ounces

Guinness or another stout beer

1/2 cup

vegetable oil

1

egg

1 cup

sugar

1 cup

flour

1/2 teaspoon

baking soda

1/3 cup

cocoa
For the frosting:

1/2

stick (4 tablespoons) soft butter

2 cups

powdered sugar, sifted

2

–

4

tablespoons Irish cream liqueur
Instructions
Preheat the oven to 350 and prepare 12 standard cupcake cups by oiling them or using paper cup liners.
For the cupcakes: beat together the beer, oil, egg and sugar until smooth. Sift the dry ingredients in and combine. It might look lumpy, but that's okay; I think it's just beer bubblies.
Divide the batter between the cups, using a scant 1/3 cup of batter for each.
Bake for 22 minutes or so, until they pass the toothpick test. They might be a little flat-topped but I'm not sure how to get around that. It's okay.
Remove them from the pan and cool on racks.
For the frosting: Beat the soft butter on medium speed until creamy and fluffy. Add the sugar a few tablespoons at a time. When you've added about a cup and it's looking really stiff, add a couple tablespoons of the liqueur and beat it some more. Add some more sugar and go until you like the consistency, adjusting it with more liqueur or sugar. You should end up with about a cup and a half of icing.
Frost the cupcakes and decorate them with little chocolate dealies or sprinkles or some cute-ass green shamrock sprinkles.
Notes
I like a light frosting on mine, so this frosting recipe doesn't make a whole lot. Double it if you're a big frosting person.
Aaaand… I promised you a chocolate buttercream frosting recipe in case you don't want to use raw liquor in your cupcakes, like if you're serving kids or other people who get rowdy on booze.
Chocolate Buttercream: SO EASY!
Ingredients:
3 ounces butter
3 ounces semi-sweet chocolate chips
2-3 cups sifted powdered sugar
What to do:
Melt the butter with the chocolate in a double-boiler or microwave. Remove from heat. Sift in half the sugar and beat like crazy. (Okay, I only ever do this by hand, so my beating is probably not quite "like crazy" but I just stir it really really fast.) Add a little more sugar and beat it in. Now stick that mamma-jamma in the fridge a while to cool it off and it'll thicken up good. Give it a stir every once in a while and when it's cool, you can add more sugar if it still seems too thin but it probably will be fine. Oh yeah and you could add some vanilla extract if you wanna.