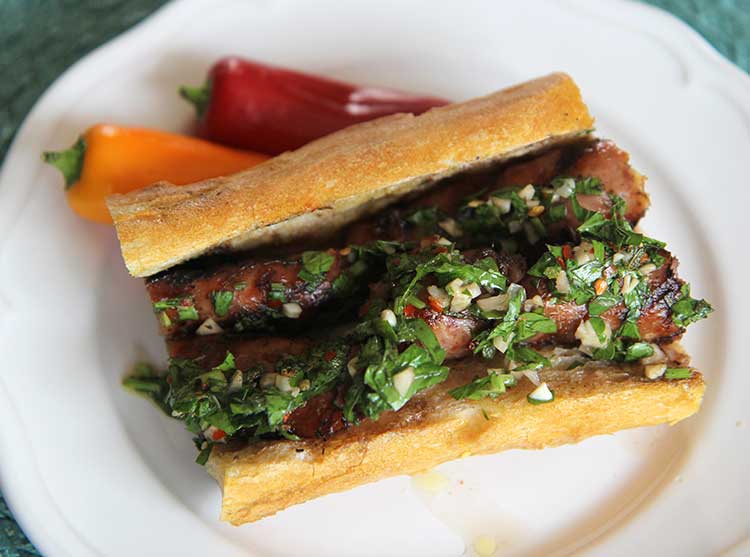 Choripanes were invented in Argentina, but similar sandwiches are eaten in Uruguay, Brazil, and Chile. Choripán is a portmanteau of chorizo and pan — sausage and bread — but that's not all there is to it! Chimichurri is what makes the sandwich famous.
Chimichurri is a fresh salsa based on oil and vinegar and parsley, with various other ingredients added depending on the cook. Garlic in some amount is always present; onions or shallots sometimes; red pepper flakes in whatever amount you desire; oregano and bay leaf; some recipes use a combination of cilantro and parsley, as well.
The recipe here is the basic recipe my friend Carlos prefers and it's damn good. If you want to personalize it, add some minced shallot or a bit more red pepper. Do try to use a nicely flavored olive oil, since it is such a prominent ingredient.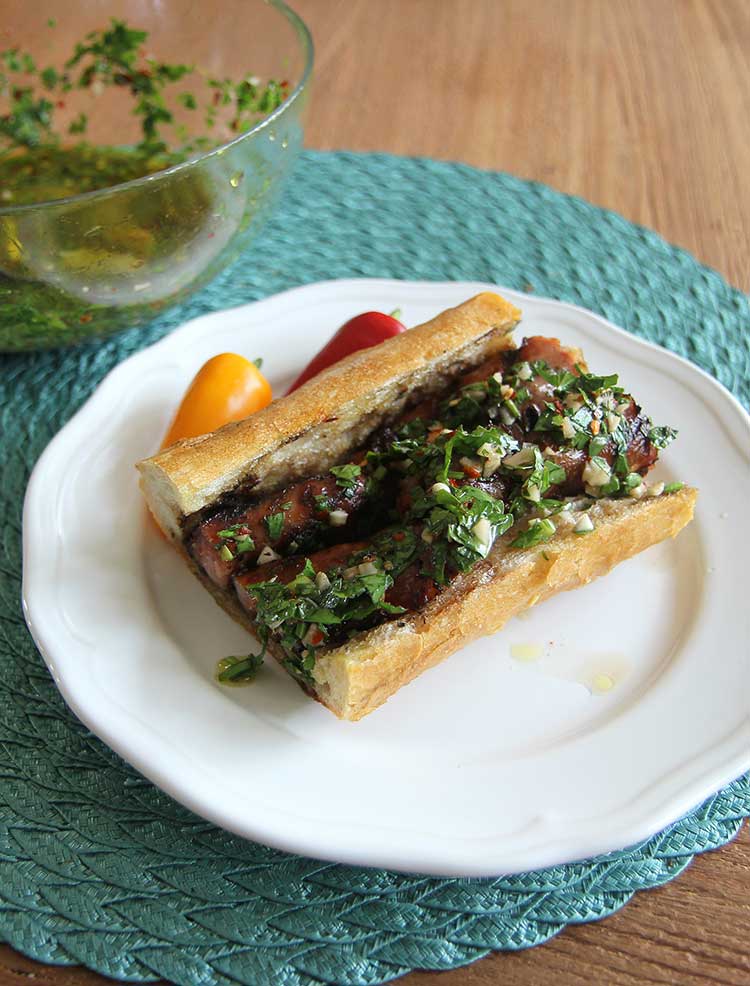 If you live in Texas, chorizo Argentino can sometimes be found at the Fiesta grocery chain. If you can't find that, it's very similar to Italian sausage and those will work fine. Mexican chorizo is too heavily seasoned and doesn't work as well with the chimichurri. If you like blood sausage (morcilla) and can find it, a variation of choripanes called morcipanes can also be made.
For the bread, be sure to use a crusty French baguette. Easy Tiger in Austin makes the best in town, most similar to the crusty bolillos found in Mexico. Elsewhere, visit the best bakery you can find and choose a baguette with a dark golden, thick crust. This is important so that the bread can stand up to the sausage juices and the hefty slathering of chimichurri. Softer breads will disintegrate.
Choripanes Video with Carlos!
Choripanes Recipe – Printable!
Print
Choripanes!
Author:
Cook Time:

30 mins

Total Time:

30 minutes

Yield:

8

-

1

0

1

x
Basic Chimichurri Sauce

6 Tbsp

. red wine vinegar

1/4 cup

water

2 Tbsp

. minced garlic (about

8

cloves)

1

bay leaf, broken in half

1 1/2 tsp

. salt

1/2

to

1

tsp. dried hot red pepper flakes

1 tsp

. dried oregano

1 tsp

. coarsely ground black pepper

1/2 cup

olive oil

1 cup

finely chopped fresh flat leaf parsley, including stems

2

pounds Argentinian chorizo links (or Italian sausage links; don't use Mexican chorizo, it is very different)

2

long crusty baguettes
Instructions
Make the chimichurri first (you can make it a day ahead, too, and refrigerate as long as you bring to room temperature before serving):
In a large bowl, whisk together everything except oil and parsley. Once combined, slowly whisk in oil to emulsify. Stir in parsley. Allow to sit at room temperature 30 minutes for the flavors to develop.
Meanwhile, heat a grill. For indoor grills, set to high heat; for outdoor grills, set to medium-high.
Once hot, grill chorizo links on all sides, turning every 2 minutes or so, until casings are crisp and the sausages are beginning to split open.
Place on a cutting board and cut each sausage lengthwise.
Place cut-side down onto the grill for 2 more minutes to ensure thorough cooking and get some char on the insides of the sausages. This may take 10-15 minutes depending on the heat of your grill.
Slice the baguettes lengthwise and fill with sausage.
Liberally douse with chimichurri, then cut the giant sandwich into 4 inch lengths for serving.
Serve with plenty of napkins, beer, and more chimichurri or hot sauce.
Also check out this smoked sausage wrap recipe – a staple of my Texas youth.