Churros are kind of the Spanish version of donuts. Taco Bell ripped them off with their Cinnamon Twists. The original Spanish churros were made with just flour and water (maybe some oil) dough but nowadays in Mexico, churro batter is enriched with eggs, butter and sugar. In chatting with my pal Hector about this, we concluded that the Mexican churros must have been influenced by French invaders (much like Mexican bolillos are very similar to French baguettes). And because butter and eggs are tastier than no butter or eggs, and because I'm from Texas and that is way closer to Mexico than to Spain, I've made the Mexican churros here.
The churro dough is basically a choux pastry (or paté a choux) which is the same used to make gougeres and eclairs. The difference is that instead of being baked, it is fried in this case. The dough itself is pretty bland, but the roll in cinnamon-sugar makes up for that. Roll them while they're still warm so the sugar sticks and melts a little and makes a crunchy shell.
How to Make Churros Video – scroll down for printable recipe

Subscribe to my YouTube channel to get notified of new videos.
Churros Recipe – Printable!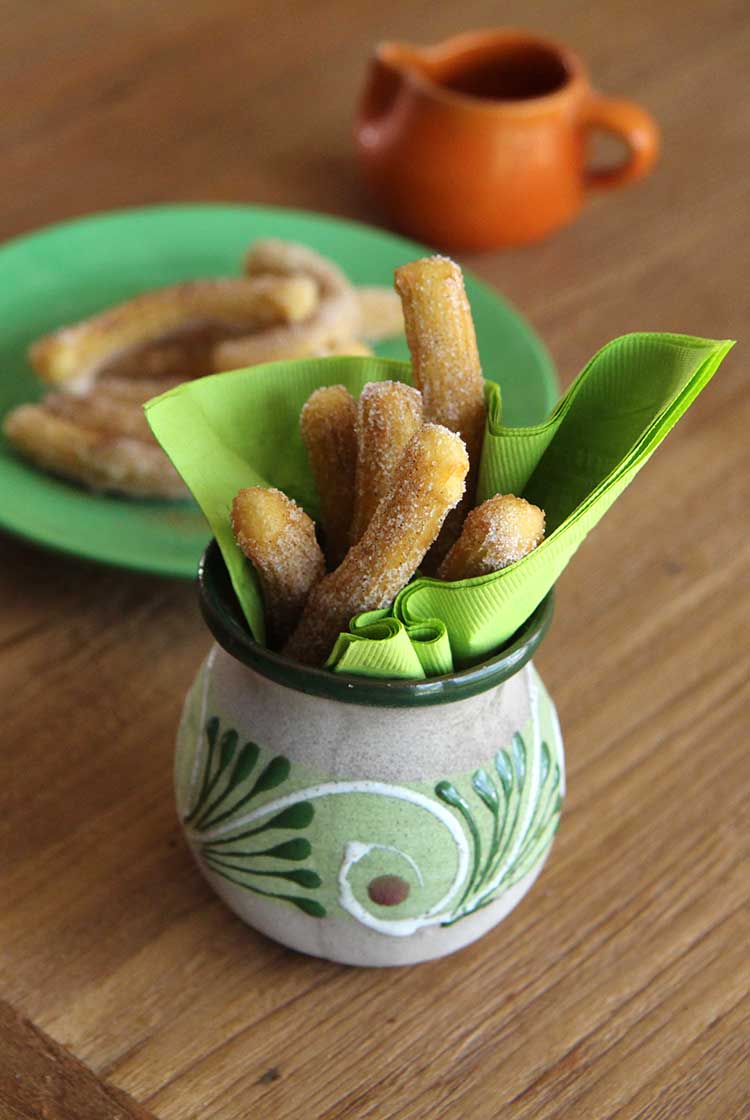 Print
Churros
Author:
Cook Time:

20 mins

Total Time:

20 minutes

Yield:

20

-

2

4

1

x
1 cup

water

5 tablespoons

butter

1 tablespoon

sugar

1/4 teaspoon

salt

1 cup

all purpose flour

2

eggs

1 teaspoon

vanilla extract

4 cups

oil for frying (corn, peanut, canola, light olive)
For coating, mix together in a shallow dish:

1/4 cup

sugar

1/2 teaspoon

ground cinnamon
Instructions
Combine water, butter, sugar and salt in a medium pot and bring to boil over medium heat.
Turn off heat and add flour all at once. Stir briskly until a ball forms.
Turn into a large bowl or mixing bowl. Let cool 5 minutes.
Beat eggs with vanilla in a small bowl.
Mix in half the eggs either with a wooden spoon or electric mixer on medium speed until combined. Mix in remaining egg until smooth.
Heat 2-3 inches of oil to 350ºF.
Set up a piping bag with a 1/2 inch star tip (I used a Wilton 4B) and fill with half the dough or fill a churrera fitted with a star tip.
Squeeze 3-4 inch lengths of dough into hot oil. Use your non-dominant hand to squeeze and your dominant hand to cut lengths off with scissors or a knife.
Fry 4 churros at a time for 2-3 minutes on each side. Turn them with a slotted spoon.
When golden brown, remove to paper-lined tray to drain.
While still warm, gently coat with sugar/cinnamon mixture.
Serve hot.
Notes
Dough may be made a day before and stored in an airtight container overnight. Fried and sugared churros may be kept warm in a low oven for up to an hour. Arrange on a rack over a baking sheet in a 200-250ºF oven.
Nutrition info is estimated
Nutrition
Serving Size:

1

Calories:

163