Coxinha (pron: co-SHEEN-ya) is a Brazilian street food, minced chicken wrapped in a soft dough, breaded and deep fried. Is there any part of that that doesn't sound completely great? I'll answer. There's not.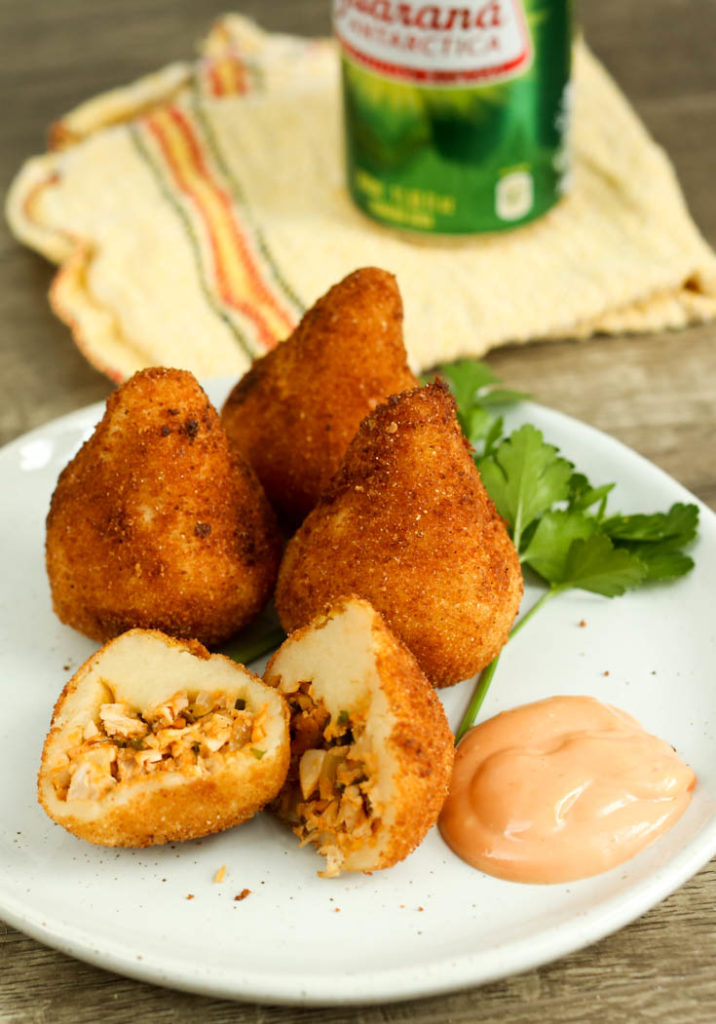 The legend of how coxinha came to be is that a long time ago, there was a young Brazilian prince and, like every prince, he expected to be stuffed to the gills with his favorite foods all the live-long day. His favorite food happened to be chicken legs — drumsticks. When it came time for the palace cook to make his lunch, though, she found that she was short on drumsticks! Curses!
So she cooked up some chicken breast instead, wrapped it in a dough and shaped it into a drumstick (coxinha means "little drumstick", sort of. It's complicated.) and then deep fried it, just to be on the safe side. The little prince loved the result and so did his mother. And so will you.
In Brazil, coxinha are made in many sizes. Large ones, the size of a fist, are sold on the street for lunch and snacks. Small ones are made for parties at home. The basic filling always includes chicken, onions, garlic, parsley; sometimes tomato sauce or mashed potato. Street coxinha may include a salty. cream-cheese-like cheese called catupiry, but those made at home generally don't have cheese. This recipe comes from a family friend, Tuany, who is from Maceió. It's her mother's recipe and was translated from Portuguese. I added my own notes to clarify the recipe for non-Brazilians like myself. 🙂
If you like, serve coxinha with molho rosé ("pink sauce") a dip made from 2 parts mayonnaise and 1 part ketchup, mixed together with a little lime juice and salt if it needs it. Adjust the ratio to your preference.
For more Brazilian snacks, see my Pão de Queijo (Brazilian cheese bread) recipe and video and Brigadeiro recipe!
How to make Coxinha recipe video – scroll down for recipe
Subscribe to my YouTube channel to get notified of new videos.
Coxinha recipe – printable
Print
Coxinha
Author:
Cook Time:

1 hour

Total Time:

1 hour

Yield:

3

0

1

x
2

pounds bone-in chicken (breast is usually used but I prefer a mix of white and dark)

6 cups

water

1 tablespoon

salt

2 tablespoons

oil

1

medium onion, diced small

6

cloves garlic, minced

2 tablespoons

tomato sauce

1 tablespoon

white vinegar

1 teaspoon

salt

1/2 teaspoon

black pepper

1/2 teaspoon

ground cumin

2 tablespoons

fresh minced parsley

6 cups

all-purpose white flour, sifted

2

eggs

2 cups

plain breadcrumbs (Panko can be used but regular fine breadcrumbs are better)

3

–

4

cups oil for deep frying
Instructions
To begin, put the chicken in a large pot with the water and tablespoon salt. Cover and place over high heat. Bring to boil, then reduce heat and simmer about 20 minutes until the chicken is cooked through. Remove the chicken from the broth and place in fridge to cool. Save the broth in the pot and set aside.
Once chicken is cool enough to handle, remove the skin and bones and discard. Shred the meat very finely, using a knife or a food processor. You should have about 2 cups of meat.
In a large skillet, heat the oil over medium-high heat and add the onions and garlic. Cook until softened, about 5 minutes. Add the seasonings and the chicken and combine well. Turn off heat and set aside.
Bring the pot of broth to a rolling boil, turn off heat and dump in the flour. Stir quickly with a big spoon. Mixture will be lumpy, but try to get all the dry patches of flour incorporated. Once cooled enough to handle, knead the dough for a couple of minutes.
(At this point, both filling and dough may be refrigerated over night. Cover the dough tightly so it doesn't dry out.)
To shape the coxinha, pull off balls of dough about the size of an egg and flatten with your hands to make a circle. Scoop a teaspoon or two of filling into the center and pull the sides up to cover the filling. Pinch and twist the top of the bundle to make a drumstick shape. Place shaped coxinha on a plate.
Once all are shaped, beat the eggs together in a bowl and dip each coxinha in the egg. Roll to coat in crumbs and set aside until all are made.
(At this point, coxinha may be refrigerated over night.)
When ready to cook, heat 4 inches of oil to 350ºF. Fry the coxinha a few at a time for just about a minute, until golden brown.
Serve hot, but they are also good at room temperature.
Notes
Fried coxinha may be cooled and frozen for longer storage. To reheat, place on a pan in a 375ºF oven for about 20-30 minutes until hot throughout and crispy.