Chicken salad, like egg salad and tuna salad, gets a bad rap (is it rap? Or rep, like "reputation"? Rep makes more sense but it sounds like everyone is saying rap. Is it like "rap sheet"? And where does that come from? Aaaaaanyways . . .)  Chicken salad is a thing that everyone's grandma made and this curried chicken salad is that same story because it's based on how my grandma made chicken salad.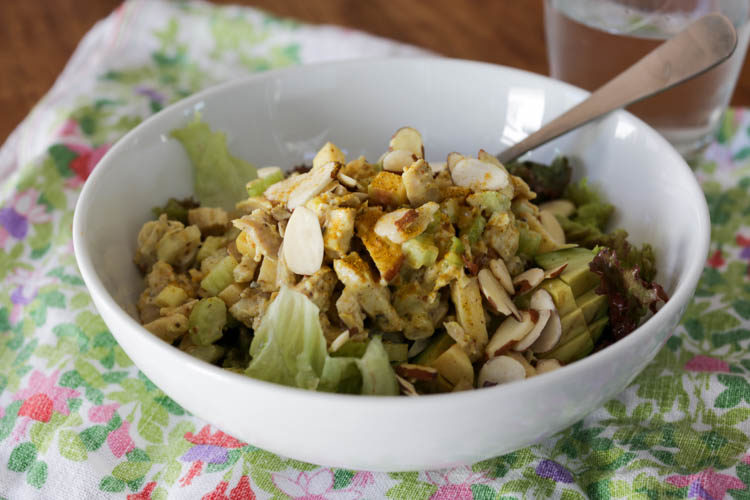 My grandma Hornsby, my dad's mom, looooooved chutney. Major Grey's chutney specifically. She ate it with ham sandwiches and turkey sandwiches and chicken salad and I don't know what all else, but she always had a jar of it in her fridge. Maybe she put it on her Grape Nuts.
It's mostly sweet — Major Grey's brand is a very British-ized Indian chutney so it's way stickier than a real chutney — a little tangy, a little spicy. But not too spicy, Lord knows, because grandma could not handle the heat. Think of it like a chunky mango jam with a few raisins and some cardamom added. And, like, three red pepper flakes.
When she made chicken salad, she added a little chutney as well as some halved grapes and either pecans or almonds depending on what she had. We'd line small bowls with delicate butter lettuce leaves and top that with a scoop of chicken salad and eat it all with Saltine crackers. Mmm.
When I do it now, I make the chicken salad ahead of time and chill it. Then I toss a bunch of salad greens with olive oil and lemon juice, salt and pepper. Super simple. It's a damn healthy lunch if you want it to be.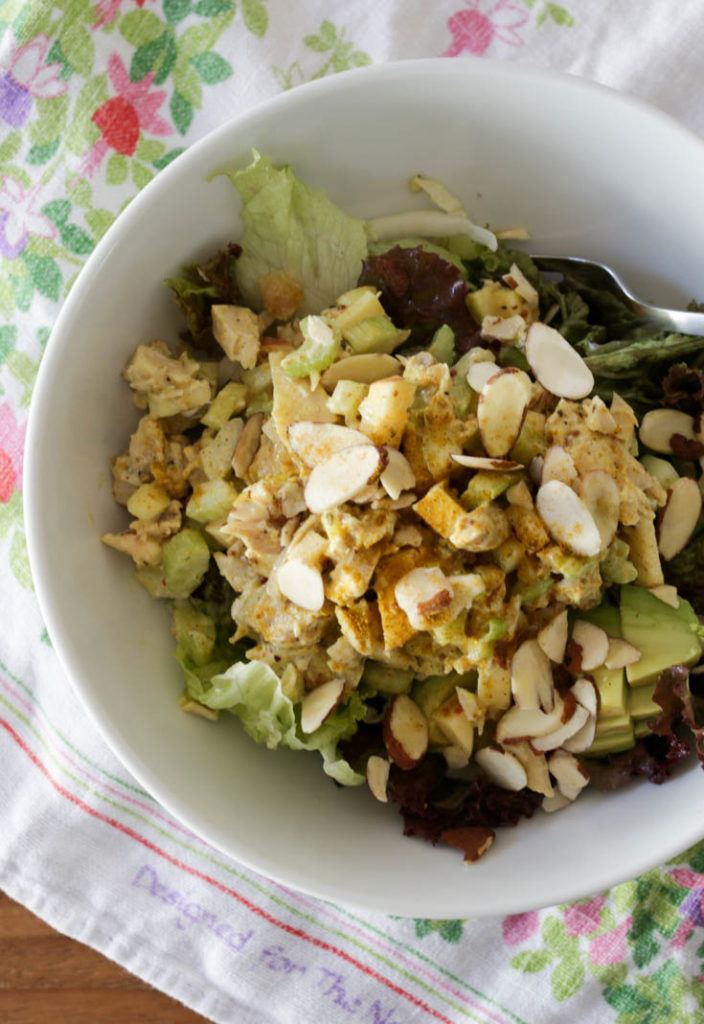 Print
Curried Chicken Salad
2 cups cooked shredded chicken breast (about ½ pound raw)
1 tablespoon mayonnaise
1 tablespoon chutney
1 teaspoon Dijon or brown deli mustard
1/2 teaspoon curry powder
1/4 teaspoon salt
¼ teaspoon black pepper
dash cayenne, optional
1 tablespoon lemon juice or apple cider vinegar
2 scallions, minced
½ cup diced celery stalks and leaves
¼ cup diced apple or halved grapes
2 tablespoons slivered almonds, toasted
Instructions
To poach raw chicken: Put boneless/skinless breasts in enough water to cover. Bring to boil, count to 60, then cover pot and turn off heat. Let sit in hot water for 15 minutes. Drain and cool.
Chop or shred the chicken and mix with dressing ingredients: mayo through lemon juice or vinegar.
Once coated, add scallion, celery and apple and stir well.
Keeps 4 days refrigerated.
Add nuts at serving time to retain crunch
Nutrition
Serving Size:

1.5 cup

Calories:

253

Fat:

18

Carbohydrates:

12

Protein:

14