Easter Season Ramblings and Musings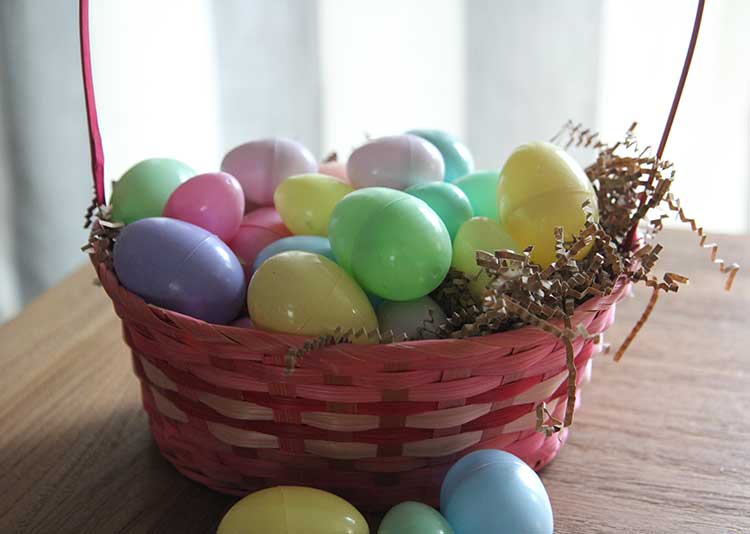 It's been just over one year since my grandmother Hornsby passed away. It's taken this long to get all her affairs in order (bless my little brother for handling all that) and over the last week we've been emptying the storage shed where her knicks and knacks and pots and pans and lipsticks and candlesticks and Christmas ornaments and Easter baskets have lain dormant. With no specific directions regarding to whom she wished items to be passed on, it was left to us to decide. The things that none of her sons laid claim to immediately are now stacked in boxes in my mom's garage. I went over there yesterday to sort and photograph items I thought our out-of-state cousins might remember or want.
Pawing through fragile collections wrapped poorly in newspaper, I was struck repeatedly by old familiar smells I hadn't smelled in what felt like decades. The scent of Keri lotion, Flex shampoo, and Pears vegetable glycerine soap. The decomposing plastic smell of 1970s-era artificial poinsettias. Boxes marked "Linens" stuffed with towels and sheets, all in her favorite color (purple) called me to put my face inside and inhale. Sure, I realized I was inhaling dust and dirt and probably mites and god-knows, but I was also breathing in her house and her bathroom and her bedroom where I slept on the floor on a pallet of blankets when I'd spend the night.
I found a box filled with purple glass figurines and her bedside clock and a Ziploc bag of old emery boards and hair pins. I looked for her nail buffer with no luck. A brass perfume set was empty, as it has been for as long as I can remember. Two dozen glass vases, of all shapes and sizes but still only one color: purple. A countertop magnifying mirror and a plastic comb. A canister of "Dusting Powder", its fragrance long vanished.
In other boxes, from the kitchen: an assortment of brown ceramic liquor bottles from 1940s Eastern Europe that once stood in a soldierly row above the kitchen window. A shiny copper teapot that belongs in my mind only on top of her refrigerator, never used to actually boil water. Her toast rack. Jesus, the toast rack. She used it every morning of her life as long as I knew her, to hold her 2-4 pieces of Pepperidge Farm thin-sliced white toast spread with Fleishmann's oleo. She'd arrange her breakfast — toast, Grape Nuts, pot of Earl Grey, packets of Equal — on a floral-printed melamine tray in the kitchen, then carry it to her chair by the living room window and eat. The toast crusts she'd give to the dog, Fero, and after Fero was gone, Ursa.
Items collected from her desk, which was her father's desk before her and mine now, tossed into a smaller box: 3-hole punch, paperclips, binder clips, rubber erasers; the erasable pens she loved to use and which are nearly impossible to find anymore; yellow notepads; three glass paperweights; one silver paperweight that she once told me was the result of her having left the kettle on the stove so long it melted into a pointed blob; a stapler; more staples than any person would ever need in a lifetime (no pun intended). I took the hole punch.
In the bottom of a box destined for a yard sale, I made one final inspection to be sure. I found a plastic bag of maybe 50 unused Christmas cards. Dammit. She loved Christmas. She loved Christmas cards, sending and receiving although she didn't send many in her later years. I wish I'd thought then to help her to address some cards, to stamp them and put them in the dumb mailbox for her. She kept just about every single Christmas card she'd ever gotten. She'd hang them like garlands on string strung up over the windows at Christmas; every year the same cards, plus a few new ones. She got fewer and fewer cards as the years passed on; I assume because her friends were passing on, too. I kept the bag of unused cards. Someone needs to send them.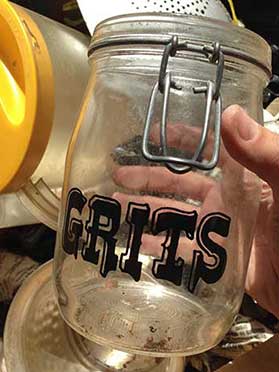 Under that I found a glass storage jar, lidless and marked "Grits", and could not stop laughing through Christmas card tears. The thought of my grandmother cooking or even eating grits is hilarious, much less actually buying grits and then storing them in a jar labeled such. Even now, thinking about it, I'm a mess of wet-faced giggles at the kitchen table. But then, I'm also bewildered why she even kept the sad grits jar with no lid. She once told me, after I'd broken … something, I can't remember what, but whatever it was I was despairingly heartsick over it and she said, "Everything has a lifespan" and it quit my crying right away. I understood that. I think about that phrase often. It's one of the best life lessons one can learn, though at the time it didn't occur to me that it goes for humans as well as things.
Same box, different holiday. Easter eggs. A gallon size bag of the pastel plastic Easter eggs she used every year. They must be 30 years old. Plastic Easter eggs never die. She'd fill them with Brach's jelly beans (the regular sized ones and the miniature ones, which were my favorite) and Cadbury Mini Eggs and hide them around the house and the yard along with a few Cadbury Creme Eggs. A long-handled pink Easter basket, too. I took it and the bag of eggs. I'm not sure why; I won't be hiding Easter eggs for kids for a while yet and I don't really have anywhere to store them. But it didn't seem right to put them into a yard sale, after she'd taken care to preserve them this long. What a lover of tradition and festival. What a remarkable woman. I wish I knew some kids to hide eggs for this Easter. I have the perfect basket and everything.