I'd been thinkin' and dreamin' for a while now of some kind of peanut-butter-roasted chicken dealio, and while this isn't quite all that, it does satisfy the peanut butter and chicken combo conundrum I was facing. On a lark… a whim… a whimsy if you will, I added a spoonful of peanut butter to my standard barbecue sauce recipe and viola, goodness and deliciousness of this BBQ chicken sandwich was thus created.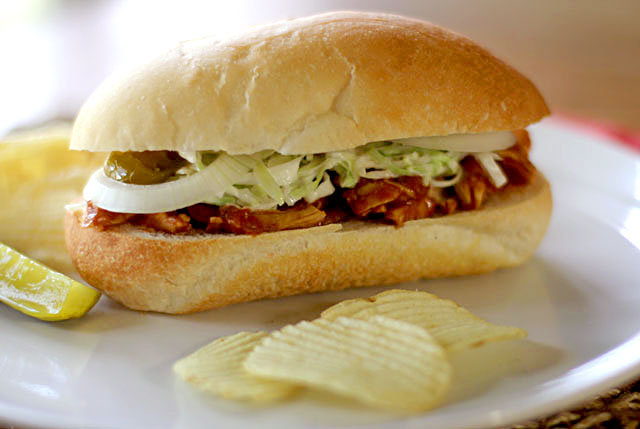 Of course you could leave out the peanut butter (and I probably would recommend that if you wanted to just make the sauce to serve with like, legitimate barbecue. But it might also be good with pork I imagine. Or if you're making this for a person with a severe peanut allergy and he/she may die; then it would definitely be a good idea to ix-nay the eanutbutter-pay.) Anyway, what was I saying? Sorry, can't concentrate with this CUTE PUPPY on my lap.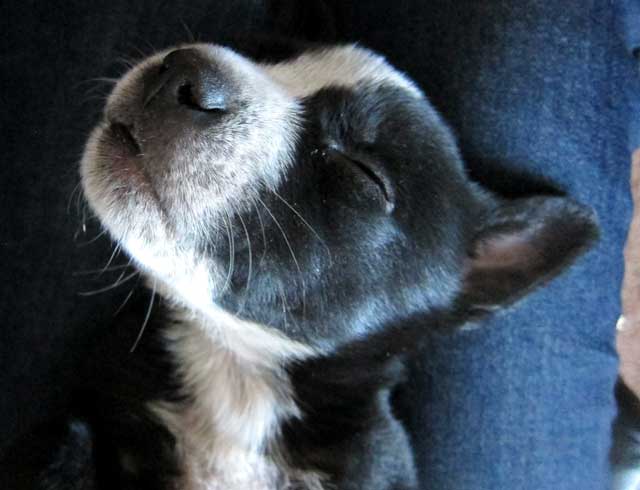 But I digress into flim-flam and nothingness. As I was saying, you could leave it out, but I think it adds a really great "what in tha werld is in this sawse?" component to the recipe, not to mention peanut butter isn't used enough as a savory ingredient here in the US and I think that's a damn shame.
Shredded BBQ Chicken Sandwiches Video (scroll down for recipe card)
ZOMG. Also, while we were chowing down like T-Rexes on these bad boys, Chris was all like, "I want this with blue cheese and Frank's RedHot" and I was like, "SHUT YOUR FACE. YOU'RE A GENIUS." But we didn't have any, but I'm just telling you that I think it would be awesome and then it really honestly would have all the food groups in it, including hot sauce.
Print
Shredded Barbecue Chicken Sandwiches
Author:
Cook Time:

25 mins

Total Time:

25 minutes

Yield:

4

1

x
Sauce:

1 cup

minced onion

1 teaspoon

oil

1 cup

tomato sauce

2 tablespoons

brown sugar

1/4 cup

apple cider vinegar

1/2 teaspoon

black pepper

1/4 teaspoon

ground ginger

1/4 teaspoon

allspice

1/4 teaspoon

red pepper flakes

1/2 teaspoon

salt

1 tablespoon

peanut butter
Shredded chicken, about 4 cups, from one 3 pound chicken or 2 large boneless breasts
Coleslaw:

2 cups

thinly shredded cabbage

1 tablespoon

vinegar

1

–

2

tablespoons mayonnaise

1/4 teaspoon

salt
For Serving: Pickled jalapeños, onions, avocado, and/or blue cheese

4

large French bread rolls or

one

long baguette cut into

4

pieces
Instructions
Heat the oil and onions over high heat in a large skillet for a minute. Sprinkle with a pinch of the salt. Reduce heat to low and cover. Cook for 20 minutes, stirring after 10 minutes. After 20-25 minutes, the onion should be golden brown.
Add the sauce, sugar, vinegar, spices, and remaining salt and stir to combine. Simmer uncovered over low heat for 20 minutes.
While that cooks, shred your cabbage and combine with the vinegar, mayonnaise, and salt and set aside.
You can also get your rolls ready. Cut open lengthwise and pull out some of the inner bread, making a cavity to hold your fillings later. Toast lightly under the broiler. Watch them so they don't light on fire.
Once the sauce has simmered and is thick, stir in the peanut butter.
Add the chicken and cook another 2-5 minutes until it's hot.
Pile your rolls with chicken, slaw, jalapeños, onions, whatever else you like.
Eat hot!