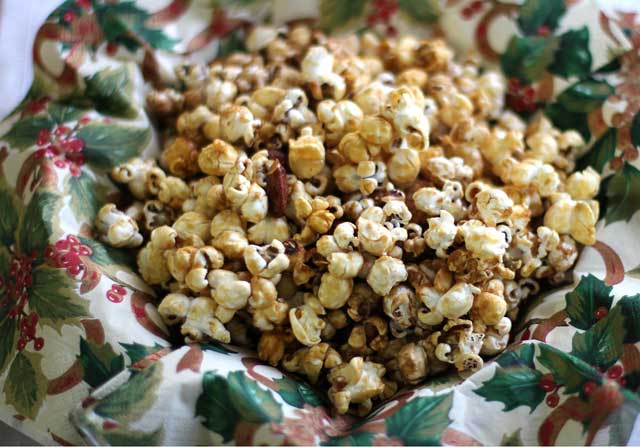 Someone every Christmas would send my grandma one of those big tubs of popcorn, the variety pack with plain, cheezy, and caramel corn. The caramel was my favorite (duh, isn't it everyone's?) with the cheezy corn coming in second. Poor plain popcorn would get fed to the birds more often than not. I mean, especially by the time you'd made it through half the giant can, anything left was stale and soft and chewy. Those words should never be used to talk about good popcorn. Barfarama, amiright?
I think the popcorn buckets have gone out of fashion as Christmas gifts. Seems I have not seem one in well over a decade. It's just as well because making your own caramel corn is easy enough and tastes much more delicious than the pre-fab stuff. Plus you can add nuts or whatever you like to it to make it fancier. Even a drizzle of melted chocolate. That would be pretty damn fancy indeed.
Keep some of this on hand during the holidays to feed unexpected parties or to wrap up quickly in cellophane bags and give away as tokens of your appreciation. (Or tokens of the fact that you forgot to buy a gift for a kindly holiday hostess or your neighbor's weird kid.)
Caramel Corn Video
Caramel Corn Recipe — Printable!
Print
Caramel Corn
Author:
Prep Time:

5 mins

Cook Time:

35 mins

Total Time:

40 minutes

Yield:

8

1

x
1/2 cup

corn kernels, popped, will make about

8 cups

1 cup

nuts (any kind, raw or toasted)
Caramel:

1/2 cup

(

4 ounces

) butter

1/2 cup

white sugar

1/2 cup

brown sugar

1/2 teaspoon

salt

1/3 cup

water
Optional flavorings: 2 tablespoons cocoa powder and/or 1/2 teaspoon cinnamon

1/2 teaspoon

vanilla extract

1/2 teaspoon

baking soda
Instructions
Pop the corn and separate the fluffy bits from the hard bits and unpopped kernels. Discard the hard parts and set the fluffies aside with the nuts in a BIG bowl. As big as you can get.
Line a baking sheet with parchment paper and preheat the oven to 250ºF.
In a medium sauce pot, combine butter, sugars, salt, water, and any flavorings you like. Bring to boil over medium heat and boil 5 minutes until thickened. Stir frequently to prevent boiling over. It will bubble up quite a lot.
Remove from heat and stir in vanilla and soda.
Quickly pout the caramel over the popcorn and nuts and toss with a large spoon until fairly evenly coated. (You can serve it now if you'll not be trying to store it for later munching.)
Spread out onto the baking sheet and bake for 30 minutes, giving it a stir every 10 minutes.
Cool and store in airtight containers.
*Scroll down to the bottom of this post to read about how to pop popcorn or watch the video above.