The first fish and chips I ever ate was in London, December 1999.
My super awesome bestie was doing a study abroad there for a year and his girlfriend (another of my besties) and I planned a visit. The idea was to be there for Y2K so we could all celebrate the end of the world together, doing heroin and drinking gin behind a bush alongside the Thames while buildings crashed down around us in a blaze of fireworks that would set the river itself on fire. Of course, the world did not end, the river stayed not-on-fire, and heroin was not as fun as I thought it would be. But the fish and chips. Right-O. I forgot. They were just okay. We had them a few times in pubs, but honestly the pub made a better veggie burger than fish and chips. The fish batter was never as crisp as it should be, nor were the fries for that matter.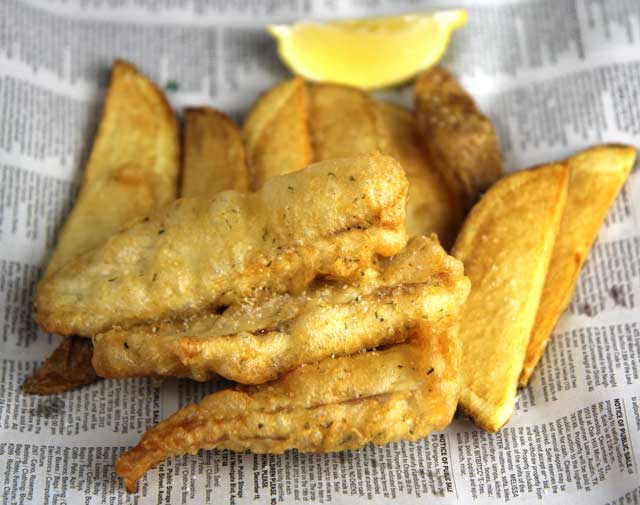 The best fish and chips I ever ate, though, was when I was living in New Zealand. There was a "chippery" not too far from us and about once a week, I'd drive over in an old mini-truck to rent a movie at the movie store and grab a paper wad full of freshly fried fish and chips. Every day they'd get in a shipment of literally-fresh-off-the-boat fish, several types, all at market price, and you could pick which you liked. Hoki, snapper, blue cod, tarakihi, and even shark sometimes all made appearances on the white board. As I recall, hoki is a very popular fish in New Zealand, as is snapper. The batter was always paper-thin, crisp, salty and flaky and the package would stay hot until we got it home, although more often than not, many of the chips were eaten in the truck on the way. We gobbled them up at the table with lemon and malt vinegar and cold beers before retiring upstairs to watch scary movies and drink more beers until we just had to make another run to the fish-n-chip shop.
The recipe here is every bit as good as the one used by the fishman in New Zealand. The secret ingredient is soda water, but you can use anything fizzy: beer, ale, I think even ginger ale would make an exciting twist. Quick mixing and the ice cubes also keep too much gluten from forming, which makes the batter fry up extra crispy, much like a tempura batter.
Print
Fish and Chips
Author:
Prep Time:

30 mins

Cook Time:

30 mins

Total Time:

1 hour

Yield:

4

1

x
1

pound Russet potatoes, scrubbed (peeled if you like)

1

pound white fish fillets (boneless, skinless)
Frying oil, about 4 cups (grapeseed, peanut, canola)
Batter:

1 cup

all-purpose flour

1/4 teaspoon

baking powder

1 teaspoon

salt

1/2 teaspoon

pepper

1/2 teaspoon

dill weed (optional)
Dash cayenne pepper (optional)

1 cup

cold club soda

2

ice cubes
For serving:
malt vinegar, lemon wedges, tartar sauce
Instructions
Cut the potatoes lengthwise into slices about 1/3″ thick by 1″ wide. Soak in a bowl of cold water for at least 30 minutes and up to overnight.
Cut the fish into portions about 1″ by 4-6″ long and set aside.
In a large bowl, whisk the dry batter ingredients together, then stir in soda quickly. Drop in two ice cubes.
Heat the oil to 320-300ºF.
Drain the potatoes and dry well on a clean towel. Drop into the oil a cup at a time and fry about 2 minutes, until the bubbling has mostly subsided. Remove with tongs or a spider to paper to drain.
Heat the oil up to 365ºF now.
Give the batter a stir and dip each piece of fish in to coat, then move into the hot oil. Cook only 3-4 pieces at a time to keep the oil temperature from dropping too much, which results in grease-sogged crust. Fry 2-3 minutes or until fish is floating and batter is golden brown. Drain on paper.
Make sure the oil is still around 365-375º and drop the potatoes back in for a minute, or until brown and crispy.
Sprinkle with salt and serve.