How to make Flan video (scroll down for flan recipe)
Cinco de Mayo is this weekend and if you're not familiar, it's kind of a big deal around these parts.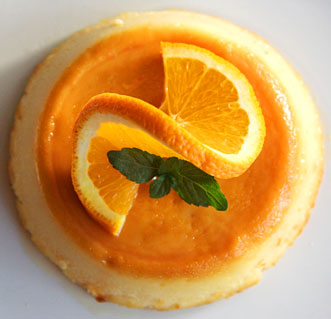 It's a Mexican holiday that commemorates the Battle of Puebla, in which the Mexicans whooped the French even though they were outnumbered two-to-one. It's always those kind of battles that people like to commemorate.
I figured what better way to commemorate it than by making flan, that light and luscious caramel custard that came from France originally (as crème caramel) but I imagine someone dropped the recipe during the melee at the Battle of Puebla and a clever Mexican cook picked it up and re-named it flan de leche, or just flan.
Anyway, there will be muchas fiestas this weekend in celebration and many of them will have piñatas, most of them will have cerveza, and all of them will have comida deliciosa. If you'd like to throw your own fiesta, please consider including this easy flan recipe! Best part, you can make it the day before you need it, leaving you more time to make cheese enchiladas.
This particular recipe came from my dear friend's mother, Adriana. It uses cream cheese for a rich and creamy flan.
Flan recipe – printable!
Print
Flan
Traditional caramel custard
Author:
Prep Time:

15 mins

Cook Time:

45 mins

Total Time:

1 hour

Yield:

3

-4

1

x
3

eggs

4 ounces

cream cheese at room temperature

1/2 cup

sugar

1/2 cup

milk

1/2 cup

evaporated milk

2 teaspoons

vanilla
Caramel:

1/2 cup

sugar
Instructions
Set oven to 400ºF.
Beat the eggs, cream cheese, and sugar together, gradually increasing speed to high and beat for one minute.
Slowly add the milk and vanilla and mix until incorporated. Set aside.
To make the caramel: put the 1/2 cup sugar in a heavy skillet and turn on to medium-low heat. Cook, stirring frequently, for about two minutes or until the sugar begins to clump. Stir constantly now for another few minutes until it begins to melt. Reduce heat to low and stir constantly until it becomes liquid and golden, about 8-10 minutes more.
Distribute caramel between 3-10 ounce ramekins or 4-8 ounce ramekins. Or if you are using an oven-safe skillet, you can bake the flan in that.
Pour the custard mixture into the dishes, on top of the caramel.
Place in a water bath and bake for 35 minutes to one hour or until mostly set.
Remove from the water bath and invert onto serving plates while warm.
Refrigerate and serve cold, or they may be served warm.
Notes
I cut all measurements in half to suit my needs. The original recipe was as follows: 6 eggs 8 ounces cream cheese 1 cup sugar 1 cup milk 1 cup evaporated milk 1 tablespoon vanilla