Flourless Chocolate Cakes – Gluten Free Chocolate Cake Recipe
Flourless Chocolate Cake video – scroll down for recipe
Subscribe to my YouTube channel to get notified of new videos.
It's a magical gluten free chocolate cake!
Hold on to your tumtums, everyone! This is gonna be a wild and chocolatey ride!
The Choc-Island line is back on track!
We're on the 2:10 to Yummy!
The Chocolate Train is headed for Yumm-Towne and it's bringing fudge-y, delicious chocolate cakelets to all the Yumm-Townsians.
Whoa! Stop the train! Did I just take you on a trip in your mind to deliver fudge-y and delicious cakelets to a town in the Old West? Yeah, yeah I did.
But before you go accusing me of witchcraft… you might think again. You might instead want to consider accusing me of being a HUGE flippin' dork. You know, for using words like "flippin'" and for imagining a place called "Yumm-Towne".
Now that that's all settled, here's how to make these fudge-y fancy flourless chocolate cakes that require only FIVE ingredients! Whoa! FIVE INGREDIENTS!? Maybe it is witchcraft after all.
Flourless chocolate cake recipe – printable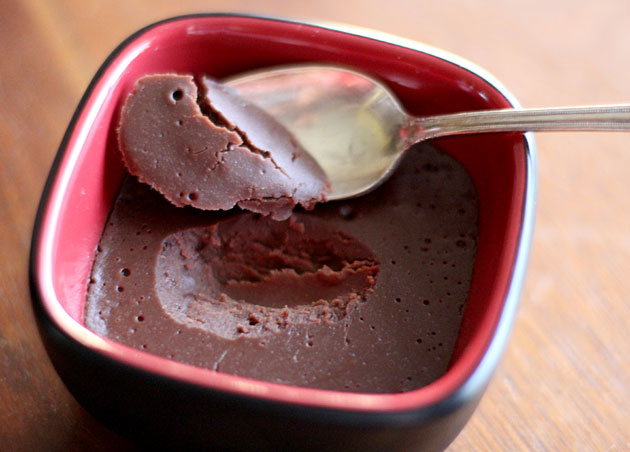 Print
Flourless Chocolate Cake
An accidentally gluten-free cake!
Author:
Prep Time:

10 mins

Cook Time:

25 mins

Total Time:

35 minutes

Yield:

4

1

x
4 ounces

bittersweet chocolate (60-70% cacao)

1

stick unsalted butter, softened (

1/4

pound)

1/4 cup

Grand Marnier or other liqueur

5 tablespoons

sugar

2

eggs
Instructions
Preheat the oven to 325 degrees F. Place 4 (5-8 oz) ramekins in a large oven-safe pan that's been filled with about a 1/2 inch of water. Set aside.
Break the chocolate into pieces and cut the butter into chunks.
Combine the Grand Marnier and 4 tablespoons sugar in a small pot. Bring to boil and stir so the sugar dissolves.
Add the butter chunks and chocolate ans stir like crazy until it's all melted. OR stir like a regular person.
Beat the eggs (in a bowl with a spout if you have one) with the remaining 1 tablespoon sugar until light and well combined.
Slowly pour the chocolate mixture into the eggs, whisking the whole time until it's all in. The final mixture will be fairly thick.
Divide evenly into 4 ramekins.
Bake 25-30 minutes or until the tops are set but still shiny.
Remove from the hot water bath and cool 5 minutes before serving, or cool completely before serving. Or refrigerate. Whatever you want to do. 'Sup to you.
Notes
This dessert is fine served on its own – it's rich enough not to need anything save some strong drink. However, if you like, some whipped cream and/or fresh berries would also compliment nicely.