Fried Green Tomatoes Recipe Video – scroll down for recipe
We always had a little garden when I was growing up. Not like a farm, but just a little plot behind the house, down the hill a bit, under a giant cottonwood tree with a swing tied to its branches. I didn't really have much to do with the garden, aside from harvesting. My parents would plant potatoes and tomatoes. Probably some other things, too, but that's all I really remember. Too busy swinging on that crappy old swing I guess, getting splinters in my booty.
When the birds or bugs would get to the tomatoes before we could – when we'd find those hard, little green tomatoes with a big hole in one side – mama would make fried green tomatoes. Cut off the bad, fry the rest, make it good. I loved them so much. And even though, yes, I know the film by the same name (and cry every time I see it still…) I somehow kinda always thought no one else ate fried green tomatoes? I know it doesn't make any sense. Obviously, anyone with a half a lick of sense and a green tomato in their hand is gonna know about fried green tomatoes. But still…
So I was kind of surprised when several people requested the recipe from me. I don't know. Maybe I just seem like a person who makes good fried green tomatoes. It's true. I am. I have no difficulty writing that. But honestly, they're easy. The hardest part is finding green tomatoes if you don't have your own garden.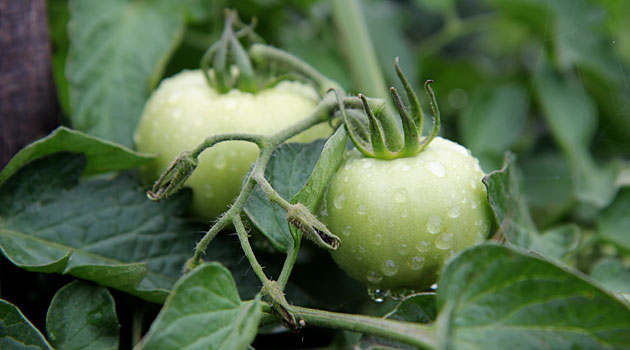 Enter, Johnson's Backyard Garden: a 200 acre, 100% organic farm just outside Austin. We'd visited this lovely paradise last year – actually almost exactly one year ago – and had a great time taking a farm tour from Brent Johnson: Head Farmer (not sure if that's his official title or not, but it works for my purposes). This year I contacted them about green tomatoes. As it turns out, with 30 thousand tomato plants, they had … how do you say? … a buttload of green tomatoes. So we took another farm trip!
And, DUDE! Whoa! Let me tell you, JBG is blowin' up! They added 146 acres in the last year and have plans to build a barn and commercial kitchen on site so they can preserve bumper crops of produce when needed.
Brent is a calm, kind, hard-working person. He runs his business as if every employee were family and strives to make the farm a community in itself. His reason for farming is to feed the people. And he means all the people, not just the yuppies. Right now, JBG is awaiting finalization of 501 c-3 status for a non-profit organization called FarmShare Austin whose mission is to make fresh, local, organic produce available to people who could not otherwise afford it. By partnering with other non-profits such as the Settlement Home for Children and the Salvation Army as well as other farms in and around Austin, FarmShare will bring Brent's dream of feeding the people to life. Knowing that there are such good and capable people in the world as Farmer Brent makes me happy to be human. That he and his organic farm are here in Austin makes me lucky to be a human who loves vegetables. And I'm not just saying that because he let me take as many green tomatoes as I needed AND gave Chris and I each a full box of that day's produce picks. Ahem. But he did.
And it is AWESOME.
Fried Green Tomatoes Recipe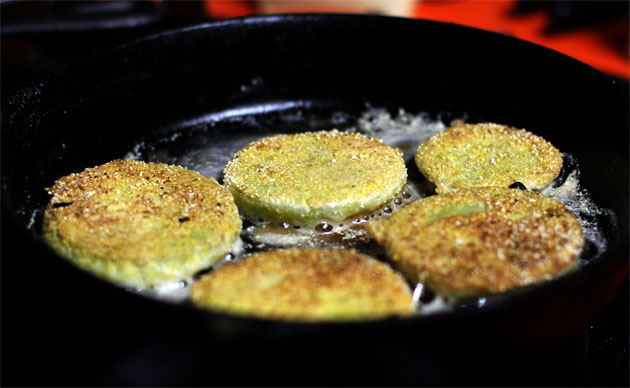 Print
Fried Green Tomatoes
The classic cornmeal coated fried green tomatoes
Author:
Prep Time:

5 mins

Cook Time:

8 mins

Total Time:

13 minutes

Category:

appetizer
Green tomatoes, however many you can get your paws on
Celery salt, garlic salt, onion salt, or salt-salt
For dredging:

1

egg

1/2 cup

flour

1/2 cup

cornmeal

1/2 teaspoon

salt and pepper, each

1/4 teaspoon

cayenne pepper (optional)
For frying:

2 tablespoons

vegetable oil

2 tablespoons

bacon fat (or more vegetable oil)
For serving, if desired:
Ranch dressing, lemon wedges, hot sauce
Instructions
Slice the tomatoes about 1/4″ to 1/3″ thick. Sprinkle the slices lightly with seasoned salt or regular salt.
Beat the egg in a small bowl and set aside
Combine the flour, cornmeal, and seasonings in another bowl.
One at a time, dredge the tomato slices in the flour mixture, then the egg, then back into the flour and set aside.
Once all slices are coated, heat the oil over high heat until a bit of flour sizzles when flicked in.
CArefully lay the slices in the hot oil and turn the heat to medium.
Cook 3-4 minutes or until golden.
Turn and cook another 3-4 minutes.
Drain on paper or a rack.
Sprinkle again with salt while still hot and serve now or let cool to room temperature.
Notes
The ingredient amounts given above for the dredging mixture should be enough to coat 8-10 slices of tomato (2 medium tomatoes)
If you're in the Austin area and would like to support local farmers and take care of your health, please consider JBG's Community Supported Agriculture program. You can sign up for weekly or bi-weekly deliveries of seasonal, fresh-picked produce to your home or office. There is an incredible crop of amazing produce ripening out in the fields right now: 60 varieties of tomatoes, cucumbers, okra, pattypan squash (my favorite!), colorful potatoes, Texas 1015 Sweet Onions, broccoli, cabbage, DELICIOUS watermelons and cantaloupes, specialty melons, plus so much more variety in the coming months.