How to Make Gefilte Fish Video -scroll down for recipe
This might put me on some people's shit-list, but when I was in middle school we hung out with a kid named Brandon who was not Jewish and we were not Jewish and in fact I didn't meet my first Jewish person until I was in my mid-20s but at any rate, through some undoubtably hilarious circumstances I can't recall, my friend Sarah and I nicknamed him "Gefilte Fish". Truthfully, none of us had any idea what gefilte fish was actually, but we thought it sounded funny and it got Brandon's goat and we thought that was really funny. He remained "Gefilte Fish" throughout middle school, but he still hung out with us so I guess he didn't really mind all that much.
Turns out gefilte fish is actually a kind of fish-dumpling that's an important part of the Passover Seder. I'm going to stop there because my knowledge of Judaism is pretty much just what Amy told me while we shot this episode. I will say that I was pleasantly surprised by these — tender little fish dumplings with a kick-ass horseradish-sour cream sauce. Plus, her recipe uses salmon which is non-traditional, but I daresay probably more tasty. Definitely more tasty than jarred gefilte fish. DEFINITELY more attractive than jarred gefilte fish.
Huge thanks to Amy from WhatJewWannaEat for coming on the show and sharing her recipe with us!
Homemade gefilte fish recipe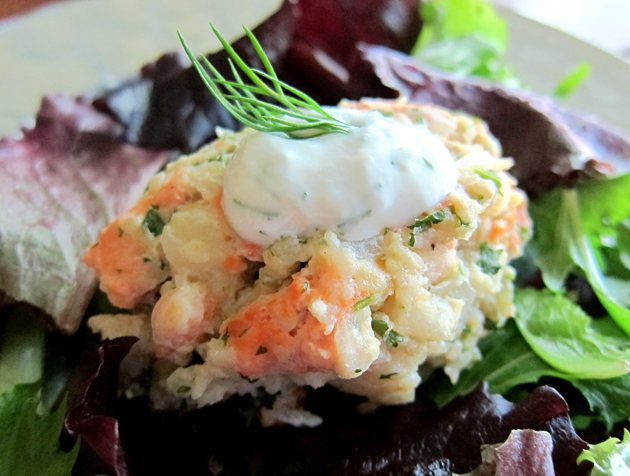 Print
Homemade Gefilte Fish
Author:
Prep Time:

10 mins

Cook Time:

10 mins

Total Time:

20 minutes

Yield:

1

2

1

x
For the stock:

1 quart

fish stock (homemade or store bought)

1

clove garlic, crushed

1

celery heart, sliced

1/2

a lemon
Salt and pepper
For the gefilte fish:

3/4

pound boned salmon

3/4

pound boned whitefish (turbot, cod, pike, etc.)

1 tablespoon

vegetable oil

1

medium onion, fine diced

2

large eggs

1/2 cup

matzo meal

1/2 cup

chopped parsley

1/2 teaspoon

ground black pepper

1 teaspoon

salt
Horseradish sauce:

1/2 cup

sour cream

1/3 cup

horseradish

3 tablespoons

chopped fresh dill
Salt to taste
Instructions
For the stock: Pour into a large soup pot and add 2 cups of water. Add the garlic, celery, and salt and pepper. If you are skinning your fish yourself, add the fish skin, too. Squeeze the lemon into the broth and then drop the rind in, too. Bring to a boil, then simmer while you prepare the fish balls.
In a small pan, heat the olive oil over medium heat and saute the onion until soft, or about 5 minutes. Let cool.
Chop the fish into fine pieces and place in a bowl. Add the cooled onions, eggs, matzo meal, parsley, salt, and pepper and combine. The mixture should be firm enough to be able to form into balls. If it is too soft, add a bit more matzo meal, if it is too hard add a bit of the fish stock.
Form 2-3 tablespoons of the fish mixture into smooth balls and set aside. You should get 12 balls.
Add the balls to the simmering broth in a single layer and simmer until cooked through, about 10 minutes.
Remove the gefilte fish with a slotted spoon and drain on a paper towel.
To make the horseradish sauce, combine all ingredients.
Serve gefilte fish warm or cold on a bed of lettuce with the horseradish sauce!
Notes
For a traditional gefilte fish, use another white fish instead of the salmon. Carp, whitefish, and pike are the classic fishes used. If you like, you could use a 1/2 pound of each of those instead.